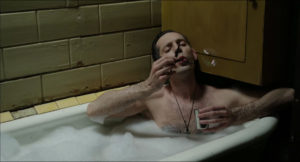 Ant!pode is proud to inform actor Wojciech Urbanski ("Kharms" by Ivan Bolotnikov) is nominated for Best Actor In a Leading Role for Silver Crane ("Lithuanian Oscars").
"Silver Crane"  nominations 2018 are officially in, with the ceremony set to take place this year on Wednesday,13th June.
Film awards "Silver Crane" becomes a certified film system with the criteria, says the Lithuanian film center CEO Rolandas Kvietkauskas. According to him, the Film academy members annually assess peer work, and this year's nominated films will collect the 79 members of the academy are.
List nominated for for Best Actor In A Leading Role:
Wojciech Urbanski, KHARMS, Ivan Bolotnikov
Giedrius Savickas, Trys milijonai eurų, Tadas Vidmantas
Mantas Jančiauskas, Frost, Sharunas Bartas
Sidabrinė gervė (Silver Crane) are the Lithuanian film industry awards for best actors, directors and films. The annually awards are presented from 2008 on by AVAKA (audiovizualinių kūrinių autorių teisių asociacija), the (national) Association for Author Rights of Audiovisual Artists.