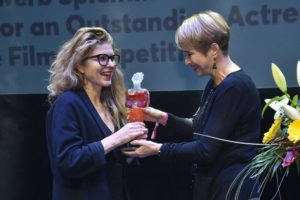 The director Anna Jadowska emerged as the triumphant winner of the Feature Film Competition with her poignant drama WILD ROSES | DZIKIE RÓŻE at the Stadthalle Cottbus with the awards ceremony of the 27th edition. Her lead actress Marta Nieradkiewicz impressed the jury and received the LUBINA Award for an Outstanding Actress.
The Main Prize for the Best Film of the 27th FilmFestival Cottbus, with a purse of € 25,000 and donated by the Gesellschaft zur Wahrnehmung von Film- und Fernsehrechten (GWFF), was won by WILD ROSES | DZIKIE RÓŻE by Anna Jadowska. A gripping psychological portrait of a young overstrained mother who sees her life slipping away in the Polish provinces.
The International Festival Jury, consisting of Danilo Bećković, Yevgeny Gindilis, Prof. Dr. phil. Ursula von Keitz, Marcin Pieńkowski and Elīna Vaska, were in agreement: "We chose this film because it gives the main female figure a voice. A voice which reaches the depth of our hearts. We admire the combination of visual style, amazing sound and editing, which makes watching this film an almost physical experience."
Moreover, the jury recognised the performance of Marta Nieradkiewicz, the lead actress of WILD ROSES | DZIKIE RÓŻE with the Award for an Outstanding Actress, sponsored by the City of Cottbus and with a purse of € 5,000. The work by the triumphant winner can be admired by the festival audience on Sunday, the last day of the festival, at 20.00 in the Stadthalle.
The decisions by the FIPRESCI jury and the Ecumenical Jury for WILD ROSES | DZIKIE RÓŻE added to the long tally of prizes for director Anna Jadowska.
12 Nov 20.00 – Stadthalle Cottbus – WILD ROSES | DZIKIE RÓŻE