Back to our catalogue
Wild Roses
original title: Dzikie róże
2017, 89 min., Polish
abortion
betrayal
family
fate of a woman
forest
misalliance
motherhood
the loss of the child
CATEGORY :
Drama
COUNTRY:
Poland
PRODUCTION :
FESTIVALS & AWARDS
CAST
Marta Nieradkiewicz, Michał Żurawski, Halina Rasiakówna, Konrad Skolimowski
CREW
Director
:
Screenplay
: Anna Jadowska
Cinematographer
: Małgorzata Szyłak
Producers
: Roman Jarosz, Izabela Igel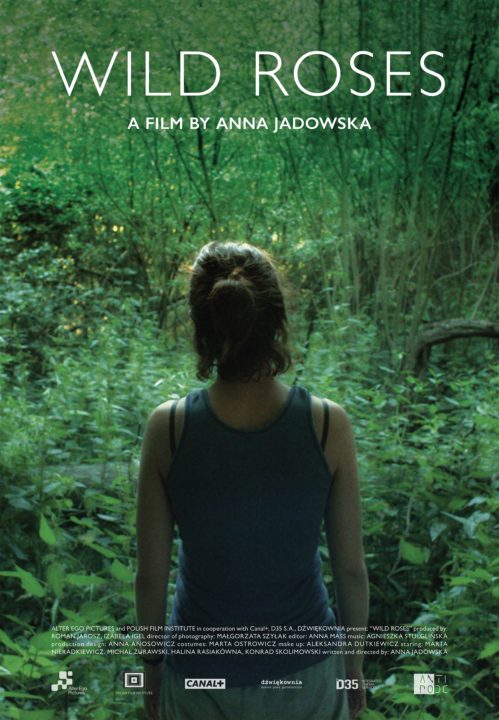 COMMENTS
FESTIVALS: Seoul International Agape FF (Agape Choice) 2019, Grenzland-Filmtage 2019, International Female Film Festival Malmö 2019, Dhaka International FF 2019, Polish Film Festival VISLA / Moscow 2018,  FilmPolska (Polish FF Berlin) 2018, Festival L'Europe autour de l'Europe 2018, Bergamo Film Meeting IFF 2018, Cairo International Women Film Festival 2018, Glasgow FF 2018, FrauenFilmTage IFF 2018, Polish FF in France 2017, Polish FF in America 2017, Denver Film Festival 2017, Tallinn Black Nights (out of competition) 2017, Gijon IFF 2017, Cottbus FF 2017, Stockholm IFF 2017, New Horizons IFF 2017
Director's Note
I would like to tell a low-budget simple and moving story focused on the main heroine – Eva. Her slight changes, observation of her emotional state, her attitude to the children and the secret she keeps hidden would make the basic element of my observations.
The origin of this idea for a film comes from my own reflections on the essence of motherhood juxtaposed with the press releases on drastic relations – mother and child.
The paradox of motherhood, social expectations imposed on mothers, the essence of motherhood-based love are the topics which I would like to deal with in this story but on an a teaching or moralizing basis. Instead I would like to intermingle them in the heroine's authentic fate so that the most important questions regarding these problems can be asked.
This story is set in a small community whose portrait will also be significant for the authentic presentation of the main character's fate. It is vital that when portraying the supporting characters and places I set the story in my hometown in Lower Silesia region where the life of the country revolves around the church and rose plantation, most men work abroad and youngsters hang out at the bus stop in the evenings.
I would like the merits of the film not to be naturalistic and certain; I would like to build scenes and situations so that they contain some secret within and make the true equivalent of the heroes' emotional life not only conveyed by the dialogue but also through specific "not being" and "going wool gathering". It especially applies to the main heroine.
The metaphoric layer of the film is made by the nature surrounding and participating in most breakthrough scenes concerning the main heroine's fate. In the visual layer of the future film the nature will be an essential element having a specific "dialogue" with the heroes so that an impression is built that man is an integral part of the nature. I would like this nature to be the same as I remember it from my childhood: absolute, dreadful and beautiful at the same time.
I wrote the script deliberately knowing that the main role in the film will be played by Marta Nieradkiewicz, an outstanding actress of the young generation, who is able to convey very strong emotions with very small means and is unique at creating the character between dialogues building the secret and at the same time attracting the viewers.
SYNOPSIS
Eva returns to her village after a hospital stay. She works on a plantation that grows wild roses. While Eva was away her mother has been taking care of her children Marysia and Jaś.
Eva's husband Andrzej also returns home after working for months in Norway. The time apart has created distance between them. During Marysia's first communion, Eva starts feel ill to. Her friend Basia drives her home. Basia admits that she leaked the gossip to Andrzej about Ewa's affair with Marcel, a local high school boy.
Eva meets Marcel on the rose plantation. She says that their relationship is over. After Marcel leaves Eva realizes that Jas, her 2 year-old son, has disappeared.
The search begins. After hours a policeman appears and says that Jaś has been found. Eva and Andrzej go to the next village and pick up Jaś.
Eva returns to the hospital she left a few days before. We discover that Eva had given birth to a child and put it up for adoption. Eva wants her child back.