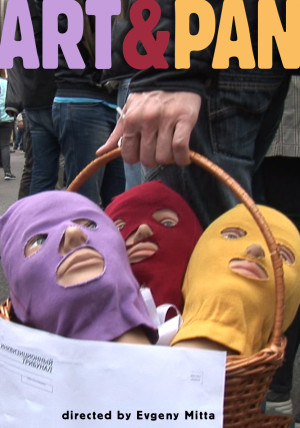 It's the newest, fourth film of project "Anthology of Contemporary Art".
This project is about the birth of Pussy Riot, the art group combining actionism, feminism, media activism and punk rock. Young feminist artists, Nadezhda Tolokonnikova and Yekaterina Samutsevich, quit Voina, a well-known actionist group. They do not wish to accept the gender pressure from the male participants of the group and they create their own, the one that would embody their ideas of female independence and liberty.
The actions of Pussy Riot are situated at the intersection of the art, the history and the politics. They continue old Russian traditions of 'holy fools' and Russian avant-garde.
Anthology of Contemporary Art is a documentary film series about those artists who had considerable influence on the Russian actual art scene over the past thirty years.
The films of the Anthology offer the viewer an opportunity to see the role and function of contemporary art in a new light.
The artists participate in important social events, while their art serves as a reflection of social change.
Kulik's performances are a slap in the face of the society, challenging the ideas of what is acceptable. They were often dangerous, leading to arrests and public shock. He is especially known for a series of dog performances in European museums. The film about him tries to answer question: What makes Kulik one of leading Russian contemporary artists?
Continuing the Socialist realism of the Bolshevik era, Dubossarsky and Vinogradov return to the monumental painting. They say their work is 'commissioned' but the customer is often virtual, non-existent. They might mean they are answering a public command, drawing what is expected by "simple people", responding to the existing cultural stereotypes. Among their known works there are Helmut Kohl at Young Germans' Wedding, Yeltsin and Lebed' as Romantic and Important Figures, Stallone Painting Sitting Schwarzenegger in a Children's Circle.
The third film,
Timur Novikov – Zero Object
by
Alexander Shein
, is dedicated to the art revolution of the 1980's. The film is centered on an artist, a key figure in the St. Petersburg underground movement, a friend and a comrade of Viktor Tsoi, Sergey 'Africa' Bugaev, Georgiy Gurianov, Evgeny Kozlov and Vladislav Mamyshev-Monroe – Timur Novikov.