Back to our catalogue
Download flyer
See You in Chechnya
original title: See You in Chechnya
2016, 68 min., color, English-Russian-Georgian-French-Italian
Caucasus
Chechnya
diary
hostages
military conflicts worldwide
military reporters
photographer
post-Soviet space
Russian-Chechen war
CATEGORIES :
Adventure Drama
,
Debut
DOCUMENTARY CATEGORY :
Social / Society / Human
COUNTRIES:
Germany
,
Georgia
,
Estonia
,
France
PRODUCTION :
FESTIVALS & AWARDS
CREW
Director
:
Screenplay
: Alexander Kvatashidze
Cinematographer
: Alexander Kvatashidze, Niko Tarielashvili
Producers
: Alexander Kvatashidze, Juliette Cazanave, Rebecca Houzel, Eero Talvistu, Mélanie Andernach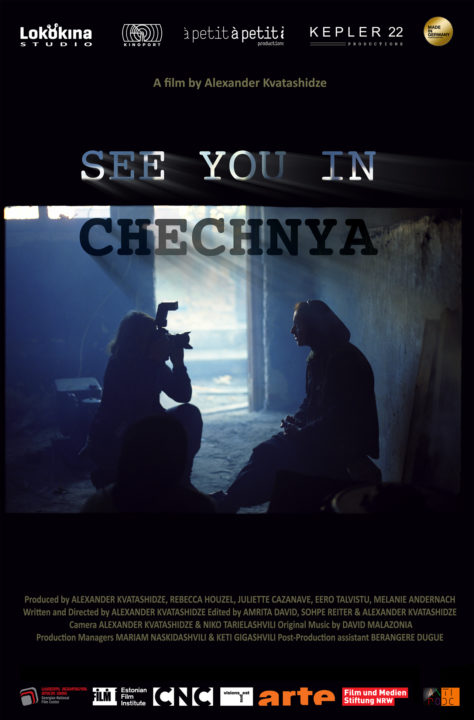 COMMENTS
PRIFEST (Kosovo) 2017, CinéDoc-Tbilisi 2017, Jihlava International Film Festival 2016, ETHNOCINECA International Documentary Film Festival Vienna, Trieste Film Festival 2016, Kassel Documentary Film and Video Festival, Batumi International Art House Film Festival 2016, World Film Festival 2016
An unfinished documentary project by Georgian filmmaker Alexander Kvatashidze has won the top prize at the Italian co-production forum – The award-winning co-production between Georgia, Estonia, France and Germany, See You in Chechnya was awarded the HBO Europe prize of the 'When East Meets West' forum. The prize was awarded to Kvatashidze's work within the Last Stop Trieste documentary co-production section (January 24-26 in Trieste, Italy).
The film has picked up several other co-production prizes including the Open Doors Production and the ARTE Open Doors awards at the 2013 Locarno International Film Festival in Switzerland.
STATEMENT
From darkness, a man watches slides. A young boy studying. Two kids standing next to a Christmas tree. Landscapes. The few images pass slowly.
This is how my film See you in Chechnya starts, as a personal story and an invitation to travel. A travel through the past, on the other side of the Georgian mountains. A travel to hell.
I was a naive student in Fine-Arts when I met the woman through who everything happened. Her name was Françoise. She was from Paris and was staying in Tbilissi to prepare her way from Georgia to Chechnya. She was a war reporter.
Even if Chechnya was a neighbouring country, as Georgians, we had no reason to go there, unless we were suicidal. I wanted to prove to this seducing and talented woman I was not a kid, so I followed her, whatever the consequences.
I discovered war, fear, permanent insecurity, shred bodies, children corpses, and the pain of the survivors. Under these circumstances, I met a tribe of brave idealists, wise war veterans and eccentric explorers coming to risk their lives. I met people who made who I am now, uncategorisable people, sort of contemporary heroes. And my life was never the same again.
Everyone of them had different reasons to go there. Some had professional ambitions, others were fighting for ideas, others trying to prove something to themselves. Raisa was the only one who did not choose anything : the city she lived in was the centre of the 2 fights.
Anyway, for most of them, consequences were painful. Brice was kidnapped. He spent eight months in captivity and committed suicide when he came back. Antonio was murdered. Françoise developed a serious illness and almost died. Raisa had to flee abroad leaving her family behind. Did they know before going to war that this is a virus that never leaves you? Did they know the price to pay was that expensive?
Ten years later, I called back these people I had met and interviewed during the second war of Chechnya. I wanted to know what they had become and also try to understand what might have been their motivations to walk into the lion's den. I wanted to know how war had changed them, since it had changed everything for me.
This film is a crossed portrait of seven war reporters. Seven extraordinary people who were involved in the Chechnya conflict, and about my relation to them. I took part in this conflict too. By casualty, or because of love maybe. I met war and I have been fascinated. I tried to stay, to become one of them, a war reporter. That did not happen.
They stayed. They saw war. They went through things I will never see nor live.
Did they understand things I will never understand?
Exploring my characters' lives, I am looking for answers they might not have. Does this experience make you a better man? Does war teach anything about mankind and its boundaries? Or is it just the place of destruction?
We all agree that war is horrible. And very attractive at the same time. My characters went there to testify, sound the alarm bells, try to stop things, fight for justice. When they came back home, they discovered something was irreconcilable. Their families were broken, as were their previous lives. Does war definitely change you?
Why did they have to pay such a price? For their beliefs? For compassion? For ambition? For a taste for risk? Boredom? To escape? Because of curiosity? Because they wanted to play, somehow?
Do they regret it today? If I come back to the past, I have the greatest respect for all the moments I spent in this war and all the people I met in there.
Would I go back today? I am not sure. But I insist : all the people who made my life what it is, I met them there, at war.
This film talks about Chechnyan war, a particularly bloody conflict, forgotten by the entire world. But this could be any war. It is just the story of a young boy who was randomly taken into the heart of hell and spent the rest of his life trying to understand it.
SYNOPSIS
If you go to war, war will come home with you.
When I was 22, I went to war. I went because I was in love. In Georgia in 1999, I met a photographer called Francoise who told me she was going to photograph the notoriously brutal conflict in neighbouring Chechnya. I decided I had to go with her, to protect her. I knew I could be kidnapped or killed, but desire outweighed fear. My trip to Chechnya brought me into contact with war reporters: an exceptional tribe of courageous idealists, hardcore conflict veterans and eccentric adventurers who risk their lives and their relationships with their loved ones to report the truth.
Ten years later, I made contact again, to find out how the experience affected their lives.
The interconnected tales of six of these intrepid and charismatic people – and the story of my friendships with them – form the basis of this film. Throughout thirteen years of timeline we follow the stories of their ambitious projects and professional success. But there are consequences, too: kidnapping, murder and suicide.
The film takes place against the backdrop of the war in Chechnya; a particularly bloody conflict which has now been forgotten by most of the world. But this could be any war, in any country. As I reflect on the motives which drove these people – people I knew and admired – to risk everything to tell the world what was happening in this inhospitable mountain enclave, I offer a fascinating insight into the peculiar psychology of war reporters: contemporary heroes whose business is death, and who have to face up to their own mortality every time they go to work.