Back to our catalogue
#HEAR ME
original title: #Uslysh menya
2016, 90 min., color, Russian
body language and facial expressions
congenital deafness
disabled people
new scientific achievements
social experiment
DOCUMENTARY CATEGORY :
Social / Society / Human
COUNTRY:
Russia
PRODUCTION :
CREW
Director s
:
Screenplay
: Olga Arlauskas
Cinematographer
: Dmitry Ivanov, Evgeny Lopatkin, Arseny Kalashnikov
Producers
: Nikita Tikhonov-Rau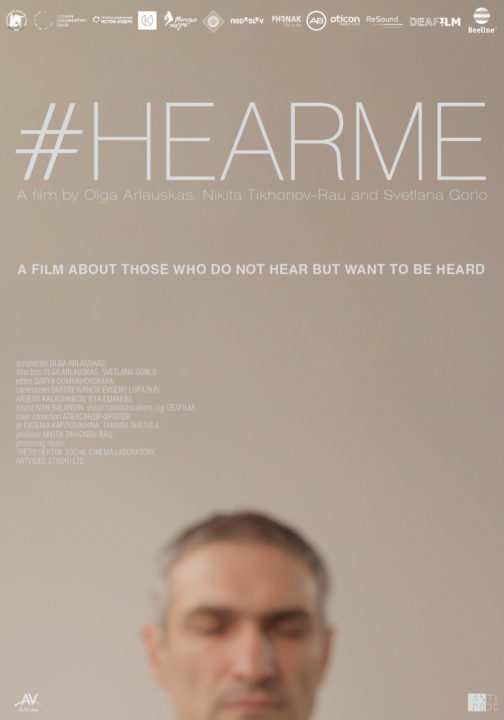 COMMENTS
ArtDocFest 2016
On September 25th, 2016, World Deaf Day, the film was shown for the first time in whole Russia. It it the first feature-length documentary #HEARME about deaf people in Russia.
The film is based on real life story, amazing statistics, demonstration of modern technologies, studies in the area of ear and hearing, social experiments, opinions of leading experts and unique archive materials. The entrance is free of charge.
The authors of the film #HEARME created a unique story about deaf people in Russia. It is the first documentary feature about deafness in our country. Nikita Tikhonov-Rau, The author of idea and the general producer, and his wife Olga Arlauskas, the director of the film, follow their family tradition of dealing with complicated social topics. In the beginning of 20th century, Nikita's great-great-grandfather, Fyodor Rau together with his wife founded the first kindergarten in Russia for hearing impaired children.
Both deaf and hearing people took part in the film: Igor Strelkin, dancer; Sergei Lazarev, actor and singer; Eteri Beriashvili, singer; Yevgeniya Simonova, famous actress; Leon Pataridze, stylist; Nailya Galeyeva, chairperson of the Melody of Life Foundation; Valery Rukhledev, President of the All-Russia Society of Deaf People; Emilia Leongard, teacher of persons who are hearing impaired; Alla Mallabiu, founder of the 'I Hear You' project; Varvara Romashkina, translator of the Russian sign language and many others.
The #HEARME mediacampaign, of the same name as the film, started at the same time and is successfully developing. It is planned to take place for three years after the film release. It currently comprises tens of social and cultural actions helping hearing impaired people to get more possibilities of contact with the hearing ones, to create, to find job. For instance, as a result of his participation in the project, Igor Strelkin, the deaf dancer, one of the characters of the film, got to know the choreographer Sergei Zemlyanski and was employed in his new show on the stage of the Moscow Gubernski Theatre.
The all-Russia mediaproject #HEARME follows the best world examples of impact producing. It is an enlightenment work, access to culture and art for deaf people, working places for deaf people, creation of a friendly urban milieu, promotion of the Russian sign language, communication in social networks, viral videos, support of partners, leaders of opinion, cultural professionals and thousands of Russian citizens.
The project is successfully realized on the platform of the Boomstarter crowdfunding. It managed to attract more than 1 million Rubles of people's money.
SYNOPSIS
A FILM ABOUT THOSE WHO DO NOT HEAR BUT WANT TO BE HEARD
Millions of people in Russia have various hearing impairments. According to the World Health Organization, between 7 and 13 million people have serious hearing problems, living in partial or complete silence. It is a physical problem, a disability. Such people are usually called deaf but they want self-actualization no less than those who can hear.
#HEARME is a film and a social media campaign about those who successfully overcome life circumstances and about those who need support in their soul searching. Among the characters of the film there are businessmen and philosophers, artists and painters, ordinary people. They are capable to do a lot, and if they are helped to integrate the society, they would achieve even more and become a full-fledged part of the society.