Back to our catalogue
Download flyer
The GULLS
original title: Chaiky
2015, DCP, 87 min., Russian-Kalmyk
Asia
Buddhism
tradition
CATEGORIES :
Drama
,
Debut
COUNTRY:
Russia
PRODUCTION :
FESTIVALS & AWARDS
CAST
Evgeniya Mandzhieva, Sergey Adianov, Evgeny Sangadzhiev, Lyubov Ubushieva,Dmitry Mukeyev
CREW
Director
:
Screenplay
: Ella Manzheeva
Cinematographer
: Alexander Kuznetsov
Producers
: Elena Glikman, Yaroslav Zhivov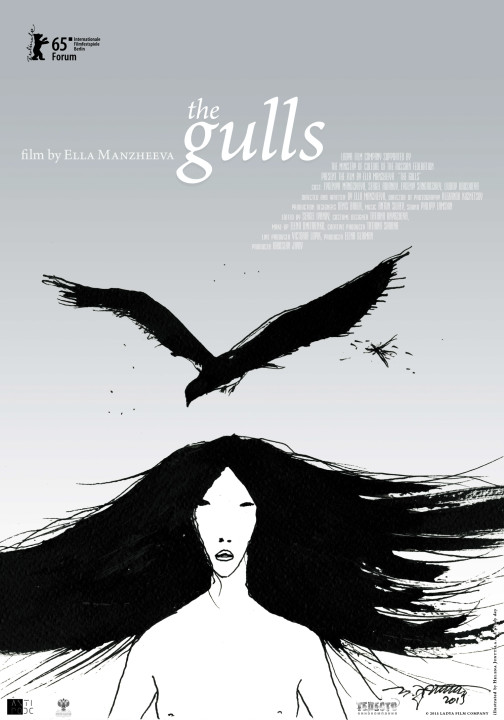 COMMENTS
Golden Globe nominated (long-list) for Best Foreign Language Picture
Goteborg IFF 2016, Brisbane IFF 2015, Black Nights IFF 2015, Colombo IFF 2015, Los Angeles AFI Fest 2015, Sputnik Film Festival 2015, San Paulo IFF 2015, Warsaw IFF 2015, Berlinale Talents Screenings 2015, Haifa IFF 2015, IFF EuroAsia 2015, International Film Festival FILM BY THE SEA 2015, ANONIMUL IFF, Danube Delta 2015, Fünf seen Film Festival 2015, European Film Festival, Palic 2015, Karlovy Vary IFF 2015, Edinburgh IFF 2015, Midnight Sun Film Festival 2015, Berlinale 2014 (Forum)  
Ella Manzheeva, director:
«The Gulls» is a parable set against the background of modern Kalmykia. This is a story of a fisherman's wife and it takes place in a small town on the shore of the Caspian Sea. We often associate our troubles and the failure with the people that around us. By shifting the responsibility over to them we justify our weakness, laziness, lack of willpower and thought. However, happiness is within each one of us, and we are the only ones who can let ourselves be happy, daring, free or unhappy. This film is about the energy of life. Slow down. Listen. Listen to yourself and you will hear others. When time finds its space there comes an incredible happiness and freedom, freedom of the soul. I would like it for the viewers to trust themselves more, rely on their own unique experience and character so that film's drama lives on in their minds and everyone were able to create their own final, learn their own moral lesson. I'm not trying to convey a particular message by creating this story — I simply ask a question. And may everyone respond in their own way.
***
In starring Eugeniya Mandzhieva (born 2 September 1985) is a Russian fashion model of ethnic Kalmyk descent. She has appeared on the cover of Russian Vogue and Vogue China and is a regular on the runway for Jean-Paul Gaultier, Marc Jacobs, Hugo Boss, Vera Wang, Vivienne Westwood, Alexander McQueen and others. Additionally, she has been featured in advertising campaigns for Costume National, MAC Cosmetics, Vera Wang, Garnier, Diesel, Moschino and Uniqlo.
SYNOPSIS
"Only the wind, the sand, the reed and a desire to live not worse than the others…" – these words served as a base for the atmosphere of this story, and they are incredibly precise as a definition of the real world in these places.
The Seagulls are a parable on the background of modern Kalmykia. It is about love, with the characters intuitively fulfilling forgotten traditions. Their love is silent and their sorrow is without tears… The seagulls are souls of dead fishermen, broken boats… a hope.
Elza the fisherman's wife lives in a seaside town in Kalmykia. She wants to leave her husband but cannot take this step because she is afraid of uncertainty.
Suddenly her husband dies. Because of his death, Elza has to think everything over and reconsider her views on life, on happiness, on liberty…
PRESS
An attractively lensed but fairly bloodless portrait of hard-up existence with few options, Ella Manzheeva's feature debut The Gulls (Chaiki) is set against the snowy, sparse expanses of the Republic of Kalmykia in Russia's Volga region. While its themes of corruption and desperation in the country's far reaches and yearning to escape to the city are well-trammelled in recent Russian cinema and its blend of folk legend, ethnography and mysticism not as evocative as a film such as Alexei Fedorchenko's Silent Souls, its selling-point as a rare film from Kalmykia should see it well-served with festival slots if evading wider distribution.
Although the visuals register more strongly than the wispy story elements, Manzheeva and her cinematographer husband, Alexander Kuznetsov, wisely refrain from over-aestheticizing the locations. In Lagan, the weather dominates the population's everyday life; in the winter, the water may freeze at any time, bringing out an anxiety in the families of the fishermen that comes through strongly. The wind, fog, water, ice and frozen ground also correspond to Elza's emotional state.
By Stephen Dalton, The Hollywood Reporter
The feature debut of young writer-director Ella Manzheeva is a small but haunting character study with strong visual appeal.
By Gunda Bartels, Tagesspigiel  
Director Ella Manzheeva shows Kalmykia as a space and leaden state of mind. Until the film finally fans open into a poetic self-liberation. Elza is transformed and the unattainable-seeming sea comes to her in the form of fish that flit through her wash basin.
By Tory Kamen, Women and Hollywood
Director Ella Manzheeva: Forget that you are a woman. Gender never defines professional qualities. But never forget your femininity. It can help you feel a unique power to create your own special world in the movie.
By Jörg Becker, Neue Zuercher Zeitung
From her village traditions, the road of the closed, misunderstood woman leads to urban modernity.
CHAIKI ist ein visuell hinreißend gestalteter Film über die Emanzipation einer Frau, der zugleich viel über die patriarchale Struktur der kalmückischen Gesellschaft erzählt.
By Thekla Dannenberg, Perlentaucher 
Evgeniya Mandshieva spielt die Elza, und man versinkt schier in ihrem schönen verschlossenen Gesicht, das weder ihrer Familie etwas von ihren Gefühlen verrät noch dem westlichen Kinozuschauer. Vieles stimmt nicht an ihrem Spiel, wie auch der Film ständig überzieht und sich nie richtig für die Sprache entscheiden kann, mit der er seine Geschichte erzählen will. Statt der ruhigen Erzählung zu vertrauen fällt er immer wieder ins Thrillerhafte, Frauenschicksalhafte oder ins Ethno-Poetische. In seinen besten Momenten zeigt der Film jedoch sehr schön, wie sinnlos jedes Offenbaren oder Erklären wäre. Dann erzählt er vom Unglück junger Menschen in einer traditionellen Gemeinschaft, die statt der Liebe nur die Pflicht kennt und statt der Entfaltung nur die Unterwerfung. Und deren Zugeständnis an die Moderne in den Autos und im Wodka besteht. Er zeigt dies, ohne anzuklagen oder zu denunzieren. Recht drastisch zeigt er dagegen, was für eine Diskriminierung Kalmücken von den Russen erfahren, weswegen Elza auch immer wieder von ihren Ausbruchsversuchen zurückkehrt.
By Nicolò Comotti, FREDNETADMIN
The Gulls is Ella Manzheeva's feature debut, and deals with the themes of loss and recovery. She tells us about how she sees this film as being one about happiness. She also explains what it was that made her want to tell this story and talks about choosing to cast first time actress Evgeniya Mandzhieva in the pivotal role of The Gulls.
By Nicolò Comotti, FREDNETADMIN
Internationally acclaimed top model Evgeniya Mandzhieva talks with us about making her cinematic acting debut in The Gulls, and talks about the challenges of Ella Manzheeva's project and the process of getting into the character – which required her, among other things to ditch her "sophisticated" lifestyle and learn Kalmyk…and even become a baker for seven days!
Interview Conducted, Edited & Transcribed by Steve Rickinson, IndieWood
We spoke with the film's Director Ella Manzheeva, as well as its lead actress Evgeniya Mandzhieva about the film's Kalmyk roots, its importance to the region and, of course, some filmmaking specifics alongside much more.