Back to our catalogue
GESLO. The "disappeared" expedition
original title: GESLO. "Ischeznuvshaya" ekspeditsiya
2017, 60 min., b&w /color, Russian
adventure
beginning of the 20th century
chronicle
Great war
Northern Sea Route
Novaya Zemlya
ocean
Russian Empire
the far north
CATEGORY :
Adventure Drama
DOCUMENTARY CATEGORIES :
History / Archive
,
Nature / Environment
COUNTRIES:
Russia
,
PRODUCTION :
CREW
Director
:
Screenplay
: Vladimir Nepevny, Anatoly Nikiforov
Cinematographer
: Alexander Filippov, Igor Dolmatov
Producers
: Victor Skubey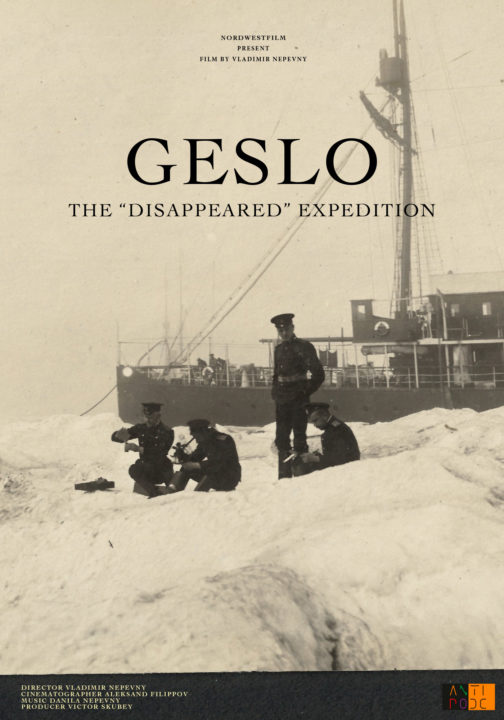 COMMENTS
Director's comment:
The main challenge of the film about the Arctic Ocean Hydrographic Expedition is the absence of film footage. Unfortunately, there was no cameraman among the expedition crew and it left no footage (unlike other expeditions, for instance, Sedov Expedition). However, we found a real treasury in the archives: several thousands of photos. These photos are of excellent quality, which is incredible, if we consider the conditions in which they were made. When we found out that many participants of the expedition kept journals or left memoires, the idea of the film was born. We decided to make the "live" photography the main visual motive of our film and build the narrative on the voices of polar explorers. A dramatic story, full of real suspense, should get the spectators involved, make them participate in the incredible events that took place more than a hundred years ago in the faraway dangerous North.
SYNOPSIS
The Arctic Ocean Hydrographic Expedition, accomplished in the beginning of the 20th century, between 1910 and 1915, led to the last great geographical discovery in the history of the world: the discovery of the Severnaya Zemlya (back then the Emperor Nicholas II Land) and was the first to accomplish the passage from East to West by the Northern Sea Route, from Vladivostok to Arkhangelsk, having passed the winter near the Cape Chelyuskin.
In Soviet time, the story of this expedition was ignored or falsified. There were two reasons for that: Kolchak, future leader of anti-Bolshevik forces, was among its participants, and most officers who took part in the expedition emigrated after the Revolution. The most successful and the most efficient of all the Arctic expeditions of the early 20th century was forgotten, erased from history.
According to Amundsen, "had this expedition taken place in any other time, it would command the admiration of the whole world".
The film is based on unique material: journals of participants of the expedition, their memoires and photos made during the trip. All this material plunges the spectator deep inside the dramatic story, full of suspense.
The premiere screening of the film took place in the Russian Geographical Society and on the Severnaya Zemlya itself (on the Russian Ledovaya Station at the Cape Baranov). Polar explorers were emotional and even proposed to restore the old geographical names linked with the participants of the expedition (after the Revolution, many discovered locations were renamed).