Back to our catalogue
Exciting Life
original title: Interesnaya Zhizn
2018, 87 min., color, Russian-Yakut
deer
film on film
loser
meditation
miracle
one man band
stand up comedy
the far north
theatre
tranny show
CATEGORIES :
Comedy
,
Mockumentary
COUNTRY:
Russia
PRODUCTION :
CAST
Alexei Yudnikov, Prokopy Nogovitsyn, Andrei Borisov, Sergey Potapov, Anissa Naouai
CREW
Director
:
Screenplay
: Anna Yanovskaya, Andrei Shemyakin
Cinematographer
: Semen Amanatov
Producers
: Natalya Lissovskaya, Vladimir Golikov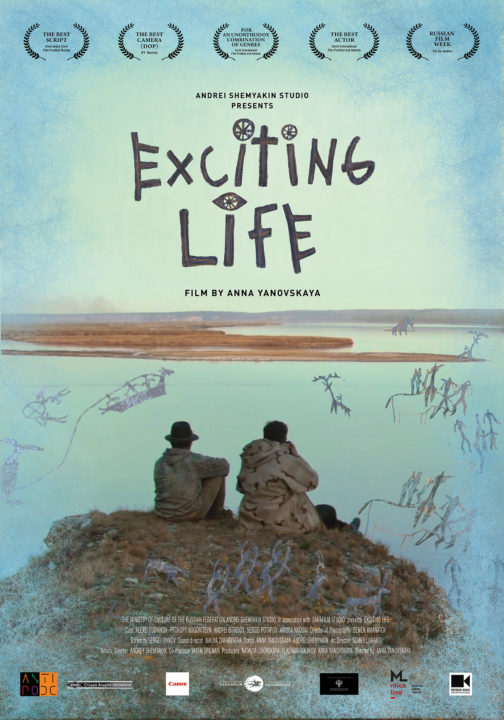 COMMENTS
FESTIVALS: Dok.dest Munich 2019, Pune IFF 2019
DIRECTOR'S NOTE
Today we acutely feel the scarcity of kindness in the world. In order to restore humanity, the artists and filmmakers need to create the art of kindness and enlightenment—these are the main features of films by Yakut directors. Here, in Yakutia, with its majestic nature, one can create an island of creativity that can contribute to the meeting and interaction of different cultures and can focus our attention on the development of a unique national film tradition.
One of the main characters of this film is Sergei Potapov, a Yakut film director. We studied together at GITIS (The Russian Institute of Theatre Arts). From Sergei, I found out about a Yakut phenomenon, as important as diamonds—the new DIY (Do It Yourself) Yakut cinema. Our film is about this phenomenon. This phenomenon is unique also for the Russian Federation at large – with 60-70 thousand rubles (1000Euro) Yakut directors can make a film that is creative, in touch with tradition, and popular at the same time. Sergei manages to make, without any budget, films that become box office champions. For more than twenty years, Yakutia has existed as the center of uninterrupted film production. Every year, 10-20 films in Yakut language come out, each with a budget of 60 thousand rubles, and each plays to full movie theaters and makes up its production costs several times over!
Here every second resident is a director, screenwriter, actor or cameraman; everyone wants to create and considers filmmaking an important and interesting profession. We will meet Yakut actors, talk to Yakut screenwriters, directors, and, importantly, distributors. The latter noticed the popularity of Yakut cinema among the local population and began to invest their own funds into local film production. And they were never sorry.
I would like to believe that today, at the time of economic crisis and lack of funding for cinema in Russia and elsewhere, the Yakut film industry provides an example of success for filmmakers all over the world. They revive cinema as a medium. I am both inspired and amazed by their success. DYI cinema can achieve a lot. We don't need a lot of money to make films. If you want to make films – do so! Everything is ready for this transformation.
"Our viewers like films based on real events. Everyone is tired of special effects, monsters, and supermen. Everyone likes simple, human stories," says Sergei. Protagonists of these films speak local language, suffer, and love in the same way as their fans. This is much more important for the audience than the adventures of some American playboy or brawny superman. This is the real power of cinema—a good film that makes people really identify with the characters. The real "good" cinema is the cinema that touches the heart, the soul, and in the end makes the spectator a better person.
SYNOPSIS
The story is based on real events, a travel of a failed Moscow actor to the shooting that takes place in the Autonomous Republic of Sakha-Yakutia. Looking with his eyes, we find ourselves in an absolutely mysterious world of the Olonho culture, the Republic of Sakha and the present-day Yakutian cinema with all its ethnic peculiarities. The long voyage of our hero is a kind of road movie, full of meetings with very different people – old wise men, shamans and even magic deers. We will find many adventures, discoveries, love, findings and losses.
It is here, in Yakutia, with its majestic nature, that we manage to create an islet of creation that would help interaction and merger of various cultures and bring attention to the peculiarities of development of the local, ethnic-based cinema. Lots of films are being made here. Approximately as many as in the rest of Russia. But we do not know almost anything about the Yakutian cinema. Its phenomenon is its incredible popularity among the local population. Neither American blockbusters nor Russian comedies are as popular here as the local Yakutian films. Local films, it should be remarked, are made very quickly and have very low budget.