Back to our catalogue
Download flyer
Catch 2012
original title: Lovushka 2012
2020, 52/60 min., color and b/w, Russian
activism
antiputinism
chronicle
clashes
mass protests
post-Soviet space
private stories
repressions
Russian opposition
DOCUMENTARY CATEGORIES :
Current Time / Politics
,
Social / Society / Human
COUNTRY:
Russia
PRODUCTION :
CAST
Alexey Polikhovich, Ilya Budraitskis, Elena Kostyuchenko
CREW
Director
:
Screenplay
: Evgeny Mitta
Cinematographer
: Vladimir Kanareikin
Producers
: Evgeny Mitta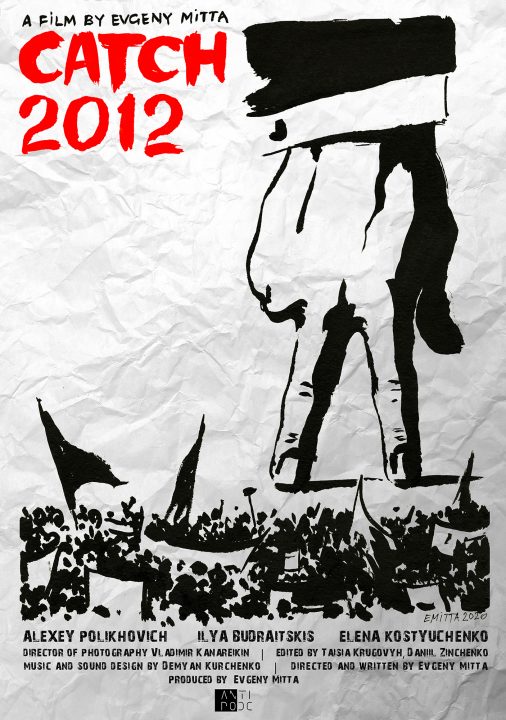 SYNOPSIS
PUTIN IS FOREVER, IT'S NOT A MYTH. BUT IT'S REALITY
In late 2011 – early 2012 Moscow witnessed mass protest events involving tens of thousands of people.
The people's discontent with the policy of authorities, with their irremovability from office, with manipulated elections and corruption, resulted in numerous rallies, actions and face-offs with police.
The first part of the film is a research-chronicle of the collective protest body, of its movements in the city milieu, of typical situations arising between its participants and with the representatives of authorities.
The return of politics to the streets of Russian cities marked the change in the existing contract between the authorities and the society. One of the most popular slogans of that time was: "You do not even imagine us."
Five years later, several activists tell the story how the participation in these events changed their lives. The protagonists include a defendant in the Bolotnaya case, the most massive political case of the last years, a female LGBT activist and a socialist historian.
PRESS
The film looks at what happened to some of the activists whose lives were turned upside down during those protests in Moscow's Bolotnaya Square and elsewhere. It has an added topicality now given the recent arrest of opposition leader Alexei Navalny. Among the subjects is one young protester thrown into prison. His account of his sentence sounds like something which might have been written by Dostoevsky in the 19th Century. –  Geoffrey Macnab, Business Doc Europe (interview with director)
Another recent pick-up is Evgeny Mitta's Catch 2012, a new doc about the mass protests in Moscow in 2012 against election manipulation and corruption – and about how aggressively the authorities moved against the protesters. As the doc reveals, for many of the protesters, these were life changing events. – Geoffrey Macnab, Business Doc Europe
Mitta's film maintains tension and focus by looking beyond the solely political dimensions of the opposition movement. Famous characters put in an appearance – here's Boris Nemstov (three years before his death at the hands of assassins a stone's throw from the Kremlin walls); there's Boris Groys, a distinguished German professor of Slavonic Studies – as we begin to understand the connections between Soviet repression of independent art (although not mentioned, I could not help but think of the infamous destruction by KGB bulldozers of the non-conformist art exhibition in Moscow's Izmailovsky Park in 1974) and Putin's terror of anything resembling freedom in a nation he has worked so hard to make compliant for his kleptocracy. – Nick Holdsworth, Modern Times Review