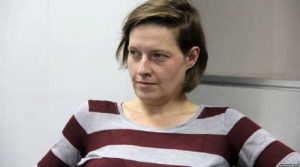 09 July 2018, Мark Krutov, Radio Svoboda
The Russian film director Elizaveta Stishova will hand the award she received for her debut feature film on the Karlovy Vary Festival to the aged parents of Oleg Sentsov and Kirill Serebrennikov. She told this on Sunday at the closing ceremony of the festival. Russians were not the only ones to express their support for Serebrennikov and Sentsov who is on the 57th day of his hunger strike in a Russian penal colony: Romanian film director Radu Jude, recipient of the Crystal Globe, the main award of Karlovy Vary, also spoke in favour of her colleagues.
The Czech Alliance of Cinema and Television (FITES) also issued a declaration in support of Oleg Sentsov. FITES organised a special screening of Sentsov's Gamer in Karlovy Vary, a meeting dedicated to his case and a collection of signatures for his release. These signatures are to be handed to the representatives of the Russian embassy in the Czech Republic. Photos of Sentsov, Serebrennikov and the Iranian director Jafar Panahi, prosecuted at home for his non-acceptance of the strict religious norms enforced in Iran, were hanging from the walls of the main hall of the Spa Hotel Thermal, the centre of the events of the festival.
Elizaveta Stishova's film Suleiman Mountain, filmed in Kyrgyzstan in Kyrgyz language and telling the life story of a former resident of a children's home, was one of three Russian films to obtain awards of the Karlovy Vary Film Festival. Suleiman Mountain won The East of the West competition. Ivan Tverdovsky's film Jumpman received the special award of the jury, and Vitaly Mansky's Putin's Witnesses won the documentary film competition.
Oleg Sentsov's mother is 75 years old. She lives in Crimea and rears the director's children, including one who is autistic. Kirill Serebrennikov's mother died after the start of the prosecution. Serebrennikov's father is 85 years old. He lived in Rostov-on-Don and needs medicines and regular medical treatment that his son cannot pay for because all Kirill Serebrennikov's accounts are blocked and his property is seized.
Speaking to Radio Svoboda, Elizaveta Stishova told more about her decision to hand the award money to the relatives of Oleg Sentsov and Kirill Serebrennikov:
– When did you decide that in case you obtain an award, you would give it to the relatives of Sentsov and Serebrennikov? Why did you decide to do this?
– I did not plan it. We just live in this space for a long time, in the world of Serebrennikov and Sentsov. We speak about them all the time. I have though a lot about these old people, their parents. We did not expect to get a prize on this festival so everything was purely accidental.
– What is the material content of this award?
– 15 thousand dollars.
– Are you acquainted with some of the relatives of Sentsov or Serebrennikov?
– No, I am not. It is easier with Serebrennikov because I know people who work in his theatre. They contacted his parents during the trial. I don't know anyone from Sentsov's family. But I will find them. We know a lot of people – they would help us somehow to reach his mother.
– Tell us a little bit more about your opinion of the stories of Sentsov and Serebrennikov.
– You see, if we read books about the year 1937, we know very well that there were innocent people. We somehow know if they are guilty or not, there is such understanding. I understand that Sentsov and Serebrennikov are not guilty of anything. They are just locked because of political reasons: one is confined to his flat, another is in prison. That's all. I don't need to know anything else. It is evident for me, and for a great number of other people around me.
​– Did they speak a lot about Sentsov and Serebrennikov on the Karlovy Vary Festival?
– The producer of the Romanian film that won the Grand Prix also said she would wish Sentsov to participate in the competition. There were "#FreeSentsov" stickers. His film was screened as a part of the festival. Yes, there is support. I believe that the cinematographic community is adequate and does not see difference between one country and another. They are ready to support Sentsov, they are ready to support Serebrennikov, no matter if he is Russian, Ukrainian or Romanian.
– In the Sentsov's case, Russian authorities have a trump card that, in my opinion, seems destined to those who are not very well aware of Russian-Ukrainian relations during the last years: "Sentsov is a terrorist, he wanted to murder people, he was not jailed for nothing, it is for a reason that he was sentenced to 20 years in prison."
There is a terrible phrase – "authorities will get things straight"
– I believe that clever people understand and stupid people do not understand and will not understand. It was always this way. There is a terrible phrase – "authorities will get things straight," that haunts us since 1937. Some people believe that if a person is in prison, it is for a good reason.
– Do you really believe that the current situation in Russia can be compared with 1937?
– Not yet, but, unfortunately, we are getting close to this. This is why I would not wish it to become even a partial truth. I would like us to get through it and out of it. But, without any doubt, people have such a feeling as fear in them. Self-censorship emerges. It is the most terrible thing for the art because people start to be afraid and to censor themselves. If a person can be jailed for sharing a post, one cannot share a post. This is what happens now.
– Are you afraid of any consequences for your professional career because of this political statement on the festival?
– No. They always tried to scare me: "You won't have this because of that, you won't have that because of this." I do not think there would be any consequences. Do you mean money from the Ministry of Culture? I never had it.
– What will be the attitude of those who sponsored the film Suleiman Mountain?
– I do not know anything about their reaction so far. We shall see.
A support action for Kirill Serebrennikov on the Cannes Festival where his film Summer was screened.
– What is your relationship with Kyrgyzstan? Why did you decide to make a film in Kyrgyz language?
– I somehow got there 7 years ago and shot a short film Seagull. It was also initially in Kyrgyz language. I liked this country very much because of its liberty and its different approach to life. And the screenwriter of Suleiman Mountain came there for the screening of the Seagull. And we both understood that we would like to make a full-length film with the same actors. The group is wonderful. As we had many friends, we decided to make one more film in this country. We aimed to show humour, not just drama, because these people have a marvellous sense of humour. Unfortunately, they often cover it up a bit in their own films and create serious, dramatic films. I wanted to show that they are capable of laughing, too.
– Will this film be shown in cinemas or at least somewhere in Russia? Will it be dubbed or projected with subtitles?
– No, it will have subtitles. I do not think there would be any mass projection of the film. After the festival, it will be shown in several places.
– How, according to you, can Russian authorities get out of Serebrennikov and Sentsov stories with minimum losses?
– Russian state should let them go, and this is all. It is an excellent exit strategy.
– In Sentsov's case, he can also be exchanged.
– Exchange, yes. But as you can see, it does not gain any traction. How many days is he fasting? But nothing happens. Of course, I hope that all of a sudden now… They could perhaps invent a method of amnesty? Presidential amnesty – and people would be let go, finally, – says Elizaveta Stishova.
Oleg Sentsov, a Crimean, who, according to the Russian authorities and against his own will, automatically acquired the citizenship of Russia, serves a 20-year term for "creation of a terrorist community" in a penal colony in the Yamal-Nenets Autonomous District. On 14 May, Sentsov declared a hunger strike with no fixed term in the colony of Labytnangi, demanding that all Ukrainian political prisoners in Russia be released. After numerous actions in Sentsov's support, Kremlin declared that the public response would not influence the procedure of exchange of the Ukrainian for Russians.
Tatiana Moskalkova, Human Rights Commissioner for the Russian Federation, called Sentsov's hunger strike "therapeutic fasting." Her sister, having visited Labytnangi on the last week, told that the director lost 15 kilos during his fast.
Kirill Serebrennikov and other defendants in the case of the "7th studio" are accused of embezzlement of 133 million rubles allocated for the staging of performances. On Monday, Moscow City Court repealed the decision of the Basmanny Court that obliged the arrested to familiarise themselves with their criminal case file before 19 July.