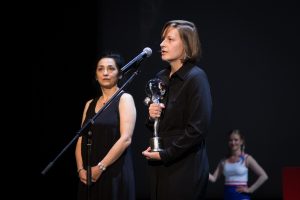 Ant!pode is proud to inform that "Suleiman Mountain" picked up 4 prizes.
On 7 July, winners of 53rd Karlovy Vary International Film Festival (June 29 – July 7) were announced. The East of the West Award went to a distinctive debut by Elizaveta Stishova "Suleiman Mountain", an original account of the life in Kyrgyzstan at . Non-statutory awards were announced on Saturday afternoon. FEDEORA award by Federation of Film Critics of Europe and the Mediterranean for the best film from East of the West competition section belongs to "Suleiman Mountain" for a serious and complex filmmaking effort, well developed story and very good acting.
On 6 July, 14th Eurasia International Film Festival's (July, 1-7)  Closing Ceremony was held in Kazakhstan Central Concert Hall. "Suleiman Mountain" received 2 awards – NETPAC Choice and FIPRESCI Choice.