Back to our catalogue
TEST
original title: ISPYTANIE
2014, Russia, 93 min., drama, color, DCP
Asia
CATEGORY :
Drama
COUNTRY:
Russia
PRODUCTION :
FESTIVALS & AWARDS
CAST
Elena An, Danila Rassomakhin, Karim Pakachakov, Narinman Bekbulatov-Areshev
CREW
Director
:
Screenplay
: Alexander Kott
Cinematographer
: Levan Kapanadze
Producers
: Igor Tolstunov, Sergey Kozlov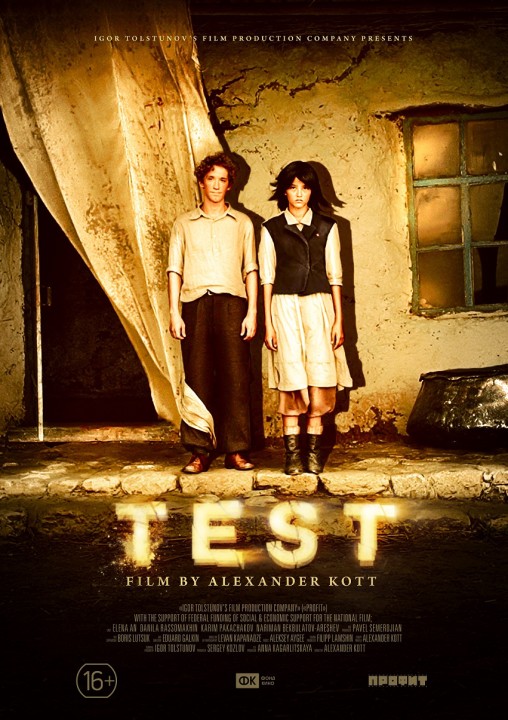 COMMENTS
DIRECTOR EXPLICATION
Story
It is a story about the first nuclear bomb test conducted in Semipalatinsk in 1949. No one imagined at that time where that would lead: the calculations were rough, and no one really knew anything about the radiation. They tested the bomb… and they tested the people. I imagined such a story… Thepeopleliveinthesteppe. Anordinarylifestyle. Nothing can change the eternal order. Every day the same, and the people are a part of nature. Theylive, theywork, theyfallinlove. And then one day there is SOMETHING far on the horizon, and in the same time very near. Anuclearexplosionisverybeautiful. Hideously beautiful. A fire monster, growing from under the ground, and drawing the clouds apart… Growing slowly and inevitably…
Characters
I would like to see this explosion with the eyes of my characters – and to show it in my film. My characters love passionately, suffer from happiness, endure the death of loved ones but all the human passions are nothing compared to this nuclear explosion.
Aboutthefilm
It is a film without words. Because… have you noticed that when somebody is really close to you, you don't need many words to communicate? Youcommunicatewithglances, gestures, actions. Sometimes a quiet communication means much more than empty conversations. I wished the spectators to listen to the sounds of nature – the steppe, the wind, the birds…This film is for those who love looking, for those who remember that the cinema is, before all, an image. And when the cinema was invented, it was without words.
Plot
Agirllivesinthesteppewithherfather. Tolgat and Dina. Kaisyn, a local elder, is in love with Dina and wishes to marry her. But suddenly there is a young newcomer named Max who also falls in love with Dina. Her feelings are strange – according to the rules, she should be with Kaisyn, but she loves Max. A love triangle emerges, with passions, fights, arguments. But then Tolgat, Dina's father, dies of radiation. And Dina decides to go away from home. Alas, it is too late. The nuclear mushroom already appeared on the horizon…
SYNOPSIS
They live in the steppe. A father and a daughter. Nothing may disturb the eternal order. Tomorrow always comes. And every morning the father goes away to work. And she stays alone. To wait for her father. And to feel. Two men are in love with her. She loves everyone. Her love cannot be divided. One day, the decision comes by itself. It comes from where the sun lives.