Back to our catalogue
Six Musicians and the City
original title: Shest musykantov na fone goroda
2017, 73 min., color, Armenian-Russian-English
city guide
folklore
jazz
Jivan Gasparyan
memoirs
nostalgia
post-Soviet space
sing
Yerevan
DOCUMENTARY CATEGORIES :
Art / Music / Literature / Culture
,
Portraits
COUNTRIES:
Russia
,
Armenia
PRODUCTION :
CAST
Jivan Gasparyan, Lilith Pipoyan, Malkhas, Arto Tuncboyaciyan, Forsh, Michael Voskanyan
CREW
Director
:
Screenplay
: Tatiana Daniliyants
Cinematographer
: Sargis Kharazyan
Producers
: Artem Konstandian, Tatiana Daniliyants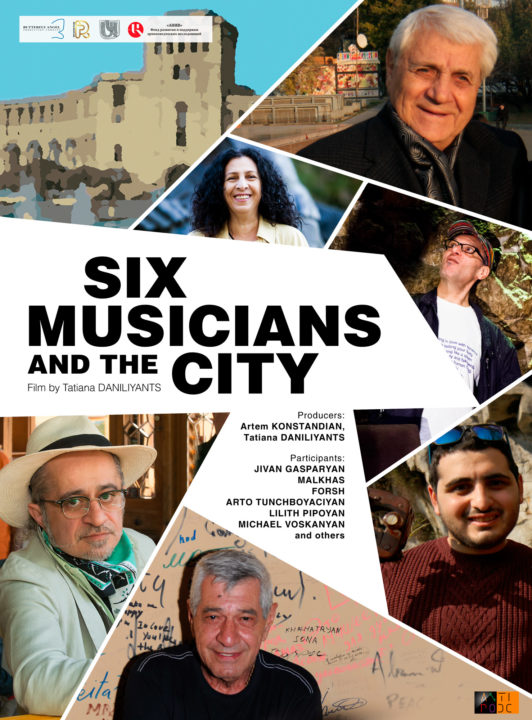 COMMENTS
FESTIVALS: Golden Apricot Yerevan International Film Festival 2017, ArtDocFest 2016
It is known that it took Tatyana Danilyants almost ten years to research and investigate, from 2007 to 2014. The shooting started in September 2014 and went on with pauses until November 2015. During this time, the material about the life of six musicians was shot, the already scarce footage was found from the 90s, the era of "blockade and darkness", the dramatic period in the history of the country that stayed virtually unknown outside Armenia.
Director's Statement:
Once, at the beginning of December 2007, I appeared – for the first time of my life – in Yerevan, the capital of Armenia. It was dull day, almost without light, followed by a cold evening. I was taken by friends to a jazz-café, "Poplavok", that means "The Float". They told me that this is a cult Yerevan place. I was invited there to listen to a local celebrity. This is how I met Forsh, an extraordinary musician and composer with an extremely high level of vital energy.
Later, I met and listened to another amazing person, the singer and composer Lilith Pipoyan, who has adapted ancient Armenian poetry creating unique songs in her special style.
And again later, I met another great person, Malkhas, a musician and the founder of the Yerevan International Jazz Fest.
From that time on, I discovered Yerevan together with its great contemporary musicians.
Some of them, like Jivan Gasparyan and drum-player and composer Arto Tuncboyaciyan, had become well-known world-wide. For example, Arto has been a Grammy prize laureate.
What really impressed me, and to which I dedicate this film, is the unique music of my heroes and their rich personalities, always existing in close connection to their roots… and, of course, their Yerevan, the city they talk and sing about.
SYNOPSIS
Between East and West, between strong traditions and today's innovations, between the nostalgic melodies of duduk and the beat of modern jazz, is Yerevan. Six musicians, six styles, six personal stories behind one of the most musical cities in the former Soviet Union. At the end of the 20th century after the collapse of the Soviet Union, Yerevan survived wars, the blockade, a period of "darkness and hunger" and almost total isolation. Now it is changing dramatically, searching for its own identity, its path of development and its place in the world in the new millennium. The six participants of this film, including Grammy and World Music Award Laureate Arto Tuncboyaciyan and world-wide famous "duduk-voice" Jivan Gasparyan, are the "genius loci" of Yerevan. They personify its hidden pain and beauty. The film captures Tatiana Daniliyants' ten years of research and an attentive eye for these musicians' own stories and their extraordinary music.
PRESS
Danilyants' latest film Six Musicians and a City is an exceptionally successful representation of place. Not place alone, but place and destiny, place and history as some extraordinary chronical footage demonstrates. Central to the film is the image of a city recovering, overcoming the trauma of earthquakes, wars, blockades and near famine of the late 1980's and early 1990's (and also the genocide of a century ago). A film dedicated to physical survival and the survival of voices, the endurance of history and culture.Moreover, the city is present in many guises: the center and the periphery, the city as memory, the city as architectural and cultural history, the city as nature, the city as coincidental meeting place, the city as fleeting impressions as well as the bar and club life of the city, the city as one imbued simultaneously with nostalgia and forward looking drive. All this is the backdrop to the six musicians' tour of Yerevan. For a documentary filmmaker choosing six protagonists could well be a risky strategy but here it is a winning strategy precisely because of the diversity of how they illuminate the city and are themselves reflected in this topography. Giuliano Vivaldi, Desistfilm
"What way are such things as the city, the music and the cinema alike? You can only appreciate them from inside. If you look at them like a tourist, a casual listener or spectator, you won't understand anything. To hear and to see something real, you should feel the city and the music as something bigger than yourself. Tatiana Danilyants's film gives us precisely this experience: the total immersion in culture and life. This film, a modest one and even, at the first glance, an old-fashioned one, opens us the way to the labyrinth of cultural interaction and to the community that we won't be able to leave. We wouldn't want to, in fact". Alexey Medvedev, film critic, film curator
"Among the modern Russian documentary film makers, Tatiana Danilyants is probably the only one to recreate a vivid, clear and sensible view of the city through all of her films. The central object of her new film is the image of the city of Yerevan, coming back to normal, leaving aside the traumas of earthquakes, wars, blockades, famine of the end of 80s – beginning of 90s (and the trauma of genocide that happened a century ago). The film is dedicated to survival, both physical survival and survival of voices, the human voice in general, the endurance of history and culture. The city is shown multifaceted: the centre and the periphery, the city as memory, the city as architectural and cultural history, the city as nature, the city as a place of chance meetings between different people, the city as fleeting impressions, the city with its life of bars and clubs, the city permeated both with nostalgy and the irresistible urge to move forward. All this serves as the background for a trip of six musicians and their music. Giuliano Vivaldi, film journalist, blogger
"If there was a Red Book of Cinema, Six Musicians Against the City Background would definitely get inside it. As a unique representative of the genre "documentary musical film". Six Musicians is not a film about Yerevan musicians. It is not a film that uses music as material or as a colour. It is a film where the music, just like in ordinary musical film, becomes a way to express the feelings of the characters. And one of these characters is the city, Yerevan". Viktoria Belopolskaya, film critic, film curator
"Tatiana Danilyants's film proves that Yerevan is jazz".Vitaly Mansky, film director
"The city is not limited to buildings and streets. The city is the music that it breathes for centuries, the music that its walls are impregnated with. Tatiana Danilyants managed to find six profound voices of different generations and styles that make you fall in love with these sounds, ancient and state-of-art at the same time, that are scattered everywhere in Yerevan and resonate with the city. After seeing this film, one feels the urge to participate in a Mikael Voskanyan's concerto and travel around all Armenia with his magic "tar" in one's headphones. Massimo Tria, film critic, selector of films for the Venice International Film Festival