Back to our catalogue
My Friend Boris Nemtsov
original title: Moi drug Boris Nemtsov
2016, Estonia, 70 min., Russian
antiputinism
biopic
diary
mass protests
political history
Russian opposition
the most high-profile assassination
the youngest governor
CATEGORY :
Debut
DOCUMENTARY CATEGORY :
Current Time / Politics
,
Portraits
COUNTRIES:
Russia
,
Estonia
PRODUCTION :
FESTIVALS & AWARDS
CAST
Boris Nemtsov, Ilya Yashin, Alexey Navalny
CREW
Director
:
Screenplay
: Zosya Rodkevich
Cinematographer
: Zosya Rodkevich, Pavel Kostomarov, Maria Pavlova, Ksenia Yelian
Producers
: Alexander Rastorguev, Pavel Kostomarov, Maria Gavrilova, Max Tuula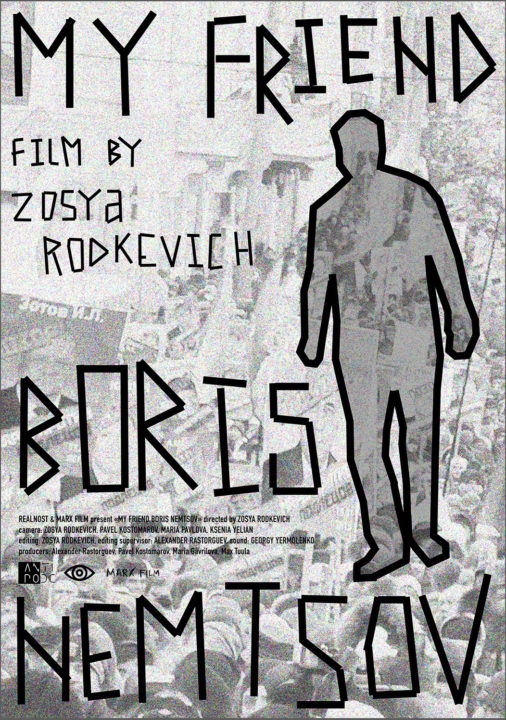 COMMENTS
It is a film début, a documental tragedy, a chronicle showing the criminal essence of Russian authority in detail.
It took three years to make this portrait, this sketch of a talented physicist, of the youngest Russian governor, of the Russian Vice Premier under President Yeltsin – of Boris Nemtsov. Murdered by the guards of Ramzan Kadyrov, the President of Chechnya, in February 2015, the outstanding leader of Russian opposition is shown sympathetically, with humane warmth and irony.
SYNOPSIS
An intimate portrait of Russian opposition leader Boris Nemtsov—once Deputy Prime Minister and "an heir of President Yeltsin", later an uncompromising adversary of Putin—that was assassinated near the Kremlin in February 2015. Election campaigns and hotel beds, protest rallies and office routine, train compartments and courtrooms, night walks and police vans –you have never seen any politician so close. This is a story how a journalist assignment turns into a genuine friendship.
PRESS
We see Boris as he was: a man who never hid himself from us. But he was taken from us, just as they take from us anyone who represents a different point of view about what goes on in our world.
Of course, that we're now watching a film about this young, strong, and energetic person and the fact that his whole life now lies in the past is a terrible tragedy. It's also the key to understanding the madness in which we find ourselves. That madness, which Nemtsov himself warned about, sooner or later becomes something. Nemtsov always said evolution, not revolution, is what Russia needs. But life, apparently, pushes future developments in a different direction.
Michael Pattison, The Calvert Journal
For her feature-length debut, Rodkevich (born in 1990), attained seemingly unlimited access to Nemtsov — a man once described as an heir to Boris Yeltsin, before he became one of Putin's most outspoken opponents within Russian politics. Nemtsov's political campaign unfolds here in hotel rooms and on the streets, in train carriages and on nocturnal ambles. An incomplete version of the film screened in December 2015 at Russia's progressive-leaning Artdocfest, whose president Vitaly Mansky remarked: "it would be immoral, low, despicable, dishonest, and even inhuman to talk about Russian documentary filmmaking and ignore Nemtsov. And that's why we are absolutely showcasing a special Nemtsov project."