Back to our catalogue
Major/Minor Issues. Nord-Ost Tragedy
original title: Obschee /Chastnoe. Nord-Ost
2021, 52 / 92 min., color, Russian
DOCUMENTARY CATEGORIES :
Current Time / Politics
,
Social / Society / Human
COUNTRIES:
Ukraine
,
Belgium
,
Czech Republic
,
Netherlands
PRODUCTION :
CREW
Director
:
Screenplay
: Ivan Kachalin & Sulamif Kanarskaya
Cinematographer
: Margarita Kuklina
Producers
: Ivan Kachalin, Denis Glazovsky, Denis Kolontay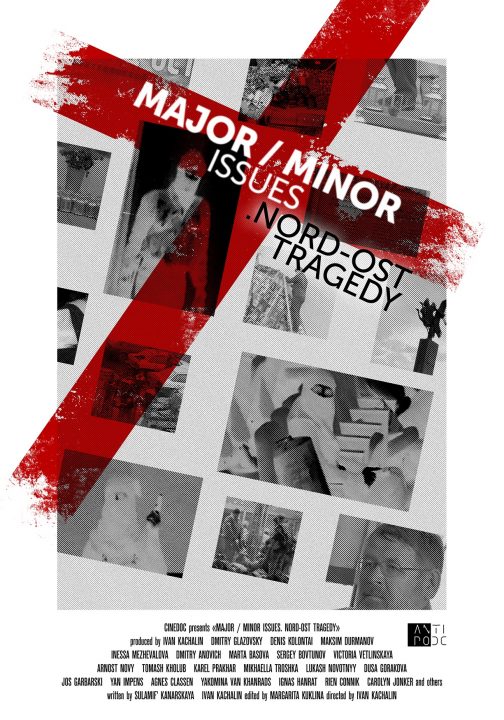 COMMENTS
FESTIVALS: The International Film Festival Mannheim Heidelberg (IFFMH)
SYNOPSIS
AS TIME PASSES, EVENTS BECOME MORE DISTANT                                                                                                                                                                                       23-26 October 2002: these sad days of Russian modern history were described as a terrorist attack on Dubrovka or the tragedy of Nord-Ost .
– According to official data, 130 victims and some 50 terrorists were killed.
– In total, there were about 800 people in the building.
– The official investigation, conducted by the Prosecutor's Office of Moscow, was suspended on 1 June 2007 a€?due to failure to locate the accused".
– Nord-Ost Organization demanded a new criminal investigation but failed to achieve it.
– There is still no information on the composition of the gas that killed the hostages, on possible antidotes, on the exact number of hostages released during the operation, on the exact number of terrorists who took over the theatre; on the officials who made the decision to storm the theatre.                                                                                                                      The film includes "external" material from official and opposition media, footage of participants in the events inside the theatre, interviews with relatives of those who died. It is also an attempt to give answers from today: what was the cost of these lives, interrupted overnight, and what were the fates of the survivors… and, finally, the eternal Russian question "who is to blame?.