Back to our catalogue
Rus
Ivan's Game
original title: Ivanova igra
2020, 52 min., color, Croatian
post-Soviet space
sports
vitality
DOCUMENTARY CATEGORY :
Portraits
COUNTRY:
Croatia
PRODUCTION :
CREW
Director
:
Screenplay
: Tomislav Zaja
Cinematographer
: Jasenko Rasol
Producers
: Tomislav Zaja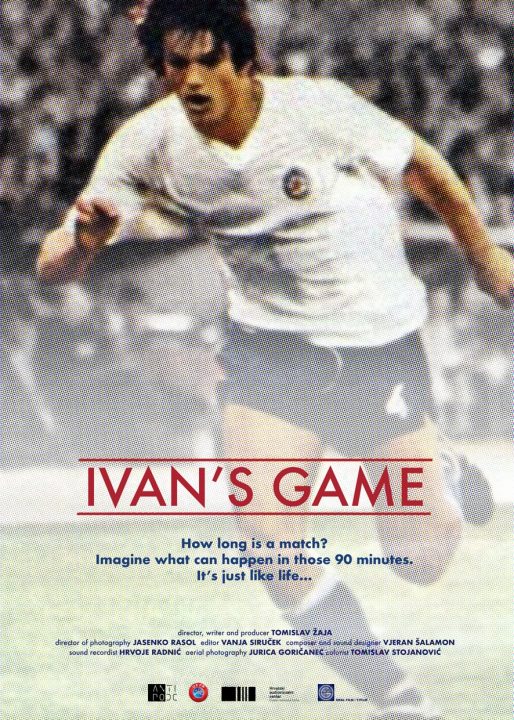 COMMENTS
FESTIVALS: Paris Play Film Festival 2020, Interdoc 2020, South East European Film Festival 2020, Athens Marathon Film Festival 2020, Near Nazareth Film Festival 2020, Austria International Film Festival 2020, Garden Route International Film Festival 2020
Director's Note: I have learned much from Ivan. He prompted me to think about my own life, goals and the accomplishments I want to achieve, and whether there are any limits except for those we impose upon ourselves. This is a film about hope. To make this hope a reality requires, in life as in football, the finest play and skill, almost an art.
SYNOPSIS
IVAN'S GAME is a biographical documentary which covers the life story of one of the greatest Croatian football players of all time: Ivan Gudelj. The film follows Ivan's meteoric rise and the tragic end of his career at the height of his fame when he got ill from hepatitis B virus that nearly killed him. It is a story of an exceptional man who lost everything because of the illness, but eventually won his life's game. The film poses the following questions to its viewers: how can you continue your life when the whole world collapses around you like a house of cards? How do you flip the score in a game that's already lost? Is there life after football?
PRESS
Meanwhile, in Docs For Sale, Antipode has been introducing buyers to its new football-themed documentary Ivan's Game, directed and written by Tomislav Zaja. The film tells the story of one of the greatest Croatian football players of all time: Ivan Gudelj, a defensive midfielder described by the Yugoslavian press as a Balkan version of Franz Beckenbauer. His blossoming career ended abruptly when he contracted Hepatitis B. – Geoffrey Macnab, Business Doc Europe