Back to our catalogue
Curiosity, Adventure and Love
original title: Curiosity, Adventure and Love
2016, 61 min., Color /Blck & White, English
DOCUMENTARY CATEGORIES :
History / Archive
,
Portraits
COUNTRIES:
USA
,
Philippines
PRODUCTION :
FESTIVALS & AWARDS
CREW
Director s
:
Screenplay
: Justin Weinrich, Sunshine Lichauco de Leon
Cinematographer
: Arturo Prins
Producers
: Sunshine Lichauco de Leon, Suzanne Richiardone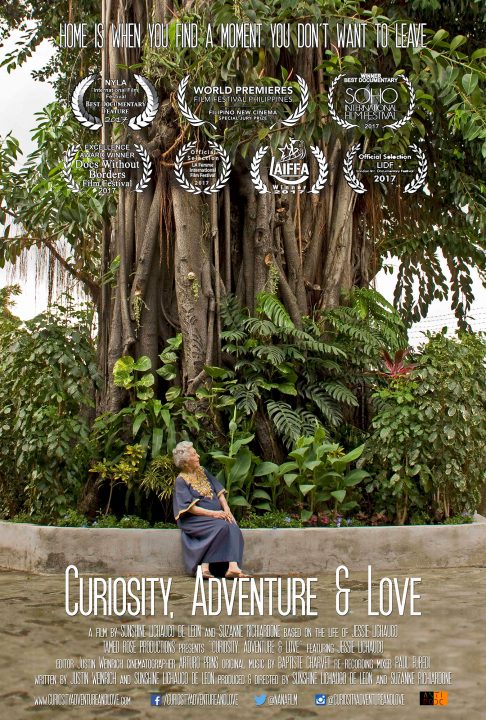 COMMENTS
FESTIVALS: Soho International Film Festival 2017, NYLA International Film Festival 2017, Los Angeles Independent Film Festival Awards 2017,2017 London International Documentary Festival 2017, Docs Without Borders Film Festival 2017, La Femme International Film Festival 2017, World Premiere's Festival Philippines 2016, Cinemalaya Philippine Independent Film Festival 2016
Director's Statement:
My 105-year old American grandmother Jessie Lichauco, was at the epicenter of events that shaped the 20th century Philippines and possesses a unique perspective on how her adoptive country and the world has evolved since.
I believe it's important to share stories and insights of the generation that lived the pre-war world and survived World War II. I made this film because I wanted to inspire people to learn more about Philippine history and the detail with which she remembers history brings it to life.
The wisdom she has accumulated over a century of life has tremendous relevance in today's fast-changing world, where people are more connected and more isolated from each other, perhaps now more than ever. It is my hope that her story will remind people of what we have in common and inspire them to be more compassionate to each other.
Jessie Lichauco's life has been exceptional and truly unique, and I believe the universal themes which her story touches – romance, marrying into another culture, adventuring to another country at a young age, history, war, saving children and her humanitarianism, will make the film appeal to any audience, regardless of age, gender or nationality.
If this film encourages people to live life with a greater curiosity, more sense of adventure, and a deeper compassion and love towards each other, then I have done my job as a storyteller.
SYNOPSIS
BASED ON THE LIFE OF JESSIE LICHAUCO
Curiosity, Adventure & Love is the story of a 106-year-old American woman who journeys to Manila alone in the 1930s at age 18, the history of the Philippines she witnessed and the insights of a woman whose indomitable spirit has evoked inspiration for the thousands who have known her.
Sitting alone in her 250-year old Spanish colonial home, Jessie Lichauco's poetic soul shares stories of a life guided by fate, where her innate sense of adventure, curiosity and compassion for others knows no boundaries. Jessie's husband worked for the Philippine colonial government lobbying for independence in Washington DC and was among the country's most prominent lawyers, allowing her to witness the rebirth of a nation. Bridging the past, the present and future, it's an amazing journey of a century of humankind, of love and finding home, of the cruelty of World war II and a hostile occupation, and the rebuilding of a nation while living a life that restores our faith in the power of our own humanity.
PRESS
De Leon says she made the film because "I wanted to inspire people to learn more about Philippine history … and the details with which she remembers history brings it to life." – interview Sunshine Lichauco de Leon for Gulf News Asia
In an exclusive interview with SPOT.ph, de Leon talks about how she became a filmmaker, her close relationship with her grandmother, and how this all led to an award-winning documentary about the history of the Philippines.
Someone once asked Jessie how she survived the war. Her answer: "I don't think about myself too much." Curiosity, Adventure, and Love is a well-told account of how one person can be vastly transformative to one's self and to others simply by acting on their innate strengths. It's a solid testament to the prevalence of humanity over adversity. – by Carmela Fernando, Metro.style
"I believe it's important to share stories and insights of the generation that lived through the pre-war world and survived World War II. I made this film because I wanted to inspire people to learn more about Philippine history, and the detail with which she remembers history brings it to life," de Leon says Town&Country
A Cuban-born Filipino-American, Jessie's life has indeed been, as aptly captured in the title, one of curiosity, love, and adventure. She had travelled around the country, involved herself in many aspects of our social and cultural life, touched the lives of people – rich, poor, and coming from various ethnic and social groups. With such amazing sensitivity and awareness, she had shared lessons of a life well lived and conveys these bits of wisdom in reminiscences, in pithy statements… – by Florangel Rosario Braid, Manila Bulletin
Meet the 105-year-old Filipino whose life inspired a film Jessie, who compares her life to 'a coconut taken into the ocean', recommends embracing the chaos of life – Bhavan Jaipragas, South China Morning Post
While one would expect a film centered around one woman to be unique to her and her family's experiences, this story is remarkably universal as Jessie lives out all-embracing values of tolerance, openness and generosity. – By Audrey Tan-Zubiri, Philippine Daily Inquirer
"Jessie's life story offers valuable lessons on finding meaning and happiness in every moment, and adopting an ethos of existence based on helping those in need," said Minister Patrick Chuasoto, the Embassy's and Chargé d'Affaires ad interim, in his opening remarks. – INQUIRER.net US Bureau
The film neither proselytizes nor indulges in schmaltz as it recalls the hard-won battles we fought as a people. But, something stirs when you witness Jessie's catchy ebullience and joie de vivre as she shares her thoughts about the Philippines' complex struggles. – Aiko Melendez, Philippine Daily Inquirer
In the film, it is pointed out that St. Augustine was where Ponce de Leon searched for the fabled fountain of youth, which might explain her longevity and her youthful outlook on life. – By Eric S. Caruncho, Philippine Daily Inquirer
The movie is one-hour long and features interviews with Jessie conducted at the 200-year-old Lichauco house in Sta Ana, near the Pasig River, which has been designated a heritage site. The producers also talk to historians and World War II survivors, making the movie also about the history of the Philippines over the eight decades Jessie has lived here. In between these interviews are rarely seen footages of Manila pre- and post-war. – By Coconuts Manila