Back to our catalogue
COTTON 100%
original title: Cotton 100%
2022, 68 min., color, Uzbek-Russian
DOCUMENTARY CATEGORY :
Social / Society / Human
COUNTRIES:
Uzbekistan
,
Germany
PRODUCTION :
CAST
Mukhabbat Madrimova, Yelena Urlaeva
CREW
Director
:
Screenplay
: Timur Karpov, Michael Borodin
Cinematographer
: Michael Borodin, Timur Karpov
Producers
: Timur Karpov, Julia Shaginurova, Michael Borodin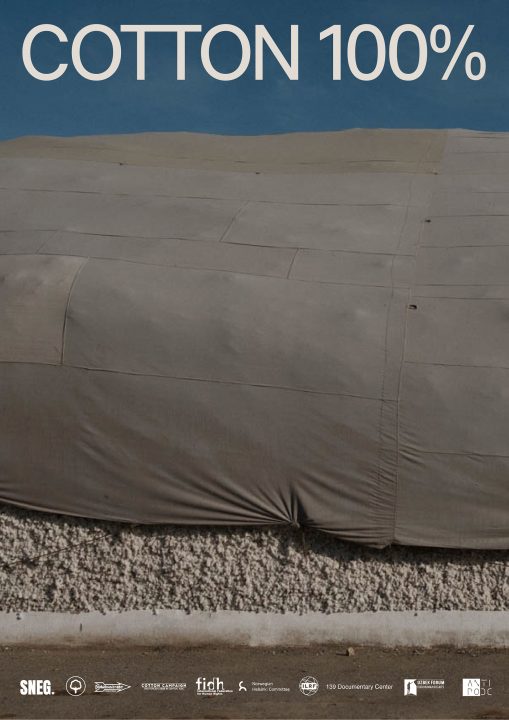 COMMENTS
FESTIVALS: European Film Festival Palic 2023, IFF Bastau (Competition of Documental debuts) 2022, GoEast 2022, Artdocfest / Riga 2022
Director's Note: COTTON 100% is a very personal story for me. Just as it would be to anyone who was born or lives in Uzbekistan, where forced cotton picking is still a part of everyday life.
Cotton is the main asset of Uzbekistan, and its sacred treasure. In the Soviet times it was called «The White Gold», several generations grew up with this bombastic metaphor and with the routine of forced picking. I remember spending weeks in the fields picking cotton along with my schoolmates instead of studying.
Several generations of Uzbek people (workers, teachers, doctors and schoolchildren) had to sacrifice thousands of hours of their lives to the state. The practice of legalised slavery which started at the Soviet times is still there and hardly likely will be eradicated in the nearest future.
I left home young, and didn't go back for a long time. The farther I am (both in the means of time and distance) the more absurd this practice seems to me. It is also odd to see that this problem is barely known to the rest of the world.
Producer's Note: Cotton is the main economic asset of Uzbekistan, and also its biggest human rights issue affecting all segments of the society. The farmers are obliged to raise cotton, providing certain quotas, and then to sell it to the state for artificially low prices. Uzbek citizens are forced to leave their regular jobs and go to to the fields to pick cotton for the country. Otherwise, they risk their normal works and wages. While picking, people live in poor conditions and are either underpaid or not paid at all. Mostly, it's women who pick cotton, it is very hard physical work. Sometimes they provide daily quotas which are twice more than their own weight. And it is very dangerous because of the chemicals in the fields.
COTTON 100% is a very personal story for the film crew. As kids, most part of them had to pick cotton instead of school. The practice of using children labour stopped, but the legalized slavery is still there. The closer the Uzbek society is getting to the other world in the means of technologies and culture, the more absurd this practice seems.
COTTON 100% is shot by its director Michael Borodin after many years of absence in Uzbekistan. His film is not just a crusade against violation of human rights, it is also an observational nostalgic journey shot by a loving eye. The film is showing the beauty and the routine of a simple life. It is observing how people cope with hard labor, how they feast, how they preserve rites and traditions, and how they stand for their dignity.
Cinematographically it is important for us to avoid the typical picture of 'oriental flavor'. We are aiming to show the real Uzbekistan, the striking contrast of beautiful nature, ancient structures and fabrics, and the new cheap 'plastic' reality. We are avoiding striking bright colors, the main backdrop for the film are cotton fields, dust, and ground. Cotton in the fields and huge piles of crops seem to be the self-contained characters of the film.
SYNOPSIS
Yelena is an activist fighting for the rights of cotton pickers. Muhabbat is a farmer struggling with the hardships of rural life…
The film is a parallel narration of the stories of Yelena and Muhabbat. We follow the farmer through her everyday routine from the field to the Maternity Home where she picks up her newborn grandson, from the Mosque to the feast at her house and then to the field again, where, after a humiliating quarrel with the officials, she has to start picking cotton before the crop is fully ripe.
Yelena's part is almost a road movie, we follow her on the annual crusade against forced labor. Many see her as an extravagant figure. The pickers are polite, most of them probably even share her vision. Still, we see that there's little trust in them, confronting her rage and passion makes them uncomfortable. It seems, Yelena doesn't really pay attention to this lack of enthusiasm, she is an optimist. She knows, that her way is long and believes, that one day she will win over the state slavery system.
Our heroines are very different, their standings are almost opposite: Muhabbat believes in hard work and obedience to the rules, Yelena is a pure protest and rage. The passion of one meets the reason and firmness of another composing the story of two strong female characters coping with injustice and poverty.