Back to our catalogue
Rus
18 kHz
original title: 18 Kiloherz
2020, 79 min., color, Russian
teenager
CATEGORY :
Drama
COUNTRY:
Kazakhstan
PRODUCTION :
FESTIVALS & AWARDS
CAST
Musakhan Zhumakhanov, Alibek Adiken, Kamila Fun-So, Roman Zhukov, Nyshanbek Zhubanaev, Dinmukhamed Akhmet, Diyar Dzhamaldin, Anna Zakirova, Makhabbat Sarkytpayeva, Bubinor Bakieva
CREW
Director
:
Screenplay
: Farkhat Sharipov
Cinematographer
: Alexander Plotnikov
Producers
: Farkhat Sharipov, Dina Zhumabek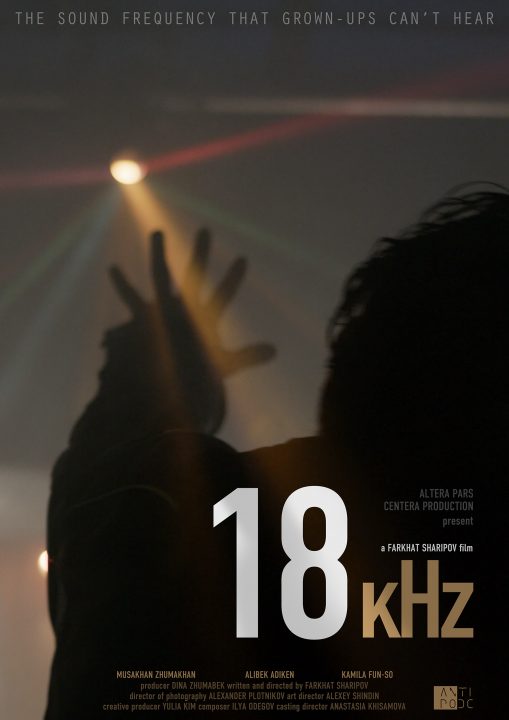 COMMENTS
FESTIVALS: Kristiansand International Children's Film Festival 2022, WOW Wales One World 2022, Tallinn Black Nights FF (Youth Program) 2021, Sao Paulo IFF 2021, Cinemagic IFF Belfast 2021, Chennai IFF 2021, Asian FF Barcelona 2021, Schlingel 2021, Giffoni 2021, Cottbus 2020, Busan IFF 2020, Warsaw IFF 2020
SYNOPSIS
THE SOUND FREQUENCY THAT GROWN-UPS CAN'T HEAR
Gulnara has lost her piece of jewelry and suspects her son – young Sanzhar. Sanzhar, meanwhile, is looking for freedom, which he's being drawn into by his best friend, Dzhaga. They are searching for freedom while breaking all rules, opening all doors where there's written "no entry", going there – where they think, that same freedom is hidden.
PRESS
Students from Poland, the Czech Republic and Germany were the jury for the U18 Youth Film Competition. They chose the Kazakh drama about drugs 18 KILOHERTZ (Kazakhstan 2020) as the winner. Director Farkhat Sharipov receives the  EUR 5,000 prize for the best youth film, donated by the city of Cottbus. On their decision, the jury said: "[….] Not only it had impacted us while watching it, but also had stayed in our minds and hearts as we began to live again – after the movie had took our breaths away." FilmFestival Cottbus
"Life is pain" and "there is no future" – the definitive markers of a teenage worldview; the anxiety doesn't go away even if everything is OK. The narrative core – criminal joy-ride with fatal outcome – is as hardcore as it is. But the change from "Hardcore" to "18kHz" didn't happen without a reason: realism is important but cinematic poetry prevails. Sharipov adapts one specific story that is precisely dated, and talks about the youth in general. His 90s are vastly different from the version of the decade
that a lot of young Russian authors reconstruct following the clichés that were forced on them…Sharipov – a classically educated director who works in the official film industry – has a unique sense of reality and the talent for uncompromising social critique… – Vadim Rutkovsky, MIFF Daily
18 kHz is a vibrant and kinetic coming-of-age drama which pits the trials and tribulations of youth with the growing drug culture of the era. Based on Zara Yesenaman's novel Hardcore and mixing with director Farkhat Sharipov's memories of his own adolescence, we're transported into a world of degradation, desire and dilapidation. Set to a thrilling soundtrack, 18kHz skilfully conjures up the excitement and dangers of a period of national change and exploration. – Rob Aldam, Backseat Mafia