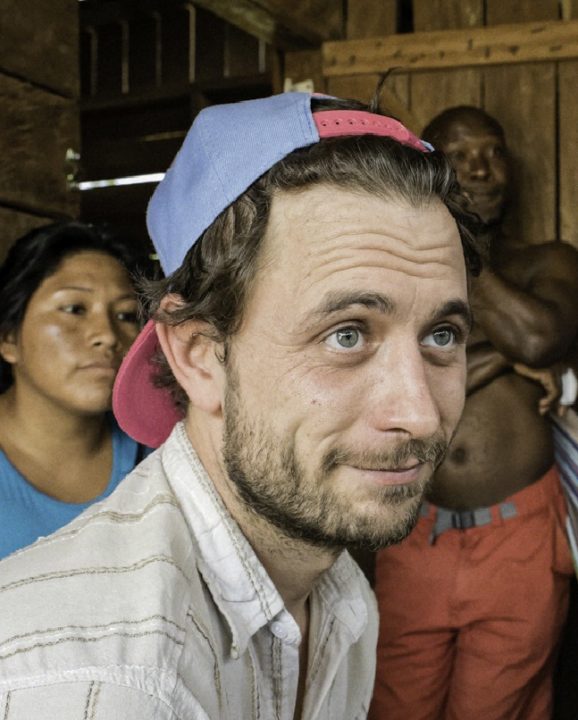 Pierre Selvini
Director, author, producer, composer, sound engineer
From a marginal childhood oriented music in countryside, Pierre Selvini undertakes, after school, longs studies. First passionate about physics and mathematics, he joined the preparatory classes for the grandes écoles followed by an electronic license. Then he turned to musicology, aimed physics research of musical acoustics. He finally enters the ESAV (Audio-Visual Superior School, Toulouse, France) that allow him to see Cinema as a door to develop and transcend his various passions for science and art.
On his arrival in Paris, he first worked as a sound engineer and composer, but in parallel develops a project and a friendship with Nicolas Pradal. Their willingness to get involved humanely with natives in French Guiana will push them to create an associative, participatory project that will last more than 7 years. A first conclusion with the film "Youth of the river" give them the will to go further in film research, both in substance and in form, and so the film Anuktatop: the metamorphosis culmination of a long artistic work and a human success on indigenous territory. During these years, he continues to work in parallel on set or in post-production as an engineer sound, director or assistant director on smaller projects (short films, institutionals, advertisings).
He is also interested in social and scientific alternative crops in the city as well as Japanese culture, particularly with the meeting in 2014 of a group of psycho-acoustics and ethno-musicological researchers based in Tokyo, Japan.
Filmography (as director) 
Length film :
Anuktatop : the metamorphosis, 2016, 105 min, HD.
Documentary:
Youth of the river, 2013, 53 min, HD, color.
Yollock's Talk, 2011, 49 min, HDV, color.
Behind the smoke, 2008, 52 min, HDV, color.
Short films :
Kailawa Wayana Akenaptëtpon (Kailawa the man who got the Wayanas together), 15 min, 2015, HD.
Malilu mëkïtpe (Malilu's arrival), 24 min, 2015, HD.
Lobi Di No Man (Impossible love), 14 min, 2015, HD.
Stéphane temïtkan malë (Stéphane and his twin), 17 min, 2015, HD.
Lambda, 20 min, 2009, experimental.
P + M # ME, 6 min, 2008, experimental, 16mm.
Each is to therapy, 4 min, 2008, pedagogic, HDV.
The Bornavirus, 4 min, 2008, pedagogic, HDV.
Filmography in our catalog