Back to our catalogue
Through Black Glass
original title: Skvoz chernoe steklo
2018, shooting, 105 min., color, Russian
CATEGORY :
Drama
COUNTRY:
Russia
PRODUCTION :
CAST
Maxim Sukhanov, Vasilisa Denisova, Nadezhda Markina
CREW
Director
:
Screenplay
: Konstantin Lopushanskiy
Cinematographer
: Dmitry Mass
Producers
: Andrei Sigle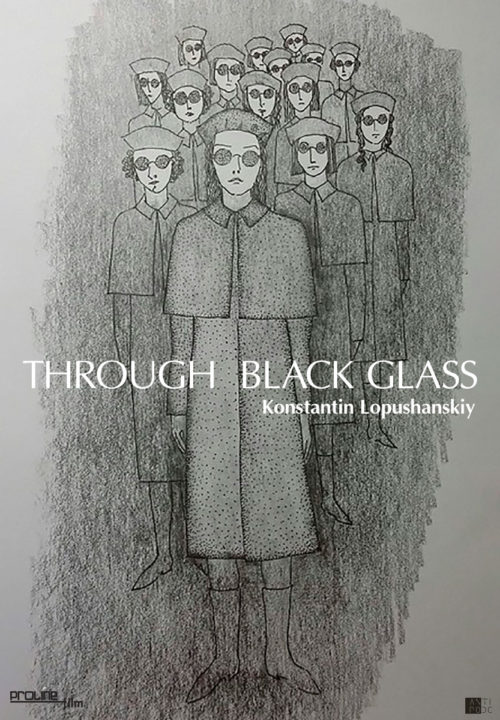 COMMENTS
Director's NOTE
"Through a Glass Darkly" is a genre film — but which genre? It might be considered: 1) a tragic melodrama; 2) a contemporary reworking of the classic story of Cinderella; or 3) a religious drama distantly reminiscent of the conceptual conflicts in Fyodor Dostoevsky's short  story, "A Gentle Spirit," which centers around the collision of two world views — religious and atheist — in the post-Soviet Russian world. (The events in the film take place during the year 2000, a period with its own particular characteristics).
The last possibility seems the most interesting to me and suits my predilections as a director. But this does not preclude detailed explications of the other two genres, especially the melodrama, since without them the film won't have the emotional tone needed for viewers to empathize. This strikes me as essential with this film, since it will appeal to a particular demographic, mostly young people. Ultimately, it is a love story. So the choice of music, the rhythm of the edit and structure of the film — and, of course, the casting — are of crucial importance.
I should like to emphasize several points. For the female lead, the actress must have a good sense and understanding of the special world of the church and monastic life, its characteristics and habits that must be unconscious and be revealed by the actress in small gestures, movements, the nature of her reactions and in the embodiment of the character. For Ostrovsky it's very important not to make him an out-and-out scoundrel. It's important to sense the scale of his personality — clearly exceptional but possessed by powerful passions; extremely contradictory, but tragic in his own way. This man is certainly intelligent — in fact, very intelligent — but it is the intelligence of Mephisto: everything he touches inevitably leads him to commit crimes and to descend into spiritual ruin.
There is a great temptation for the director of photography. For the first quarter of the film, the main character is blind, which suggests the creation of a visual analog for the world that she sees with her inner eye. Here there is a danger of straight-forward illustration, which would be inappropriate, of course. I think it would be enough to use this device at the very beginning of the film as a kind of visual statement, and then repeat it in episodes where the transformation is part of the plot, for example, in the scene when she regains her sight in the clinic. Clearly these episodes will require sophisticated CG.
Filming will take place in Russia, mostly in St. Petersburg and environs. Three episodes need to be shot in a Western European city (as yet to be determined).
Film production period: fall-early winter or late winter-early spring.
Finally, I'd like to especially emphasize the overall emotional pitch of the film. The temperature of emotional expression must be close to boiling, as it were. This is, in my view, the key to the successful direction of the film.
SYNOPSIS
In today's Russia, the story of Cinderella doesn't have a happy ending.
One of the most popular plotlines in literature all around the world — and probably the favorite of women audiences — is the story of a handsome prince who saves a beautiful young woman or raises her up out of poverty and misery, grants her wishes, gives her his love and — of course — a throne, which she certainly deserves because of her kindness, beauty, and various other wonderful qualities. The variations on this theme are countless, from the classic "Cinderella" or "Scarlet Sails" to Chaplin's "City Lights."
But we all know that a romantic story is one thing, while life is, alas, something else altogether. And that "something else" depends on the country and era.
Our story takes place in today's Russia, and that explains a great deal.
Nastya, an eighteen year old girl, lives in an institution for the blind and visually impaired. She is an orphan, like most of the other girls at the boarding school. She has been living there for a long time, almost ten years, so it has become her home. Although it has little money, the school gives the girls a sound education — foreign languages and theater clubs — all thanks to the energetic woman who is the principal and is deeply involved in the educational process. There is another aspect of education — the institution is next to a convent, which, of course, took on some of the upbringing of these orphaned girls. The girls regularly attend services and spend time with the nuns. This has shaped to some extent the nature and world view of Nastya and the other girls.
The convent Abbess has paid particular attention to Nastya, and for good reason. She thinks that Nastya has a special destiny, like the spiritual destiny of the blessed St. Matrona of Moscow, who had also lost her sight in childhood but came to be revered in Russia.
Nastya still has a chance to regain her eyesight, which the doctors always mention at her check-ups. But she needs a very expensive operation and treatment in Germany. And neither Nastya nor the boarding school has the money. So Nastya thinks of this chance as a dream that could never, ever come true — and so there is no reason to be sorry about it, especially since the short window of opportunity for the operation is about to close.
Girls are only housed in this kind of boarding school until they are 18 years old. Then they go off to live their own, independent lives. But how? Where? Nastya decided to enter the convent as a novice, especially since she really doesn't have any other options and the Abbess has convinced her that she is making the right decision.
But all of Nastya's plans change completely one autumn day, just before she is about to go to the convent. Every year the school has held charity concerts where Nastya always performs. This time the very wealthy — almost an oligarch — Mikhail Ostrovoi is one of the invited guests. He happens to be in town on business and is invited to the concert. Is he so moved by Nastya's performance or her appearance?  No one knows. But the next day he sends his aides to the school principal for a confidential conversation. Most of all they want to know everything about the girl that Ostrovoi had been so taken with. The director tells them everything she knows about Nastya's life and then tells them about the chance for Nastya to regain her eyesight this year. Ostrovoi's aides leave for several hours and then return with Ostrovoi's offer. He will pay for Nastya's operation and treatment in Germany, but under one condition: that right now, before she is treated, she marries him — sight unseen, and without meeting him. They give her a week to decide.
The film begins in these doubt-filled and stressful days, when Nastya must decide her fate. Only a few people know about the offer: the school principal, Nastya's friend, her former teacher, and the Abbess. Each had her own opinion. All of them except the Abbess think that this extraordinary chance that will give Nastya a future, and that she must not turn it down. They try to convince Nastya and can't understand why she is having trouble deciding. Meanwhile, the week for thinking it over is drawing to an end.
And then Nastya suddenly remembers the charity concert and a young man who gave her flowers after her performance. She can even imagine what he looked like, and decides that he must be the mysterious stranger who has asked her to marry him.
And so she makes her decision the next day… and the days and weeks of her treatment in Germany fly by like a dream until she finally sees her own face for the first time in the mirror of the sunlit hospital ward.
On that day Marina, one of Ostrovoi's aides, drives her to a five-star hotel where her first meeting with her husband is to take place. She is met by a middle-aged man, almost entirely bald, holding an enormous bouquet of flowers. He is over 50 years old. Alas, this is her prince and her savior. He turns out to be a man of decidedly unromantic nature. It's true that he's very wealthy, but everything else… The tough rules of Russian business in the 1990s left their mark on his manners, his way of life, and his character. He felt victorious and thought he could do anything — absolutely anything. But even though he is incredibly cynical about life, he is also capable of feeling great passion and love — although the main thing in those emotions is to feel dominion and possession. For him, to love is to own.
Day after day, Nastya is horrified to discover qualities and views in him that are diametrically opposed to her notions about life. She is terrified of certain aspects of his psychology —his desire to delve into the darker parts of his soul, especially in intimate relations, and his desire to reveal and awaken these depths in Nastya, as if to prove to her that her notions of people are false and make-believe.
Their honeymoon in Germany is short.  Ostrovoi brings Nastya to his home in an industrial city in the north of Russia, almost within the polar circle, where his mines — the source of his wealth — are located. It is a dreary place, where there is constant darkness for half the year, and a stormy frigid sea pounds the empty shores. Nastya immediately thinks of it as Hell. But what can she do? It is, she thinks, her fate.
Ostrovoi seems to recognize how hard it is for Nastya in this joyless town that is like a big prison. Perhaps for that reason he suggests that she spend a few days in Belodonsk, the city where her boarding school is located and where she spent her past — especially since she hadn't been able to see what the city, her school and her few friends still there look like. Ostrovoi had his own plans for the trip. He planned to go there to conduct tough negotiations with the governor, and some good PR at the time would come in handy.  Nothing could be better than the governor's reception — a kind of wedding for locals — on the occasion of the visit of Ostrovoi and his bride, the local girl who was saved and the beneficiary of his charity. In the local press they were already calling Nastya the "Princess from Belodonsk."
Belodonsk is a cozy provincial town, like so many others in the center of Russia. For Nastya, now able to see, everything is new. She enjoys walks in places that she thought she knew so well, but now she sees for the first time. But most of all she enjoys her freedom now that her every step is not being watched by her husband's bodyguards.
As she wanders around the town center, she hears music playing in a music store and steps in. In the little shop there are just a few customers and the salesman, 20-year-old Andrei. He was — Nastya was absolutely certain — the young man whose face Nastya imagined at the charity concert, the face of her imagined prince, the man for whom she decided to change her destiny.
Everything happens very quickly. In just two days, Nastya is swept off her feet in love and loses her sense of caution. She knows that she is sliding into the abyss, that this marvelous love might end tragically at any moment. She knows all that, but can't stop herself.
Two days later Ostrovoi's bodyguards hand him a print-out of Nastya's telephone conversations with Andrei and tell him that she didn't spend the night in her hotel room. Ostrovoi immediately flies to Belodonsk.
Her hair wrapped around his hand, he drags her through the hotel lobby as his bodyguards push the horrified staff to the side. They look away, ashamed. They know Ostrovoi, and they know he can do what he wants.
He locks her in her room and ties her to a chair. Nastya is expecting him to kill or maim her – anything. She realizes that he's like a beast who has taken back one of his possessions. But he doesn't kill her. He doesn't even hit her.  But Nastya knows that her punishment is just being put off, and she knows why. They are going to the governor's reception — the local wedding — and the bride must be radiant with beauty and the joys of married life. She can't have any bruises.
Early in the hours of the morning, there is a special knock on the door. It is the head of Ostrovoi's bodyguards. He briefly reports an accident — an overdose, he fell out of a window… Nastya knows who they were talking about. They murdered Andrei.
The governor's reception is done in high style. One after another, expensive cars drive up and discharge well-dressed guests. At the entrance are film cameras and photo journalists. Ostrovoi sits at a table, the seat next to him still empty.   As the guests take their seats they joke about where the bride is.
Finally Nastya enters. She is dressed in a long white dress. On her head is a strange fabric construction with a white scarf wrapped around her face like a turban or nicab. Stepping carefully, Nastya walks up to the table and sits down. The guests think her outfit is a joke, and they begin to clap and chant, "Her face! We want to see her face!"
Nastya lifts the scarf and shows the guests her face — with empty sockets of dried blood where her eyes used to be. On her frozen, dead face is an unmoving smile.
Nastya walks along the empty evening streets of the town, her eyes covered by fresh bandages. Behind her she drags a suitcase, half open, with clothing sticking out. She holds one hand along the walls to tell where she is going, just like she used to do. She finds her boarding school easily, walks up the stairs and goes into the room that once had been hers.  Her bed is still empty. She puts down her suitcase and walks over to the window. She had loved to sit here, using the sounds she heard to guess what was on the other side of the glass. She stands by the window for a long time, a very long time, but nothing appears in her imagination. Beyond the glass lies only blackness.