Back to our catalogue
Download flyer
Things I Could Never Tell My Mother
original title: Things I Could Never Tell My Mother
2022, 80 min., color, Bengali
DOCUMENTARY CATEGORIES :
Social / Society / Human
,
Portraits
COUNTRIES:
France
,
Bangladesh
PRODUCTION :
CREW
Director
:
Screenplay
: Humaira Bilkis In collaboration with Léa Chatauret and Quentin Laurent
Cinematographer
: Humaira Bilkis
Producers
: Humaira Bilkis, Quentin Laurent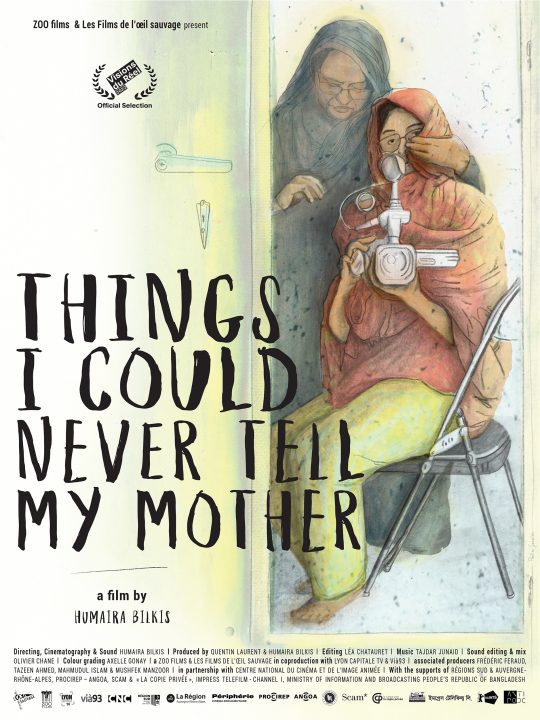 COMMENTS
FESTIVALS: International Documentary and Short Film Festival of Kerala 2023, GIFFONI Film Festival 2023, FIFEQ Montréal Festival International du Film Ethnographique du Québec 2023, PORTO FEMME IFF 2023, DocPoint – Helsinki Documentary Film Festival 2023, IDFA 2022 (Best of Fests), IFF Bastau (Competition of Documental debuts) 2022, Festival Traces de vie 2022, États généraux du film documentaire – Lussas 2022, Visions du réel Festival 2022 (Latitudes)
Director's statement:
I was born in the 1980's.
A decade earlier, my country, Bangladesh, won its independence. In more concrete terms, Bangladesh forms the ethnolinguistic part of the region of Bengal, which was divided during the Partition of India in 1947. Two countries were formed on the basis of religion: India and Pakistan. Pakistan had a Bengali Muslim majority. The country now known as Bangladesh fell under Pakistani rule as East Pakistan. That harmony was short-lived due to Bengali nationalism and pro-democracy movements in East Pakistan. At the cost of great suffering, my country gained independence, breaking away from the dominant nation to build its own society based on modern culture as well as the uninterrupted practice of Islam.
Bangladesh has a Sunni Muslim majority. Islam in this nation is nourished by a rich and ancient artistic and literary culture. For a long time, Islam in Bangladesh was a syncretic religion, full of local rituals and beliefs, and quite different from the austerity found elsewhere. But with the introduction of martial law, the Islamization of political and public institutions progressed until 1988, when General Ershad declared Islam to be the state religion. This was the beginning of a slow but continuous
transformation. The Muslim community – 89% of the country's total population – follows and practices Shariah, or Islamic Law, in civil activities such as property transactions, marriage, and divorce. But the rest of the community, including the 10% Hindu minority as well as other groups, practice standard law as per the constitution of Bangladesh.
The country has practiced secularism since its inception, but its inner harmony was wrecked by the enforcement of martial law and the definition of a state religion.
These changes have profoundly affected individuals' lives, especially the lifestyle of women. Their daily lives are punctuated by numerous rituals, restrictions, and proscriptions. The wearing of the purdah, the Bangladeshi hijab, has become widespread. Madrasa schools are multiplying, and religious education has spread. A system of rigid and dogmatic values has influenced the mentality of Bangladeshi youth.
The preaching of the most radical imams resounds through the streets of the capital. Since 2013, my country has experienced an upsurge in tensions provoked by Muslim fundamentalists; violence against foreigners, secularists, opponents, moderates, and other religious communities is increasing. In 2016, an attack killed 29 people in a bakery in Dhaka.
After studying filmmaking in India, I returned to Bangladesh, where I strengthened my reconnection to my homeland and came to grips with a few different realities. I noticed that my own mother, once an extraordi – narily unprejudiced woman and exalted artist, had become obsessed with Shariah law, adopting the practice of extreme Islamic rituals.
Things I Could Never Tell My Mother is about our reunion. Long separated by distance and now divided by our beliefs, we must learn to understand and respect one other again.
SYNOPSIS
This film tells the story of my relationship with my parents, especially my mother, while we are living under one roof in Dhaka, Bangladesh. For a long time, my mother was a passionate artist. She passed on to me her love of poetry, theater, and film, which became my profession. But ever since she made the Hajj, the great Muslim pilgrimage to Mecca, in 2002, she has changed profoundly. She now lives cloistered in our apartment, following the precepts of Sharia law, rejecting the richness of her previous life. She keeps urging me to get married and to stop making films, since Islam forbids any human representation. When she suggests that we undertake the Hajj together, I accept her invitation: it will be an opportunity for us to resolve our differences, but it will also be the time for me to announce to her that I am in a relationship with a Hindu man. But the COVID-19 pandemic makes our trip impossible. Forced to live behind closed doors with my parents as their health deteriorates, I try to come to terms with what my mother and I still have in common.
PRESS
"I wanted to make this film to understand changes in our society by tracing the changes in my mother. I wanted to make this film because almost all women I know around my age experience this, talk about this amongst themselves. Yet this story of generational gap in the backdrop of socio-political change remains untold," says Bilkis. –  Naman Ramachandran, Variety
Things I Could Never Tell My Mother is an intimate documentary which allows the filmmaker to wrestle with her internal conflicts. She is in a relationship with a Hindu man, which is forbidden according to Islam. This would previously have not been an issue, but her mother's faith now raises a major conflict to resolve. One which threatens to rip both relationships apart. Things I Could Never Tell My Mother is a cathartic exercise in many ways. One which allows Bilkis to approach the subject from an unusual angle. – Rob Aldam, Backseat Mafia