Back to our catalogue
The War in Me
original title: Der Krieg in Mir
2019, 83 min., color, German-Russian
DOCUMENTARY CATEGORIES :
History / Archive
,
Social / Society / Human
COUNTRIES:
Germany
,
Switzerland
PRODUCTION :
FESTIVALS & AWARDS
CREW
Director
:
Screenplay
: Sebastian Heinzel
Cinematographer
: Adrian Stähli
Producers
: Sebastian Heinzel, Susanne Guggenberger, Vadim Jendreyko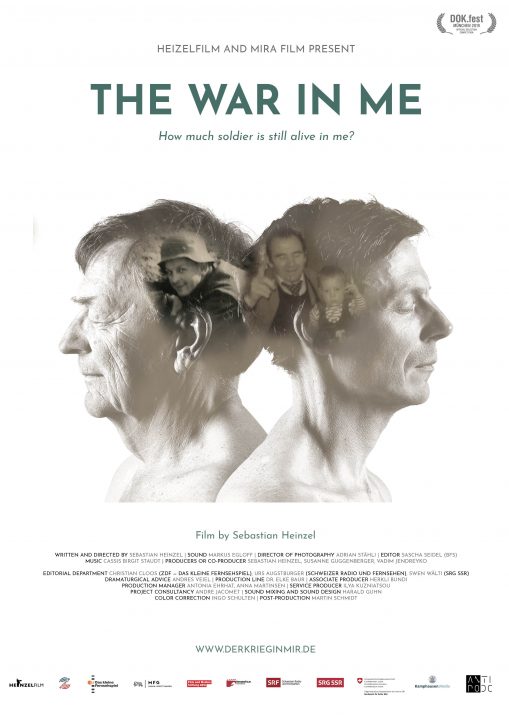 COMMENTS
FESTIVALS: Saratov Sufferings Film Festival 2020 (Russia, the prize "For the most Exact Hit into the genre."  with comments "these studies of family experiences, family problems, family memories, superimposed on the history of the World War, are, in general, such a melodramatic finding, which is very successfully solved by its authors within the framework of the picture.), Kolkata IFF 2019, DOK.fest München 2019, SWR Doku Festival Stuttgart 2019
Director's Note: When I was a little my grandfather told me about his time as a soldier of the Wehrmacht in Russia. He was a machine gunner, heavily wounded. His stories fascinated me as a little boy. After he died I did not want to hear anymore about this war. I asked myself: What does it still that have to do with me? The confrontation with the Third Reich and the German guilt at school and in the media is so overwhelming in Germany that it was difficult for me as a teenager to take a personal view of this strained field. There is still a lot of black-and-white thinking about this disastrous time. Thus, the deeds of the Nazis and one's own family history are often difficult to reconcile.
"You look like your grandfather", Valentina tells me in the film, when I show her the picture of my grandpa. The old Belarussian woman is the survivor of a concentration camp and reassures me that my grandfather was not one of the guards in the camp, where she beaten as a child.
What else did I inherit from my grandfather? I am searching for traces of his life as a soldier – together my father, deep in the Belarusian countryside. We find a few traces, but more important are the encounters on our way – especially with the old people in an abandoned village with only three inhabitants left. Meeting these people and listening to their stories: that's the gift of this journey. I realize that my grandfather was there, more than 70 years ago. And what happened during this time still has an effect on my life. My father – who was sceptical at first – reconciles himself with his own father. This brings us closer together and loosens knots between us. For me it shows how meaningful and healing it can be to reconnect with your ancestors. 
With my film I want to inspire others to take a deeper look into their own family history.
SYNOPSIS
How much soldier is still alive in me?
New research from epigenetics indicates that enormous stress experiences change the genetic make-up. German filmmaker Sebastian Heinzel explores the effects of WWII on his family and follows his grandfather's path from Germany to Belarus. He discovers unexpected connections to his own past and his war dreams, which have been haunting him for years.
Against the background of the global refugee crisis and international tensions, the film tells of the long-term consequences of the war and our task to deal with it in order to make healing and reconciliation possible.