Back to our catalogue
The Geographer Drank His Globe Away
original title: GEOGRAF GLOBUS PROPIL
2013, Russia, 120 min, tragicomedy, color, DCP
love triangle
CATEGORIES :
Comedy
,
Lyrical Comedy
COUNTRY:
Russia
PRODUCTION :
FESTIVALS & AWARDS
CAST
Konstantin Khabenskiy (Tinker Tailor Soldier Spy by Tomas Alfredson, Wanted by Timur Bekmambetov, Day Watch), Elena Lyadova, Aleksandr Robak, Anna Ukolova, Evgenia Brik, Agrippina Steklova, Anfisa Chernykh, Anna Sinyakona, Andrey Prytkov, Ilya Ilyinykh, Artyom Orlov, Viktor Uzun
CREW
Director
:
Screenplay
: Alexandr Veledinsky, Rauf Kubaev, Valeriy Todorovskiy
Cinematographer
: Vladimir Bashta
Producers
: Vadim Goryainov, Valeriy Todorovskiy, Leonid Lebedev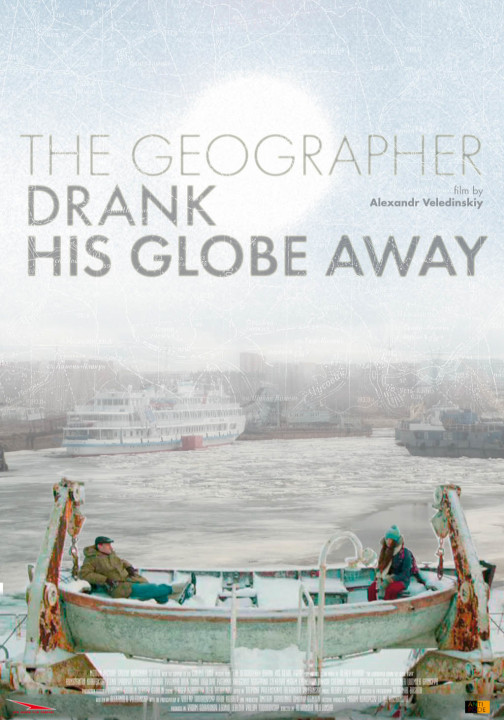 COMMENTS
Valeriy Todorovskiy: Aleksey Ivanov's novel The Geographer Drank His Globe Away is undoubtedly the best modern Russian book about a school teacher. The novel is dramatic, humorous, absolutely honest and, at the same time, full of light, poetry, love for a school teacher, an ordinary person who can give himself to his pupils in an informal way. A movie filmed after this novel can become poignant for viewers of any age. Incredible characters of the grown-ups and the teenagers permit the actors to play exceptional roles.
SYNOPSIS
It is about Russian restless soul, or in other words is a full of self-irony story of a floundering loser. Young biologist Viktor Sluzhkin, suffering from lack of money, becomes a teacher of geography in a secondary school in the city of Perm'. At first he has to fight with pupils but he soon becomes their friend, taking them rafting. He quarrels with the Deputy Principal, drinks wine with his friends, tries to get on with his wife and takes his young daughter to the kindergarten. It is just a life… but Aleksey Ivanov wrote this ordinary private story with such recklessness, such tenderness, such acuteness that The Geographer Drank His Globe Away became, as it is often the case with good books, a story about everyone. It is a story about everyone who lost his way in life, about everyone who sometimes felt himself as desperately lonely as Viktor Sluzhkin, about everyone who, despite his solitude and depression, never lost the capacity to feel and to love.
PRESS
Geographer… whether in the form of book or on the screen, this story is free of state pathos calling for victories; on the contrary, it is a story of an outsider. Worse still, a drunkard (drinking is his response to the total bleakness and hopelessness of the provincial life). He doesn't keep distance with his pupils. His way of life is unseemly. He is changing women like a red challenge banner. He is ready to compromise. He can give his wife to a comrade – if the wife is happy, everything's okay. On the level of social mobility he scores zero.
Veledinsky moves the novel from the crazy 90-s to the present time, changes the age of the characters, who become not 30-something but 40-something years old, and creates a movie of moral anxiety, continuing the conversation that was once started by Asanova's Teenagers, September Vacation or Flights in Dreams and in Reality. The director is not afraid to quote other movies. In fact, the entire movie is made as a Soviet auteur cinema with Chekhov intonations. But, contrary to the tense and hopeless dramas of Zilov or Makarov, the story of Sluzhkin the teacher is permeated with invincible, even if not very obvious, optimism. And this adamantly positive feeling is something characteristic of Konstantin Khabensky's character (as the jury justly remarked, it is his best role in cinema). Yankovsky's character, suffocating and downtrodden, concealed himself in a haystack; Zilov buried himself alive. Ivanov's character, feeling the emptiness and lack of sense in his life, went in the final scene to the balcony and looked upon the desert of solitude. Khabensky's character goes to the balcony to smoke cigarettes with tea that he rolled himself, peacefully endures his wife when she is hysterical and still lives as a biven' – a maverick, hiding in the cocoon of his "irregularity", foolishness, not submitting to the society, to the generally accepted rules. He is not overstrained because of his existence on the edge of life, as Zilov or Makarov who always risk breaking. He just lives "on the edge", he chose "the margin". His craziness, aberration, dissent are nothing but a protecting cover hiding his vulnerability, goodness and tenderness. Perhaps, he is the only one in the densely populated area who can live happy (and not try to be happy), who does not quarrel with himself. The movie is different from the novel (for instance, there are no childhood memories in the movie), it is more positive but it preserves the atmosphere of the book and, what is especially important, keeps the nerve of the relations between Sluzhkin the incorrect teacher and his tough pupils. The comic drama about the awkward teacher is saved from being pathetic by humor. But this humor is peculiar. There are no jokes on the screen, no Comedy Club gags. Veledinsky puts irony in the acting, in the psychological reactions, in the way different parts of the movie are put together.
Larisa Malyukova, Novaya gazeta
The Geographer Drank His Globe Away is the screen version of the novel of the same name, written by a well-known Perm' writer Aleksey Ivanov. But to understand the movie, it is not necessary to read the book beforehand. The protagonist, Viktor Sluzhkin, does not fall in our world from the sky, he lives among us, and he is one of us. Same to Oleg Yankovsky's character in Flights in Dreams and in Reality who went bungee jumping in the cold autumn water. We tried to find him in so many movies – same guy but coming from our time. And no one could live up to our expectations, neither the character nor the actor. That is it, finally. Viktor Sluzhkin played by Konstantin Khabensky is the hero of our doldrums. That is the first phrase, without any reservations, that came to my mind when I met this example of real art. We should not look for the hero of our time or wait him to come. He does not exist. The one who exists is the hero of our doldrums.
Elena Arbatskaya, Moskovsky komsomolets
It is a rare and a long-expected movie: clever, witty, precise, skilful, bright, funny, sentimental, and energetic. Every scene is sophisticated but easy to interpret, and every spectator, depending on his level of competence and his desire to understand, will have an opportunity to stop on some level of interpretation or explore the movie further, and everyone is comfortable…
On the contrary, the scene of kayaking near the shallows is made as a real thriller: the children are down there, approaching the whirlpool of the Dolgan shallows while he, the teacher who was too late, is up here, powerless, frozen with fear and guilt, dashing around on the very brink of the rock, and the camera struggles to cope with the children and the teacher at once, and the spectator is caught in a double noose of fear. But in the same time the spectator, not aware of it himself, starts to feel that it is scarier up there that inside the whirlpool. Just because to go in the shallows and fight rocks is not as terrible as looking and not being able to change anything. And when the spectator finally comes to his senses, he can, if he wishes, perceive one more overtone in this scene: it is also about life. If you look on life from outside, it is terrible, but if you live it yourself – well, it is possible to come through.
In a certain sense, Veledinsky and his team made an ideal movie. There is everything that should be: passions, love and friendship, observations and adventures, landscapes and conversations, feelings and thoughts, irony and truth, fear and laugh, skill and talent. On the opening day of the Kinotavr Film Festival a small opera was performed in which the Spectator, worn out by waiting, sang an aria appealing to the cinema makers: "Please make for us a decent good movie". It seems that he got it at last.
Aleksandr Veledinsky's movie Geographer Drank His Globe Away, which made almost everyone enthusiastic, features beautiful women, played by Elena Lyadova, Eugenia Brik and young Anfisa Chernykh, who live in the world of such men that a woman would choose one only being reduced to despair.
What can be said about the other men, if even the protagonist does not know what to do with his own life or the lives of others, drinks all the time, and can be spiritual only in making bitter or dirty jokes or in a sermon to his pupils, bordering on rebuff.
Moreover, he lets his wife become the mistress of his friend and is on the verge of a love affair with a schoolgirl, his pupil.
He even does not want to come to his own satisfaction when having sex with his acquaintance, a woman eager for physical joys who manages to win him.
He is nearer to the Augustinian concept of love, according to which nobody's happiness depends on another person and the love itself cannot depend on other feelings.
If Aleksey Ivanov who created this character is a traditionalist, it is not the traditionalism spoken about by our deputies. He is rather a Michel Houellebecq from Urals. In his later and more massive book Cheap Porn (Bluda i MUDO) the crisis of the family institution is solved in the same way that in Tom Tykwer's movie Three.
If the Geographer is analyzed in detail, we would see some ambiguities that are absent in the novel,
but it is an ideal 'spectators' movie', in which teenagers sitting around a campfire sing a genial song dedicated to their never-do-well teacher, with the refrain: "He will get in prison, he will, for the poor dead children".
Vladimir Lyashchenko, Gazeta.ru
Khabensky played his best role. He managed to show, subtly and without flatness, the state of a normal person who reacts to the outside world but resists it. A very kind person who does not want to change anything by force, one who can wait and leave others their liberty. And, in the same time, who can avoid violence. Overall, a happy person and a free one.
The story told on the screen is a story of an established personality which is unusual for our modern cinema that never created a hero having an individual character, not a typical one. We had protagonists who were representatives of social groups – policemen, bandits, prostitutes, ex-soldiers, intellectuals, everyone can continue our list. Creators of this movie managed not to create a new type of hero, but show a concrete person, not a typical one, a unique one. His name is Viktor Sergeyevich, he has a wife and a five-year-old daughter, he is a biologist, a drunkard, temporarily teaching geography to kids. As one of his pupils say: "At first, you made me wild, but I got used". Well – meet him, you are now his contemporaries.