Back to our catalogue
Rabbit's Paw
original title: Krolich'ya Lapa
2020, 100 min., color, Russian-French
CATEGORY :
Romantic Drama
COUNTRIES:
Russia
,
Belgium
,
Finland
PRODUCTION :
CAST
Svetlana Schedrina, Nicolas Duvauchelle, Pierre Richard, Evgeny Tkachuk
CREW
Director
:
Screenplay
: Irina Mariychuk (Ira Lookinova)
Cinematographer
: Mikhail Kvirikadze
Producers
: Yulia Sobolevskaya, Irina Mariychuk (Ira Lookinova), Patrick Quinet, Merja Ritola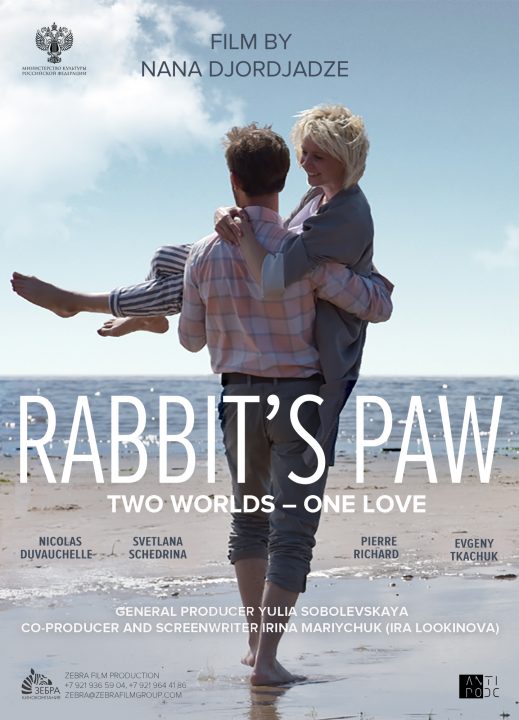 SYNOPSIS
Two Worlds – One Love
A story about the life path of a modern woman, about her transformation, about finding herself in a changing world. A simple story of love of people with naked hearts, told against the background of changes in society and in ourselves from the early 1990s to the present day.
In St. Petersburg in the times of Restructuring Alya and Nika meet. She is a slightly funny Petersburg intellectual, he is a French architect raised by a grandfather, a descendant winemaker, and a Russian grandmother.
They cannot be without each other, but they cannot be together, neither in the ancient Lyon Castle nor in its communal apartment inhabited by colorful neighbors. Next to Alya – her childhood friend, Mitya, whose love she doesn't notice. He uses Alya's ridiculous mistake, and Nika's jealousy to separate them for years to come.
After all, in a successful but lonely Alya it's hard to recognize the ball idealist from the 1990s, the bored winemaker in marriage is not at all like the ardent Nick he used to be, but they have another meeting ahead.
Can feelings be stronger than time, distances, differences and malicious talk?