Back to our catalogue
Peacock Lament
original title: Vihanga Premaya
2022, 103 min., color, Sinhala
CATEGORY :
Drama
COUNTRIES:
Sri Lanka
,
Italy
PRODUCTION :
FESTIVALS & AWARDS
CAST
Akalanka Prabhashwara (as Amila), Sabeetha Perera (as Malini), Dinara Punchihewa (as Nadee), Lorenzo Acquaviva (as Carlo), Mahendra perera (as Police Inspector Priyantha), Lahiru Prasath (as Rajitha), Amiththa Weerasinha (as Doctor Mano)
CREW
Director
:
Screenplay
: Sanjeewa Pushpakumara
Cinematographer
: Sisikirana Paranavithana
Producers
: Sanjeewa Pushpakumara, Amil Abeysundara, Andrea Magnani, Chiara Barbo, Suranga Handapangoda, Yuganthi Yashodhara, Wathuhena Sangeetha, Nilnadee Godagama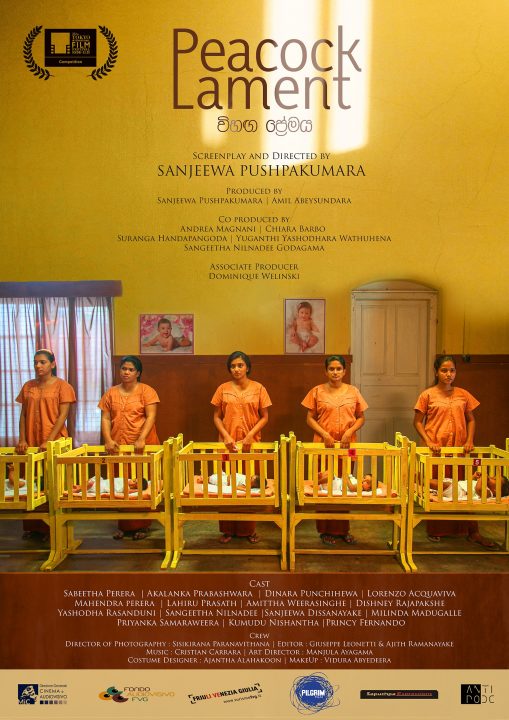 COMMENTS
FESTIVALS: Syracuse University Human Rights Film Festival 2023, Indian Film Festival of Melbourne 2023, FIFDH Genève (Competition) 2023, Tokyo IFF (Competition, World Premiere) 2022
Director's statement:
I was born in a small village in North-East Sri Lanka. When I was 11 years old, my father died. Then my mother married for the second time. I strongly protested against her decision. My strong resentment fueled the rage and irrational mindset which brought a desperate desire to kill my own mother. After few naïve, halfhearted attempts, I left home never to return until the sudden demise of my stepfather.
From a tender age, I had to seek employment as a casual laborer. As the oldest sibling in a family of ten, I was burdened with the responsibility of providing income to feed and educate my brothers and sisters.
In 1996, despite our desperate attempts to save her, I lost my elder sister who was suffering from a hole in her heart (Congenital heart defect).
Peacock Lament is an autobiographical film about a young man, his bond to his family, his desperate desire for love and acceptance and his country's contemporary socio-economic realities, the strong impact deriving from the recent close ties with China.
SYNOPSIS
Amila is a 19-year-old boy who was born in a small village in Eastern Sri Lanka. After losing his mother and father, Amila moves to Colombo and is left with the responsibility of taking care of his siblings: two brothers – 14-year-old and 1-year-old – and two sisters – the elder is 12 and their little sister 5. Amila works as a construction worker in a Chinese building site in town. Amila's sister Inoka is admitted to the main city hospital: she suffers from a congenital heart defect, a condition called Tetralogy of Fallot. The doctor recommends Amila to make arrangements for an urgent surgery, which needs to be done within two months in India.
This will be the only way to save her life. For this reason, the young man commits himself to raise $15,000 in order to pay for the surgery. He pilfers as a way of surviving, while his siblings Susantha and Nisha secretly start begging on the streets, to help their family. One day Amila meets Malini, a 55-year-old woman who decides to help him out by having him work in her child trafficking business. She will pay him good money, the only way to pay for his sister's surgery. Amila is given the task of finding and sending pregnant women to an illegal baby farm where the newborn are sold for adoption to Western couples. Amila tries to get out of the business, but his cause is just too dear to him and he is very conflicted. Susantha and the other two siblings end up being sent to a governmental orphanage.
One night, Amila gets caught by the police while transporting a group of pregnant mothers and gets arrested. Malini eventually decides to take matters into her own hands. She brings the money she earned from her trafficking to get Inoka to India so that she can undertake the surgery, and flies away just like her in order to cover her own position.
PRESS
The charm of Peacock's Lament is the way it tackles incredibly difficult subjects in a matter of fact, even dryly comedic, way. The form and composition in exact. Almost rigorous. Using a static camera affords each scene a kind of unworldly resonance. Based on his own life, Sanjeewa Pushpakumara's film is beautifully paced and cleverly offbeat. Peacock's Lament is a beautifully crafted drama about a brother just trying to care for his siblings. – Rob Aldam, Backseat Mafia