Back to our catalogue
Karavaichuk. Beyond Love
original title: Karavaichuk. Vne lyubvi
2017, 54 min., color, Russian
biopic
concert
freaks
genius
last trip
long-liver
music
St. Petersburg
theater
underground
virtuoso
vitality
CATEGORY :
Debut
DOCUMENTARY CATEGORY :
Art / Music / Literature / Culture
COUNTRY:
Russia
PRODUCTION :
CAST
Oleg Karavaichuk
CREW
Director
:
Screenplay
: Svetlana Prokudina
Cinematographer
: Svetlana Prokudina
Producers
: Svetlana Prokudina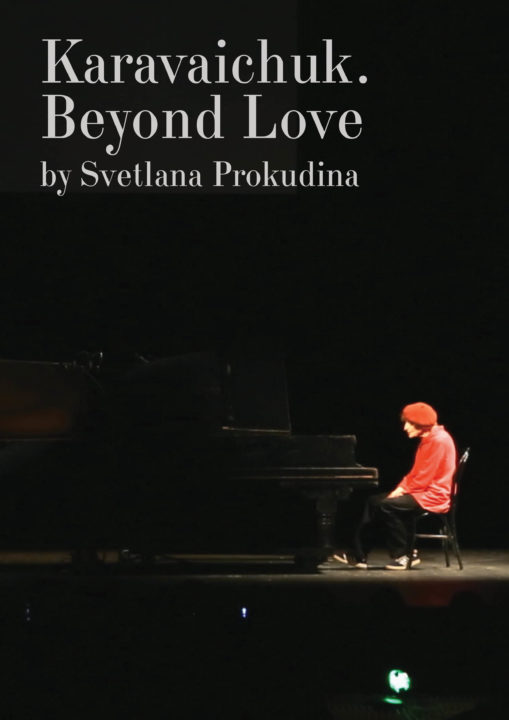 COMMENTS
Director's comment
Oleg Nikolayevich Karavaichuk was like a magnet that would attract very different people. At first, I did not even think about the film, I just wished to be near him. Karavaychuk is a riddle that puzzles many people. When he dies, I am sure that some will try to solve the riddle, explain it with words. But I think that Oleg Karavaychuk is a riddle to be admired, not solved.
Oleg Nikolayevich Karavaychuk (28 December 1927, Kiev – 13 June 2016, St. Petersburg) was  Soviet and Russian composer, improvising musician, author of music for 150 films including Kira Muratova's Short Meetings (1967) and Long Goodbyes (1971), Vladimir Vengerov's Two Captains (1955), Pyotr Todorovsky's City Romance (1970), Ilya Averbakh's Other People's Letters (1975), Iosif Kheifitz's Shurochka (1982), Nikita Tyagunov's The Leg (1991).
He was born in Kiev, son of a violinist who was arrested when Oleg was two. He wrote music since his early childhood.
His family moved to Leningrad (now St. Petersburg) before the Second World War; his father worked in the musical department of the Lenfilm Studio, and his mother worked at school.
He studied piano in the musical school under the Leningrad Conservatoire, graduating in 1945. In March 1943, he participated in a concert of young musicians in the framework of celebrating 80 years of Tashkent Conservatoire. In 1945-1951, he studied piano in the Leningrad State Conservatoire (today N. A. Rimsky-Korsakov St. Petersburg State Conservatoire)
His first work for cinema was the music score he wrote for the film Alyosha Ptitsyn Grows Up (1952). He was invited on the recommendation of the film's screenwriter, Agniya Barto, and tutored by Moisey Vainberg. While working in cinema, Karavaichuk also performed in bit parts and sometimes conducted his own compositions, for instance in such films as Virgin Soil Upturned, The City of Masters and Short Meetings. According to Karavaichuk, he found his method, which served as base for searching and creating film music, with the help of Viktor Nekrasov, while working together at the film Soldiers, written by Nekrasov.
In the beginning of 1960s, Karavaichuk appeared on the stage for the first time. It was a public performance in the Leningrad Concert Hall (today the Concert Hall near the Finland Station) that ended in scandal. He could return to the stage only two decades later, on 25 April 1984 when he played Mussorgsky and Beethoven to the artists of Leningrad theatres on the stage of the K. S. Stanislavsky House of the Actor.
However, until 1990 he was only known to public as a theatre and film composer. His concerts were forbidden, his works withdrawn from use. Many of them are still not published and can be found only in the archives. All this contributed to make the composer's life secluded.
For years, he lived on the 15th Line of the Vasiliyevsky Island together with his mother or on his dacha in Komarovo. Locals used to see him on the street and in neighbouring shops. Because of his extravagant looks and manner (the way he walked around, behaved, spoke with seller, his tinted glasses, beret, long hair and, in winter, gloves on elastic band) he was nicknamed 'crazy composer' and became a local attraction.
During the Perestroika thaw (after 1989) he visited UK, spoke on the BBC Russian Service. When asked about his impressions of the British capital, he answered vocally, singing some sounds.
He worked with Sergei Paradzhanov, Vasily Shukshin, Ilya Averbakh, Kira Muratova and avant-garde artists, including Sergei Kuryokhin.
On 1 April 2009, he took part in the performance of the Diary of a Madman in the Community Centre of the Leningrad Soviet in St. Petersburg, in honour of the 200th anniversary of Gogol, together with Renata Litvinova and Alexander Bashirov, addressing the public with an improvised dialogue.
Until his last year of life, he sometimes performed in St. Petersburg. Despite his financial troubles, he refused all commercial proposals and worked only in projects that were interesting for him from the artistic point of view. He often participated in performances synthesizing his music, classical and modern ballet, poetry and video. A performance typical for him was a startling one, the composer wearing a pillow slip on his head and playing the piano in the lying position or on his knees. The composer explained it by his desire to concentrate and to stay tête-à-tête with his music. He mainly focused on improvisations: he would take a sit at the piano and invent the composition while playing. Two biggest theatres of St. Petersburg, Alexandrinsky and Maly Drama Theatre (a Theatre of Europe), use the music specifically composed by Karavaychuk for the performances Izotov (after the play Reserve by Mikhail Durnenkov) and The Possessed (after a Dostoyevsky novel).
In July 2014, a nostalgic melody written by Karavaychuk from the film Monolog was used in the memorial film Unasked Questions made by Kultura Channel about the famous Russian artist and musical expert Svyatoslav Belz.
In February 2016, he travelled to Spain for the Punta de vista (Point of View) International Navarre Documentary Festival in Pamplona where the director Andrés Duque (born in 1972 in Venezuela) presented a documentary about himself – Oleg y las raras artes (Oleg and Rare Arts). He died on 13 June 2016 in St.Petersburg.
·        Oleg Karavaychuk, 2005:
I perform easily, I am a great virtuoso, and the people mistake the ease of my performance for a great artistry. But I am absolutely not an artist! That's why I wear a pillow slip: I do not want people to confuse the external artistry with my music. If I play with my face uncovered, they will misinterpret my melody. It is important for me that the public perceives not an artist who plays brilliant artistic music with brilliant artistry, but just the notes.
·        Boris Barabanov, 2012:
He is a human myth who dissolved completely in his music, a pianist who started his career at seven playing for Joseph Stalin and passed his own improvisation for Bach at the exam in the Conservatoire, a composer who wrote an incredible quantity of brilliant film music. Oleg Karavaychuk, a 85-year-old St. Petersburg hermit, sage and freak, exists in the nature as a symbol of the supernatural. It is absolutely not important for him to materialize before the public. His physical presence is easily replaced by legends. However, sometimes he would condescend to us simple mortals. Oleg Karavaychuk does not choose academic concert halls for his performances. He prefers museum, galleries and clubs.
SYNOPSIS
In Soviet times it was impossible to go to a concert of composer Oleg Karavaichuk. Because there weren't any. Karavaychuk's eccentricity was too bewildering for the culture officials of that time, and he was practically banned from performing in public. He began to work at the Lenfilm Studio and write film music there. Recognition came to Karavaichuk only in the 2000s. It is summer 2015 and Oleg Karavaichuk gives his "Pure Music" concert. Half a year later he travels to Spain, where rehearses again. While there he meets with journalists and talks about how he senses the smell of death in the streets of ancient Pamplona.