Back to our catalogue
Download flyer
In Your Arms
original title: I dine hænder
2015, DCP, 88 min., Denmark-Germany
euthanasia
CATEGORIES :
Drama
,
Debut
COUNTRY:
Denmark
PRODUCTION :
FESTIVALS & AWARDS
CAST
Lisa Carlehed, Peter Plaugborg, Johanna Wokalek, Kirsten Olesen, Gustav Giese
CREW
Director
:
Screenplay
: Samanou Acheche Sahlstrøm
Cinematographer
: Brian Curt Petersen
Producers
: Sara Namer, Lars von Trier (executive)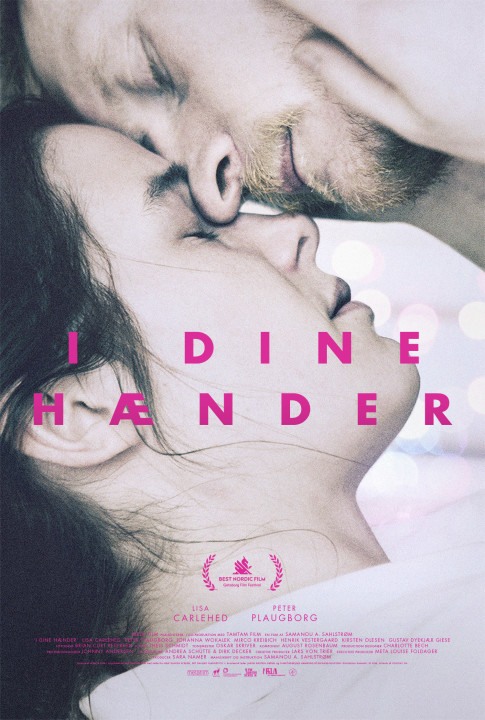 COMMENTS
Molodist IFF 2015 (Competition) Kiev,  Thessaloniki IFF 2015, Brussels IFF 2015, Biografilm Festival 2015 Italy, Cabourg Fim Festival 2015 France Valetta FF 2015 Malta, Festival Internacional de Cine de Valencia – Cinema Jove 2015 Spain, Transatlantyk Festival 2015 Poland, International Film Festival FILM BY THE SEA 2015 Netherlands, Pacific Meridian IFF 2015 Russia, Reykjavik IFF 2015, Vancouver IFF 2015, Hamburg FilmFest GmbH 2015, DETOUR TRAVEL FILM FESTIVAL 2015 Italy, San Paulo IFF 2015, Jio MAMI Mumbai Film Festival 2015, Leiden IFF 2015 Lübeck, Nordische Filmtage 2015 Germany, Lithuania Scanorama Film Forum 2015, Cork Film Festival 2015, Northern Film Festival 2015 Netherlands, Cairo International Film Festival 2015, Black Nights IFF 2015 Tallinn, Nordic Film Festival 2015 London, Annonay Film Festival 2016 France
Director's Statement:
is my personal rendition of a melodramatic film with tragic undertones
A woman and a man.
She wants to live.
He wants to die.
It is just that simple.
An intimate drama on the road, where characters are brought closer to each other but also closer to their dreams. Where a woman and a man help each other in spite of opposing wishes. Where you can be selfish and generous at the same time. A story where death way more than sex is the most intimate moment you will experience. Where people dare to love even though everything is lost, or maybe just becausethere is nothing left to win. Where love can save it all but might not anyway.
Samanou A. Sahlstrøm, April 2014
SYNOPSIS
Maria is a young nurse. She lives an isolated life in Copenhagen, with the longing for freedom and emotional redemption.
Maria has a special connection to Niels, a young man, who suffers of a terminal illness and lives in the nursing home, where Maria works, – maybe because of his similar wish to keep distance to the surrounding world.
While the disease eating him up, the sorrow and powerlessness towards the illness grows to a crucial wish to take control over his own life – by actively choosing death.
When Niels' family declines to help him with his wish of dying, Maria accepts to accompany him to Switzerland, where he can get professional help to end his life.
Together Maria and Niels embark on an intense journey, that brings them closer together and closer to their dreams about life, death and what is in between.
IN YOUR ARMS is a poetic character driven road movie. An untraditional love story about two people, who in their own senses are stuck in life. It is a story about the modern human being's endless restlessness and need for control. Even over death.
PRESS
Whatever one's feelings about the right to die with dignity, it's not easy to watch even a fictional character commit assisted suicide in excruciating detail, and this difference will likely color viewer response to the Danish euthanasia drama "In Your Arms." Debutant Samanou Acheche Sahlstrom nabbed the generously funded Nordic Film Award in Gothenburg with his naturalistic, lyrically lensed tale of a bitter, late-thirtysomething man suffering from a fast-moving motor neuron disease and the enigmatic nurse persuaded to deliver him into the hands of a Dignitas-like organization in Switzerland. Fests will embrace this provocative query into what makes life worth living.