Back to our catalogue
Download flyer
Hey! Teachers!
original title: Katya I Vasya idut v shkolu
2020, 90 min., color, Russian
DOCUMENTARY CATEGORY :
Portraits
COUNTRY:
Russia
PRODUCTION :
FESTIVALS & AWARDS
CAST
Ekaterina Mamontova, Vasiliy Kharitonov, Sasha Gordeev
CREW
Director
:
Screenplay
: Yulia Vishnevets with Olga Badina
Cinematographer
: Konstantin Salomatin, Darya Senicheva, Yulia Lantsova
Producers
: Eugenia Vengerova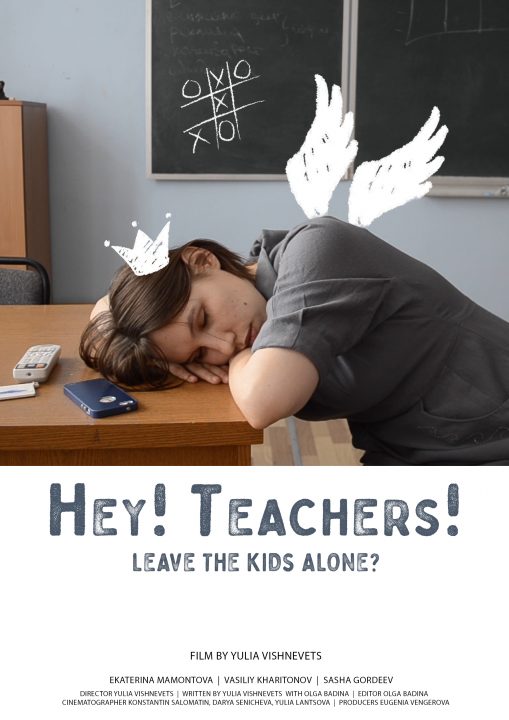 COMMENTS
FESTIVALS: Millenium Film Festival 2021, Sofia International Film Festival 2021, Hong Kong International Documentary Festival 2020 (International Doc Competition), Golden Apricot Yerevan IFF 2020, IDFA 2020 (Best of Fests), Beldocs 2020, Shanghai IFF 2020 (Panorama), Krakow Film Festival 2020 (Documentary Competition) 
A secret military object. Filming is strictly prohibited. Insider view of a Russian school.
DIRECTOR'S NOTES: As a teenager, I was privileged to go to school, where teachers and students were treated as equals. It was created by enthusiasts that wanted to build a new educational system. But when I grew up, I discovered that I knew nothing about the the world around me.
The majority of Russian people go to very conservative schools. Then I realized that school education is like the DNA of our society. Any social change must start at the school level. An average, ordinary school in provincial Russia is a time capsule of the industrial age. Children are raised like little soldiers; the greatest values are good behavior and obedience. This is heightened by the conservative direction of current politics. The Russian education system worksclosely with the Orthodox Church and strives to infuse the students with "traditional values." At the same time, outside of school, the children live in a completely different world, everyone has access to the internet and mobile phones, the post modern society they are a part of has entirely different expectations and challenges. This creates a disjointed feeling of doublethink and a base level of mistrust of everything that comes from teachers.
The appearance of our heroes in this school is the start of the conflict. Katya and Vassya want to change the system, but it is resisting. This gap provides us with both tragic and comical perspective of the situation, which will unfold in a grotesque over the course of our film. Yet the questions and challenges that are heroes are faced with are not just issues of Russian schools, but of modern education as a whole.
SYNOPSIS
LEAVE THE KIDS ALONE?
Two young intellectuals, Katya and Vassya, come to a small industrial town to work as teachers. They want to change the system of scholastic education and the social situation in difficult regions. The school is a closed conservative world, where obedience and discipline are of the highest value. Young teachers discover that nationalism, sexism and homophobia are typical for their new environment. Children see the school as a prison and are completely indifferent to any new ideas. During one school year we observe attempts of our protagonists to bring new practices into the system. Young teachers try to speak with children about feminism, human rights and Russian politics, but the system pushes them out, and a comedy turns into a drama.
PRESS
Antipode has also been busy selling Yulia Vishnevets's Hey! Teachers!, which has been screening in IDFA's Best of Fests. This is an observational documentary about two idealistic teachers from Moscow who take jobs in a provincial town in Russia. They try with very mixed success to engage with often disruptive and resistant adolescent students. The film comes to IDFA following successful screenings in Cracow, Shanghai and elsewhere. – Business Doc Europe
The International Documentary Jury of the 60th Krakow Film Festival consisting of: Łukasz Żal – chairman (Poland), Renata Santoro (Italy), Tod Lending (USA), Eva Mulvad (Denmark), Martin Horyna (Czech Republic) has decided to award the prize SPECIAL MENTION for Hey! Teachers! directed by Yulia Vishnevets (Russia) "For the richness of a multi-faceted story set in a seemingly ordinary backdrop, and for the insightful, bitterly ironical take on how the Russian public education system can sometimes break down the idealism of certain teachers whose altruistic goal is to educate and improve the lives of their students". – Krakow Film Festival
…the learning curve for these two young Moscow intellectuals taking on a class of rough, tough teenagers in a grim industrial town, is going to be a steep one. – Nick Holdsworth, Modern Times Review
Twee jonge leerkrachten in Rusland in deze film van Yulia Vishnevets. Ook hier zal de Russische cultuur vermoedelijk geen seconde vervelen. Wel boeiend om te zien hoe leerlingen en leraren daar met elkaar samenwerken. /Hey! Teachers! Two young teachers in Russia in this Yulia Vishnevets film. Here too, Russian culture will probably not be bored for a second. Interesting to see students and teachers working together there – INDEBIOSCOOP