Back to our catalogue
Grumant. The island of communism
original title: Grumant. Ostrov kommunizma
2014, 53 min., color, Russian
hicksville
island
mountain
Northern light
post-Soviet space
snow
the far north
DOCUMENTARY CATEGORY :
Nature / Environment
COUNTRY:
Russia
PRODUCTION :
FESTIVALS & AWARDS
CREW
Director
:
Screenplay
: Ivan Tverdovsky
Cinematographer
: Ivan Alferov, Evgeny Kokusev, Alex Mikiladze
Producers
: Ivan Tverdovsky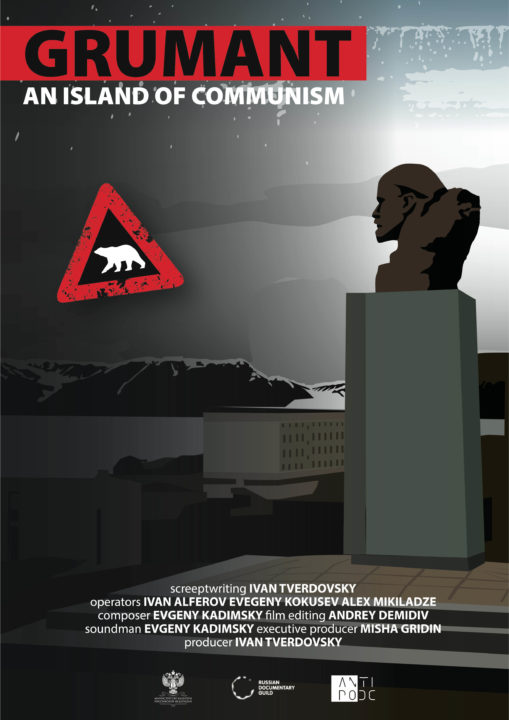 SYNOPSIS
Svalbard (formerly Spitsbergen) was discovered by  Willem Barentsz in 1596. At the same time the archipelago started featuring on Russian maps under the name of the Holy Russian Isles. It had been known to Russian Pomors under the name of Grumant already in 12th century: they often spent winters here. Varangians who visited the archipelago called it Svalbard.
In 1920 a treaty was concluded in Paris putting Svalbard under the protectorate of Norway. It was however agreed that 46 signatory countries have equal rights to carry out economic and scientific activities. Nowadays, only Norway and Russia are present on Svalbard.
Svalbard is the northernmost place in Europe to have permanent population. It is mainly inhabited by Norwegians and Russians. The main industries are coal mining and fishing. Two major settlements are the Norwegian community of Longyearbyen, the capital of Svalbard, and the Russian community of Barentsburg.
Our film shows how the Barentsburg coal miners live during the polar night. The weekdays are tough. During the week, there is just one day off. Main holidays are the New Year and the 'Welcoming the Sun" Day. For over six months, they do not see any sun here. That is why this holiday is so important.
Barentsburg has a northernmost Lenin monument, a northernmost railway, a northernmost pig farm etc.
There is no money in Barentsburg. Its canteen and its shops use only cashless payments. Tourists who come to Barentsburg nicknamed it 'an Island of Communism'.
Geologically, Svalbard mines are similar to mines in Donbass and Lugansk. That is why since Soviet times most miners working in Barentsburg come from this regions.