Back to our catalogue
Download flyer
FOR MARX…
original title: ZA MARKSA...
2012, Russia, 100 min, Colour, DCP, Russian
CATEGORY :
Drama
COUNTRY:
Russia
PRODUCTION :
FESTIVALS & AWARDS
CAST
Sergey Pakhomov ("Green Elephant", Kokki – a running doctor", "5 vodka bottles" by Svetlana Baskova), Vladimir Epifantsev (Generation Р, Antikiller 2) , Victor Sergachev (Vremya, vperyod! by , Sofiya Milkina, Mikhail Shvejtser; Tri topolya na Plyushchikhe by Tatyana Lioznova) Lavrenty Svetlichny, Aleksandr Kovalev
CREW
Director
:
Screenplay
: Svetlana Baskova ("One Solution – Resist" , "Green Elephant", "Head", "Mozart")
Cinematographer
: Maksim Mosin, Egor Antonov
Producers
: Andrey Silvestrov, Gleb Aleinikov, Anatoly Osmolovsky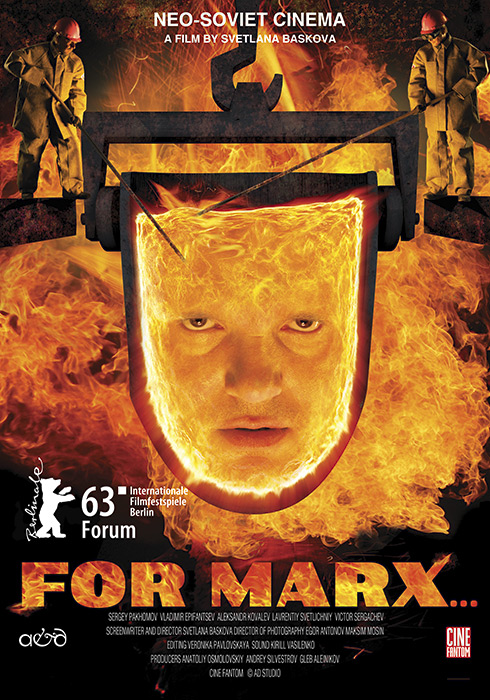 COMMENTS
THE DIRECTOR'S COMMENTS:
«First I've heard about this movement from my friends and I got really interested and surprised that there are independent trade unions, that they protect their right and that they are in every possible way being prevented from doing this. I decided to research this issue, I wanted to know if workers possessed some real legitimate rights. I visited many cities, saw many rallies, and everywhere what shocked me was total disrespect from the authorities. Sometimes they didn't even go out to talk to people. I filmed everything, the guys from the trade unions gave me a chance to see how it all worked from the inside. I do respect those people — for their constant trying to fight for their dignity, for their challenging the power of money».
The producer's comments
The Cine Fantom studio has always been searching for new cinema forms that would unite a broad audience with an advanced one. Nowadays it's important to develop the cinema which would be dedicated to social problems,not to political or pseudomoral issues. It's important to use the experience of the soviet cinema in this case. We want to see the traditions reborn. We want to se it topical, we call it neo-soviet cinema. That's our plan for the next five years. It is very important for the studio that no one but Svetlana makes the first steps in building a basement for a future tower.
Gleb Aleinikov
SYNOPSIS
The film is about a clash between workers from the Soviet generations and wild realities of Russian capitalism. The plot is based on a real story of today's crisis when production owners sort out their problems by means of cutting workers' wages which are anyway low.
The shootings were held in Cherepovets, Nijny Novgorod, Yaroslavl and Moscow (ZIL Factory and the Fabrica project).
2010. Russia. The main hero, a factory worker, joins an independent trade union at the factory he works for. Having witnessed the trade union leader being murdered and due to administration's blackmailing him, he betrays his friends. A class conflict arises and provokes the hero into a humane riot.
The idea is to show the duality of Russian mentality which paradoxically combines cruelty and placidity, loyalty to the agenda and betrayal, envy and friendship.
PRESS
"Baskova is back — asking one of the most stirring questions of today's (Russian) society: the human being and his/her/its relationship with the constitution. No, "Za Marksa" is not about Pussy Riot, it's not about pink protest, not about art for art's sake, not about freedom of speech. It's not even about political battle on a large scale — opposition, democracy, the diversity of movements. It goes further, I would say. Set on a micro scale (a factory plant somewhere out there in the Russian provinces), it's about the largest of majorities still (and again) being kept silent: workers. If earlier on many of us believed in the slogan "Workers United can never be Defeated", Baskova's movie tells the story of how in contemporary society this very core idea of Marxism can very well be defeated (and not only because it seems so difficult to unite, in our beautiful times of post-everything multitude). The gradual disintegration of this workers' union (or rather: the ruthless distinction by a new oligarch class of owners and managers) is shown as a sad fairy tale with a neo-avantgarde look (and some fantastically ironic sideglances to Godard, Tarkovskij & co — the Brechtian style is to be taken seriously here) and it reminds a mindful audience of Zelimir Zilnik's cracking late attempts in docu-ficitional anti-capitalism. Go or it. For Marx. ", – Barbara Wurm, goEast