Back to our catalogue
Far Eastern Golgotha
original title: Dalnevostochnaya Golgofa
2021, 85 min., color, Russian
DOCUMENTARY CATEGORIES :
Current Time / Politics
,
Social / Society / Human
,
Portraits
COUNTRY:
Russia
PRODUCTION :
FESTIVALS & AWARDS
CREW
Director
:
Screenplay
: Julia Sergina
Cinematographer
: Vladislav Bakhanovich, Arseniy Kaidatskiy
Producers
: Alexander Balashov, Karina Sharafutdinova, Anastasiya Kochetkova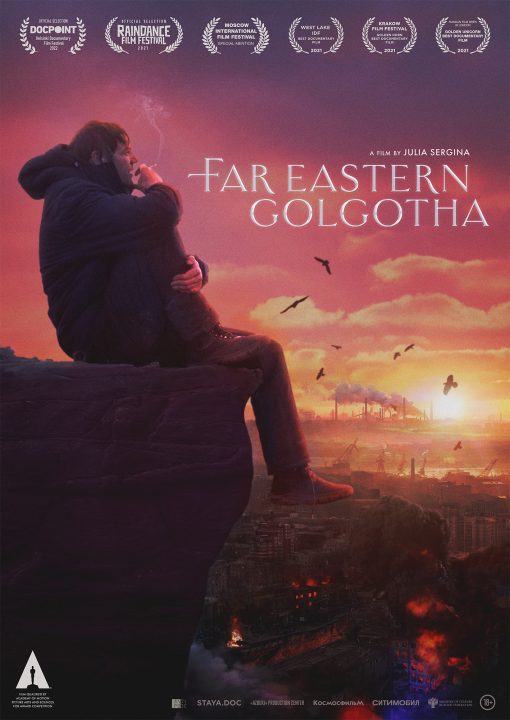 COMMENTS
FESTIVALS:
Director's Statement: 
Imagen yourself born in the farthest, coldest and grayest lend of all that had ever existed. It stretches endlessly to the very horizon, and wherever you go, it never ends. And you have no one chance to leave it for something better. Now imagine a whole region, located on the outskirts of a huge country, and the people inhabiting it – the conquerors of this land in the past, rebellious and full of passion
energy that they have absolutely nowhere to invest. People who won't be ever heard by anyone. What will you get after 20 years of maintaining this state of affairs? You will definitely get a powder keg called "Russian Far East".
I was born in 1995 in Moscow, but the feeling that I have been living in deportation has never left me. I think my parents and their generation had this feeling even stronger. If I would be asked to describe the situation in Russia last 25 years long in general, I would say that there was the tragedy of the generation that grew up on a historical break and never could find a place for itself in the history of its own country.
My parents' generation is a generation of people who are deprived of the opportunity to leave any kind of historical memory about themselves. The bitterness of the life spent in vain is in each of them.
The V. Putin years in the historical sense are the time of the existence of the state, but not the people. It is the time crushed out of the space for any feat, development or personal
implementation. A person born on a devastated icy land, without history, tradition and a visible future, is like a good seed fallen into dead soil. He is desperately trying to look for something to rely on- and can not find it. And the only recourse he has is to play a part of a madman, so as not to really loose the mind.
Therefore, when I first saw a video on the "Vitek_Live" channel and the person who published it, the Far Eastern taxi driver Viktor Toroptsev, it was obvious to me that this was not a fake or trolling, but a proto (even in the soul of one person) of peasant revolt. Riot of a peasant who was deprived of his land.
Victor is a typical representative of the generation of 40-year-old common people in Russia. All his life he observed only the extinction and total decline of his country, which no longer belongs to him.
Therefore, the Internet for Victor has become the way to escape from reality, to build his own virtual world, where he saw himself as he felt in his heart, but not as he has been made by the life.
It was an attempt to struggle, to make his own Russia, where there is justice and future, although it is within virtual network. And in this sense, this film is not so much about the one-on-one confrontation of a person and the state, but about an insoluble conflict between dreams and reality: the reality of modern Russia and the dreams of a taxi driver Victor Toroptsev from the Far East.
We were shooting Victor and his family in the town of Amursk for two years. He possessed such a bright, expressive and passionate character that it seemed events themselves were gravitated towards him, spinning around like a water swirl.
It seemed that there were no any "brick walls" for Victor. He could easily turned up to the court bailiff with a grenade, forced entry into a closed-door meeting of the town authorities, broke through a security cortege to the governor or stood for election of the mayor of the town – all such things came so easily to him, as if he simply repaired his breaking down car. And he asked everyone one main question: "When will my people live happily? If you can't do it, why wouldn't I try? "
His interaction with the environment, the people's reaction to him and his actions – that was really fascinating and at the same time scary to watch. The reaction of the state, its opposition, was completely inadequate to Victor's actions , as if he had impinged upon something more than just public order – he had impinged on his right to independently have his fate in his own hands. to He had impinged on his right to have his own voice and to be free. And this did not go unpunished.
His behavior is the behavior of a provocateur, instigator, trickster, devoid of any framework: "I don't give a damn who you are, even if you are the Minister of Defense – if you're wrong, be so kind as to hold responsibility."
The appearance of such a person in such an ultra-regimented and bureaucratic society like a provincial town created a sort of an explosion. He was transcribed as a virus in its own body, which has to be get rid in any way. And the most paradoxical thing is that the last blows weren't given by the authorities or public opinion, but by the closest people.
Environment has won, as always has done. The victory was won by a system in which all aspirations and any seedlings of resistance or protest are always repressed. The arrest of the "people's chosen" governor, the most beloved and respected politician of the Far East, Sergey Furgal, who was elected the first time for a long many decades by the locals of the region and not appointed by the ruling party, became the last point in this story.
Victor could have become a brilliant politician but he was crushed down by reality and family life. And there is only a feeling of a dead land, on which another new generation will step, which will never be able to grow up. Because the midlife crisis in Russia is insuperable.
SYNOPSIS
A taxi driver Viktor Toroptsev from an endangered city in the Far East of Russia, decides that a critical moment has already arrived at his life. He starts a You-tube channel, where he begins publishing evidence of total poverty and lack of rights of his people and gathering a team of soulmates. Victor is sure that he must save his city and all of Russia from inevitable death so he goes on the crucial journey of his life, without knowing what chain of events he launched.