Back to our catalogue
Brodsky is not a poet
original title: Brodsky ne poet
2015, 100 min, Russian
biopic
chronicle
genius
Jewish stories
literature
Nobel Prize
poetry
St. Petersburg
underground
USSR
CATEGORY :
Documentary
DOCUMENTARY CATEGORY :
Art / Music / Literature / Culture
COUNTRY:
Russia
PRODUCTION :
CAST
Joseph Ellis, Strobe Talbott, Jacob Lerner, Liam Maccarthy, Robert Morgan, Maria De Zuliani, Yuz Aleshkovsky, David Rieff, Benedetta Craveri, Sture Allén, Carol Anschutz
CREW
Director
:
Screenplay
: Nikolay Kartoziya, Anton Zhelnov
Cinematographer
: Rafael Bulatov
Producers
: Nikolay Kartoziya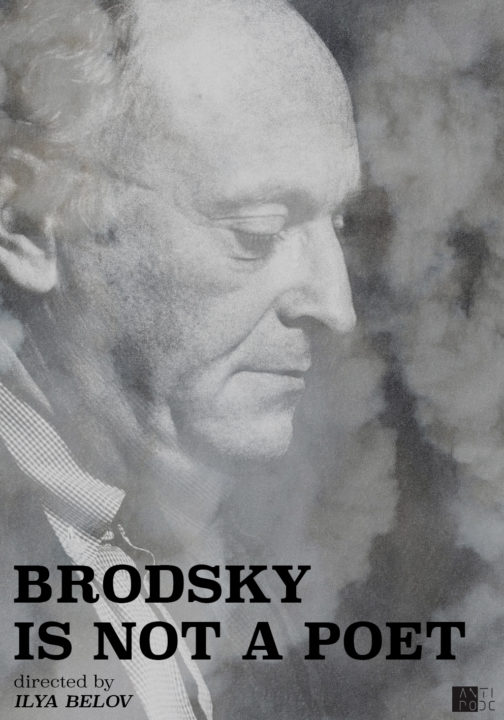 COMMENTS
Joseph Brodsky as we knew him
PROFESSOR BRODSKY
We know Brodsky the poet, but we don't know Brodsky the teacher. He lectured and taught seminars at Michigan and Columbia Universities, and worked at the women's college Mount Holyoke. What did this professor teach his students as he smoked through his lectures? His first students meet up to talk in one place:
"He was delightfully un-politically-correct!"
Sven Birkerts, Brodsky's student, literary critic
"He had something that Americans don't have. Has saw life as inherently tragic, and he left his mark on whatever he did. That was how he lectured as well."
Vijay Seshadri, Brodsky's student, winner of the Pulitzer Prize
"He never presented himself as a victim of the Russian state. I think he loved Russia his whole life"
Liam MacCarthy, Brodsky's student, businessman
"He wasn't a soft teacher, he didn't always make things easy. He might, for example, read out a line from Mandelstam and ask, what is this? And we'd sit in silence…"
Sven Birkerts, Brodsky's student, literary critic
FORBIDDEN READING
Brodsky would often stay behind and sleep right there at the publishers'. At the legendary Ardis Publishing, where what would now be called "forbidden reading" was printed: Voinovich, Dovlatov, Limonov and Brodsky himself. Carl and Ellendea Proffer, the owners of the publishers', were close friends of Brodsky's, and were essentially his first producers. In the film, Ellendea speaks openly about Brodsky: about his journey to global fame, his ability to make friends and his literaty conflicts.
"He wanted fame. Russian don't like talking about fame, but Americans are quite happy to. We understand people who want to be famous And we help them get there."
Ellendea Proffer, publisher, Brodsky's friend
THE FIGHT FOR HIS PARENTS
When he left Leningrad, Brodsky believed that he would still be able to see his parents. As it turned out, the fight to be able to see them would last over ten years. Leading American politicians Edward Kennedy and Henry Kissinger was both involved in the fight. For the first time viewers can see the secret correspondence between the American and Soviet authorities.
"I've been in contact with Ambassador Dobrynin in Washington. I hope he will help."
Senator Kennedy to Brodsky
They wouldn't let Brodsky see his parents, but he had his messenger in Leningrad. A young girl. Rimlyanka. A 'living letter' for his mother and father.
"I remember how disappointed his mother was when she saw from his photograph that her son was still smoking. And she said: the good for nothing!!!"
Annelise Alleva
Thirty years later Brodsky's Annelise Alleva return to the poet's Leningrad apartment.
BRODSKY THE POLITICIAN
What did Brodsky do when Soviet troops went in to Afghanistan?
What did he think of the first Chechen war and what did he make of Yeltsin's presidency? His friendship with Galina Starovoitova, an unexpected meeting with Mikhail Gorbachev in Washington. Why did the poet turn down Sobchak's invitation to return to Russia? And, yes, Brodsky too was amazed by Zhirinovsky. "Zhirinovsky – it's just like a kindergarten". Joseph Brodsky himself, as well as his close friends and high ranking American politicians discuss this in the film.
SECRET WITNESSES
Everyone knows that Brodsky's emigration was forced. But the main witnesses at the time have kept silent up to now.
PHILLIP BOBKOV
In the film Phillip Bobkov, head of the Fifth Chief Directorate of the KGB (Protecting the Constitutional Order), speaks openly for the first time about the decision taken in the Lubyanka.
"I didn't see a great deal of talent in him. If he did have talent, it must have been deeply entrenched. And no one could have shaken it off. I'm not going back to that now. He was banished –that's all."
Phillip Bobok
But why were the KGB in such a hurry in May 1972? Was it true that the poet was about to try and register a false marriage to an American so that he could leave and return to his homeland?
CAROL ANSCHUTZ
The daughter of a high ranking American diplomat, who was supposed to help him carry out this plan, kept the secret for 43 years. The filmmakers met her in Washington:
"When I got off the train I was supposed to go straight to Brodsky. Together we were to go to the Wedding Palace because he hoped that way would be able to get our marriage registration date before the authorities could forbid it."
Carol Anschutz
BRODSKY'S GLOBE
The filmmakers introduce the American Brodsky for the first time:
— the city of Ann Arbor in the Mid West. Here was his first home and where he wanted to bring his parent over to. His first university, where he taught American students despite not even having fully mastered English himself. And of course the bars where he would often continue his lectures.
— New England (Massachusetts).The women's college where Brodsky first read his Secret Report, a speech which was considered very politically incorrect. It had been thought that no video footage of this event existed. Viewers can now see it for the first time. The minister's house where Brodsky lived and where his friend Mikhail Baryshnikov would visit him. The Aerodrome where the poet learnt to fly. The famous poem The Hawk's Cry in Autumn is the voice of Brodsky the pilot.  
— The famous Venice and an unknown Venetian woman – Maria Josefina de Zuliani. In the collection Watermark, this same unknown woman leads us through Brodsky's Venice. And the poet's friend, the artist Robert Morgan, reveals for the first time where the famous embankment of Watermark is really hidden.
— 'The ravine of Rome', the poet's favourite part of the city, where Ancient Rome turns into a Little Judea, the Jewish ghetto. Michelini herself had her apartment here, which is one of the reasons why the poet was warred with the Roman count in verse. On Janiculum hill (the best view over the eternal city) Brodsky had the idea for his most important project: to open a Russian Academy in Rome. The mayor of Rome, Francesco Rutelli tells this rather mysterious story.
— Washington. US Library of Congress. In 1991 Brodsky becomes the Poet Laureate, essentially the US ambassador for poetry. His plan was to make America the most literate country in the world. Brodsky's office with a balcony looking out on Capitol: "An excellent vantage point for Lee Harvey Oswald" the poet joked.
— For Brodsky, Sweden wasn't just the place where he received his Nobel Prize, it was also a refuge. He would come here to relax with his wife Maria Sozzani-Brodsky and his daughter Anna. The poet's dacha stands on the lonely island of Värmdö. Now Channel One viewers can rent the dacha out for the summer.
From the filmmakers:
"Our main is to show how well established Brodsky became in the West. His transformation from a Soviet emigrant into a writer and public figure of worldwide reknown. The poet Czeslaw Milosz compared Brodsky to an enormous feat of Baroque architecture. We have simply tried to get a better view of him."
Anton Zhelanov – journalist and commentator, Dozhd'
"This is the story of a man who imposed his own rules on the world. The story of a Leningrad boy who dreamed of becoming a world-famous poet – and he did. America and Russia were of course Brodsky's main countries. But it's only in his beloved Italy that you realize that Joseph Aleksandrovich is both of our time, answering his mobile just like us, and also from an ancient time, reaching out to us in translations from Latin. He became one of the classics in his own lifetime.
Nikolai Kartozia – general director of Pyatnitsa, formerly head of NTV Prime Broadcasting Directorate ("Central Television", "NTVshniki" and more)
SYNOPSIS
Fellow poets, excited ladies, the love of his life, Marina Basmanova, two psychiatric hospitals, KGB interrogations, a People's Court, prison, exile, forced emigration. All of this was Brodsky's Leningrad. The biography, which was written for, in Akhmatova's words, "our red-head".
On the fourth of June 1972, when the plane carrying Brodsky took off from Pulkovo airport, this biography ended. And a new life began that almost no one in his homeland is aware of.
Russia, America, Italy, Sweden, Finland – the filmmakers have traced the journey of their hero, perhaps the most well-travelled of all Russian writers. The places, that became his biography. And the people, that defined his fate.
FOR THE FIRST TIME, VIEWERS CAN SEE INSIDE THE POET'S AMERICAN ARCHIVE
— More than 100 unseen personal photographs
— Never before seen readings and interviews
— Home video footage filmed by friends
— Personal letters to his parents, friends and adversaries
— Unique documentation: documents from Brodsky's interrogations, his medical history, contracts with leading US universities
— Unpublished poems and essays
— The author's collection of drawings
— The story of a private diplomatic war. Letters from Henry Kissinger and Edward Kennedy trying to bring Brodsky's parents over from the US.