Back to our catalogue
Birmingham Ornament 2
original title: BIRMINGEMSKIJ ORNAMENT 2
2013, Drama, Russia, 91 min, Colour, DCP, Russian, English, Japanese, Georgian, Finnish
COUNTRY:
Russia
PRODUCTION :
FESTIVALS & AWARDS
CAST
Mikhail Efremov, Shinichi Watabe, Pradumna Chatterjee, Alik Ligaliu, Sergey Migovich, Valery Gorin, Pavel Fartukov
CREW
Director s
:
Screenplay
: Andrey Silvestrov, Yury Leiderman
Cinematographer
: Alexandr Tananov, Andrey Kostyanov, Vesa Ronty
Producers
: Andrey Silvestrov, Gleb Aleinikov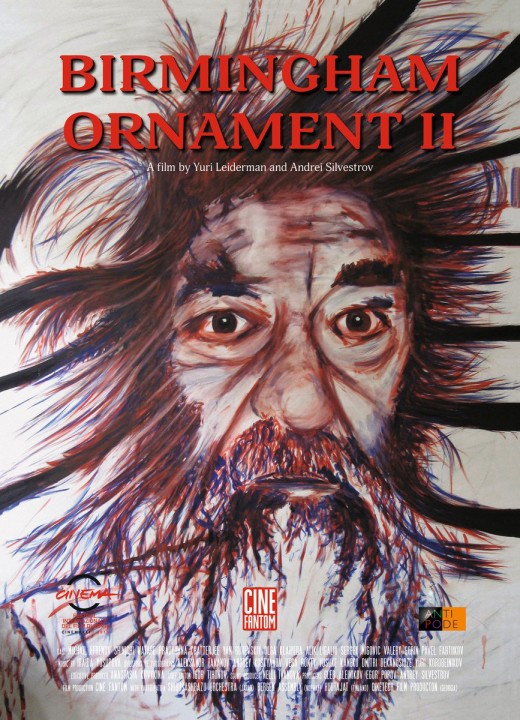 SYNOPSIS
Why in the world is a Georgian chorus singing a traditional song that unexpectedly mentions the death of Saddam Hussein? The stars of the film, taken by surprise, talk about this odd turn of events "live". The conversation then shifts to samurais by the sea, the poets Mandelstam, Kliuev and Gorodezky, Moscow in the 1930s, and a Russian painter who immortalised Putin fishing. All surreal glimpses of the artist's relationship with power. The "second part" of a film that stirred a scandal at the Orizzonti section of the 2011 Venice Film Festival. Director's statement The goal of this experimental film was to apply the technology and linguistic peculiarities of modern fine arts to cinema. The film consists of several lines: each of these lines was shot with its own specific stylistics in different corners of the planet. All the lines in the film intersect to form a common statement expressing criticism of modern civilization, and tossing around Oriental tyranny and European democracy's lack of determination.
PRESS
Poetic action art, motley excessiveness, hilariousness, pseudo-science, self-criticism, recoding of stereotypes, unobvious interaction of the episodes – that is the strange field of this "not quite cinema". Artists and researchers, beyond the didactic and ideological intonation, play with realities, and in the same time with the cinema, keeping the evident feeling of liberty and unpredictability. The movie is an intellectual research. According to Leyderman, an intellectual enterprise cannot be good or bad, right or wrong, it is just a travel.
…It is a game without rules, a breach of the homogeneity of semantic and ideological territories, a race through an uneven terrain, an artistic gesture becoming a political one… Larisa Malyukova, Novaya Gazeta.