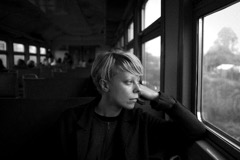 Anna Eborn
Was born 1st of February 1983 on the island of Skaftö in Sweden.
Anna Eborn is autodidact. She has directed a number of short films, fiction as well as documentary. BABA (2010) has been selected at the Gothenburg International Film Festival and Nordisk Panorama in 2011. PINE RIDGE is Anna's debut feature length documentary, and has been officially selected for Venice International Film Festival in Out of competition, won Dragon Award for best documentary at Gothenburg International Film Festival and has been shown at MoMA and many different film festivals in 2013/2014.
Anna was selected jury member at Hot Docs in Canada in 2013 for best international documentary, jury member at CPH:DOX 2015 and Gothenburg International Film festival in 2016.
Filmography:
2017 LIDA – 89 min., documentary
2016   EPIFANIA – 70 min., fiction, Busan International FF 2016
2014   ZMIIVKA – 28 min., documentary, CPH:DOX 2014
2013   PINE RIDGE – 77 min., documentary, Venice International Film festival 2013, CPH:DOX 2013, Gothenburg International Film Festival, MoMA, The Birds Eye View Festival, Minneapolis St. Paul International Film Festival,  Hot dosc International Documentary Film Festival, Spot Film Festival, Subversice Film Festival, Transilvania International Film Festival, Transatlantyk Film Festival, Way out West Festival, DocuWest Film Festival, Gijon International Film Festival, Exground Film Fest.
2010   BABA – 29 min., documentary, Gothenburg International Film Festival 2011, Nordic Panorama 2011
2009   RELATIVE WIND – 12 min., documentary
Filmography in our catalog