Back to our catalogue
Download flyer
The Secret of a Leader
original title: Sekret lidera
2018, 97 min., color, Russian
post-Soviet space
CATEGORIES :
Drama
,
Detective
COUNTRY:
Kazakhstan
PRODUCTION :
FESTIVALS & AWARDS
CAST
Dulyga Akmolda, Yerzhan Tusupov, Gulzhamal Kazakbayeva, Philip Voloshin
CREW
Director
:
Screenplay
: Farkhat Sharipov
Cinematographer
: Alexander Plotnikov
Producers
: Serik Zhubandykov, Yerzhan Akhmetov, Yuliya Kim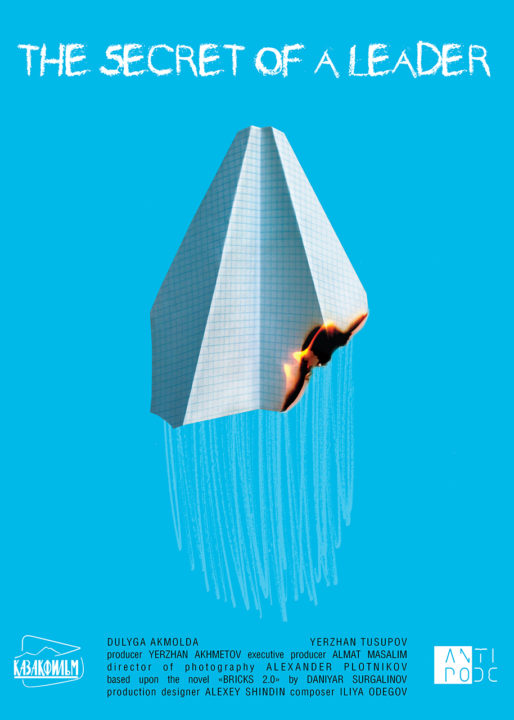 COMMENTS
FESTIVALS: Moscow International Film Festival 2019, Filmfest Hamburg 2019, Minsk IFF — LISTAPAD 2019, Guwahati IFF 2019, World Asian FF 2019, Hanoi IFF 2019, Busan International Film Festival 2018, Shaken Aimanov International Film Festival 2018
SYNOPSIS
DIE YOUR TRUTH OR LIVE YOUR LIE
Based on a novel by Daniyar Surgalinov "Bricks 2.0"
The life of the divorced bank clerk Kanat, living together with his Alzheimer's-suffering mother is monotonous to the point of queasiness. However, everything changes when he meets his old university friend Daniyar, a bigwig. Thanks to him, Kanat's life is enriched by expensive entertainments such as sauna with girls and good restaurants… and also by mortal crime. Are you ready to pay the price for success?
.
PRESS
The winning film is not a sample of state patriotic cinema. It represents independent low budget socially critical cinema. Such films have almost been rooted out in Russia but they continue to flourish in neighbouring Kazakhstan. The Secret of a Leader by Farkhat Sharipov is a Kazakhstani version of Bertolucci's Conformist, a film that strikes in the very heart of a corrupt system based on unscrupulous self-advancement. – Andrei Plakhov, Kommersant
The Secret of a Leader is a well-aimed social drama and a generation drama; it is a film that has both an anxiety provoked by social malaise and an existential sadness, a side effect of memories of youth. In its last third, Training becomes almost a detective story, albeit one where the solution is less important than the moral anxiety. The film is also rich in social sarcasm. – Vadim Rutkovsky, Coolconnection
This is a story of a moral choice taking place in a Kazakhstan that seems frozen in time. The details of post-Soviet everyday life, the main city pub, delightful in its succulent vulgarity, and carrying a crude British name,  – the world of the film is saturated with indications of a backwater. The Secret of a Leader could be compared with the chronically cold Russian festival films of the 2000s that processed the recent aesthetic and gustative heritage of their past. But the first film to come to mind is the recent Burning by Lee Chang-dong: the Sharipov's film has the same imperceptible feeling of otherworldly intoxicating drug.
–
Denis Vilenkin, Kinoafisha.ru
The cinematic language of this film is far from amateurish; it turns the Internet prose into something reminiscent of such films as David Fincher's Fight Club, Andrei Zvyagintsev's Loveless and even early films by Nicolas Winding Refn, such as Fear X.
–
Yegor Moskvitin, Meduza
Kazakhstani liberal critics call Training the most truthful film about Kazakhstan, even though the sticky era of fake stability based on brute force, nepotism and corruption is not something specifically Kazakh. Such a film could be shot in Korea by Kim Ki-Dok himself. It speaks about a vertically-arranged world in which mental blindness and deafness are required for someone who wants to obtain destiny, become a leader, reach success and well-being. Was it ever different? Sharipov's film, made in Russian, is remarkable precisely because of its universal character…
–
Ekaterina Vizgalova, Kino-teatr.ru
Bank teller Kanat lives alone with his mother. He is the head of the household of a broken family, one often portrayed in Central Asian films. The Secret of a Leader tells the tale of how Kanat's life changes and he enters a new world through a fateful encounter with his old friend Daniyar. The film portrays Kazakh society as it becomes captive to capitalism after gaining independence, and it explores the topic of "family" in a unique fashion. The film is tragic because only "illegal capital" can restore Kanat's family. While The Secret of a Leader is made in Central Asia's unique style, the narrative effectively depicts the tense relationship among its characters. Its cool outlook on the scenery is also noticeable. Director Farkhat Sharipov uses a simple, yet unique method of projecting the complex discourse encompassing the traditional and the modern in Kazakhstan. – Hong Sangwoo, Busan International Film Festaval
Finally, we have it – a social drama that strikes a swinging blow right into our faces, without feigned delicacy and shyness, honestly and directly dissecting the Kazakhstan society and its model of development… this film is horribly realist. No, it is not a gory story, do not hope. I would say it is a replica of our life. And if someone in the future wishes to learn the city life of Kazakhstan in the 2010s, The Secret of Leaderwould be a perfect textbook. – Dmitry Mostovoy, Sputnik Kazakhstan
"I showed our real motivation, things that really motivate people, I just showed it from a different perspective, from a different point of view compared to the book. In Europe, there is a notion of 'sandwich' when a person is dependent on his social standing: on the one side, he is pressurized by the family, on the other, by his conscience, he need somehow to develop economically, this puts him in a vice, and he has to live in such a sandwich. We can say that this idea was transferred from the book into our film", – Farkhat Sharipov for Zakon
Dull daily routine. The slimy depth of the daily life, inhabited by voiceless shellfish and small fishes chasing crumbs coming from somewhere up. And under every snag there is a wise gudgeon who teaches those tadpoles how to play sharks.
And a bathyscaphe descends into this melancholic swamp, and its searchlight shows the pictures that we not simply recognize but start to understand, with all their bitter implications. This bathyscaphe is the film, obviously shot with the help of a deep-sea camera. – Vladimir Rerih, Caravan