Back to our catalogue
#HOMMES. True Story of the Thieves' World
original title: #Lyudi. Vory v zakone
2016, DCP, 134 min, Russian
diary
Gulag
human rights
jail
vicious circle
CATEGORY :
Documentary
DOCUMENTARY CATEGORY :
Social / Society / Human
COUNTRIES:
Russia
,
France
PRODUCTION :
CAST
Heraclius Ishkhneli, Vassia the "Diamond", Rudolf Oganov, Tariel Oniani
CREW
Director
:
Screenplay
: Sa Nia
Cinematographer
: Kakhaber Bukhrashvili, Oleg Meshcheryagin
Producers
: Alla Gefter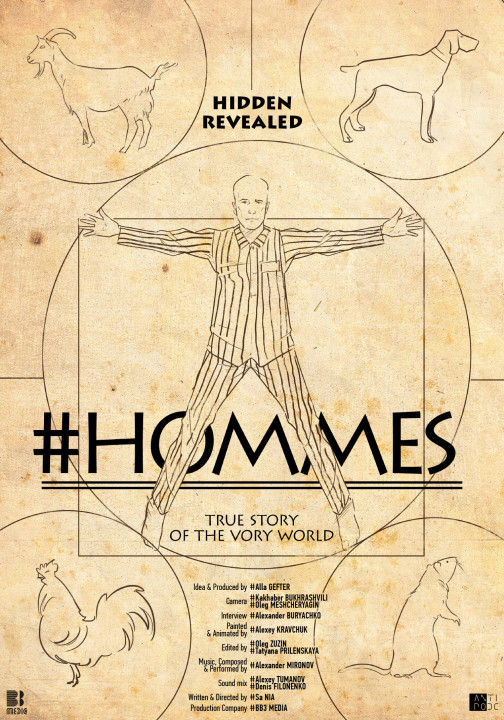 COMMENTS
Unfabled story of Russian thieves world
We were advised to shoot a film after Grandpa Hassan was killed. Professional cinematographers, who specialize on documentaries, are working on it. There are in our possession some unique videos that come from family archives of different Vory that had never been published before. We have made some footage of some very interesting people, there will be a lot of on-screen discourse, without any narrator's voice. It will be not just a story about Vory. I feel about this film as if it were the last thing that I am to do, I am taking everything about it very seriously. All of my experience has been focused on it, it is a manifesto, period.
The name of the film will be "Hommes" or "People". That is how the "thieves of honour" are called. At the moment it is the editing and cutting stage for us, we have about 100 hours of footage. We want to promote our film in the West, in Europe and in the USA. We want to make our film to become a success not only in way of being historically true, containing much information, but also as a work of art. All the monologues, all the lines that got in were chosen with great deliberation. Of course it will be a non-commercial film, an art-house of sorts…  we want our film also impress many.
SYNOPSIS
It is a unique project that changes radically our ideas about 'Vory v zakone' – Russian mobsters.
Never before had a camera penetrated so deeply in the heart of a transnational criminal organization. We did not flatter anybody, we did not dance to anybody's tune – we told the whole uncomfortable truth and gave it a documentary foundation despite receiving threats and warnings. All the characters of our film are people well-known and respected in the criminal world. They never gave interview to anyone. For the first time, they tell the whole history of the Russian criminal world since its beginning till our day. The story is told with lots of detail and nuance.
There exists no other such film, neither in Russian nor in global documentary cinema.
There are no cut-in scenes, only direct splicing, and there is no off-screen commentary. We wanted to make a film testimony. We studied this world for more than twenty years but decided we have no right to impose our point of view. In our film, the only ones who speak are documents and people – either the mobsters or those who have an unquestionable level of competence in the field.
The name of the film is People / HOMMES. That's how they call themselves. The film has a second name – "An uninvented story of the Vory world".
But the film is not confined to information, to a cognitive content. Speaking about this world, we should understand that it is not just the greatest criminal community in the world. In reality, it is a secret philosophic order preaching an Idea, and this Idea was so important for its followers that they had always preferred to die rather than abandon it. Strangely as it may sound, this Idea opens the people's eyes, showing them the Life, and this gives it strength and meaning.
The history of the Vory in #HOMMES serves as a reminder to those who are obsessed with things material, forgetting about the most important. It is not a film about Vory; it is a film about things that lay over the edge of 'good' and 'bad'. It is a film about Spirit.