Back to our catalogue
Whatever We Want
original title: Kak my zakhotim
2018, 83 min., color, Russian
club
corruption
crime
cruelty
debt
love
minimalism
police
punk
rap
students
violence
CATEGORY :
Drama
COUNTRY:
Russia
PRODUCTION :
CAST
Yekaterina Obraztsova, Alexei Kokorin, Grigory Suvorov, Oleg Taller
CREW
Director
:
Screenplay
: Vladimir Kozlov
Cinematographer
: Anton Chereshnev
Producers
: Vladimir Kozlov and Yevgeny Bychkov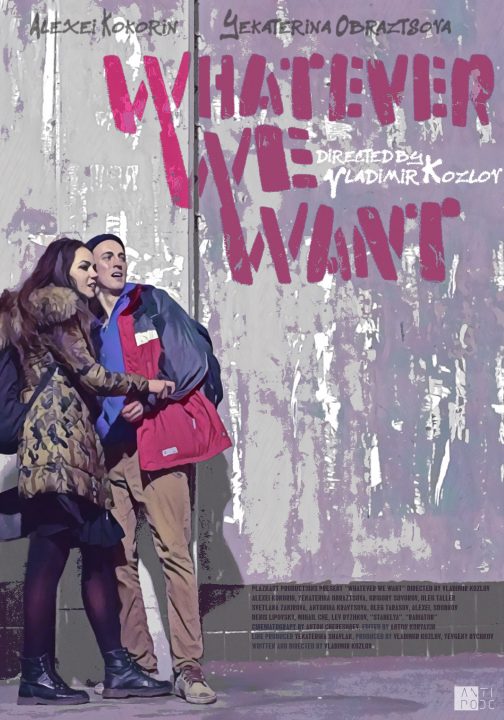 COMMENTS
DIRECTOR'S NOTES
Whatever We Want is a story about regular young people who are abused by authorities – embodied by two rogue police officers.
Unfortunately, situations like are not uncommon it contemporary Russia, as well as in other, less authoritarian countries.
Just like in my previous films, they main characters are young. They are naïve, inexperienced, they think they could live the way they want regardless of the political regime in the country. To some extent, they are rebellious, but when they are up against brutal force, they turn to be totally vulnerable and unprepared.
The film was made totally outside the Russian film industry and shot guerilla-style with a very small crew over less than two weeks on a shoe-string budget. Only this way, I can depict real life in Putin's Russia – something that officially-approved and state-funded films couldn't do.
SYNOPSIS
Katya and Pasha are a Moscow student couple in their early twenties. They don't care about politics or authorities. They aren't really rebellious, they just want to be left alone and have fun.
One day they come to a punk concert at a small club, but two rogue policemen stop the show in the middle of it – there are no formal grounds to do that, but the policemen just enjoy their power. Katya tries to reason with one of the officers, but he reacts in a brutal way, and Pasha has to defend her. Katya and Pasha escape and they hope they're safe.
But in Russia, you shouldn't mess with the police, and next morning, the young people learn that they are in trouble. Their only way out is to pay the policemen off, and they embark on a mission of getting the cash – borrowing, begging, doing whatever they can. And they only have several hours to come up with the cash…