Back to our catalogue
The Tuner
original title: Nastroyshchik
2004, 154 min., black & white, Russian
CATEGORY :
Criminal Comedy
COUNTRIES:
Russia
,
Ukraine
PRODUCTION :
FESTIVALS & AWARDS
CAST
Georgiy Deliev (Tuner Andrey), Alla Demidova (Anna Sergeyevna), Renata Litvinova (Lina), Nina Ruslanova (Lyuba), Sergey Bekhterev (Vadim's friend), Natalya Buzko (Tanya, Lina's friend), Zhan Daniel (Owner of the public toilet) Uta Kilter
CREW
Director
:
Screenplay
: Sergey Chetvertkov, Yevgeni Golubenko, A.F. Koshko (short stories), Kira Muratova
Cinematographer
: Gennady Karyuk
Producers
: Sergey Chliyants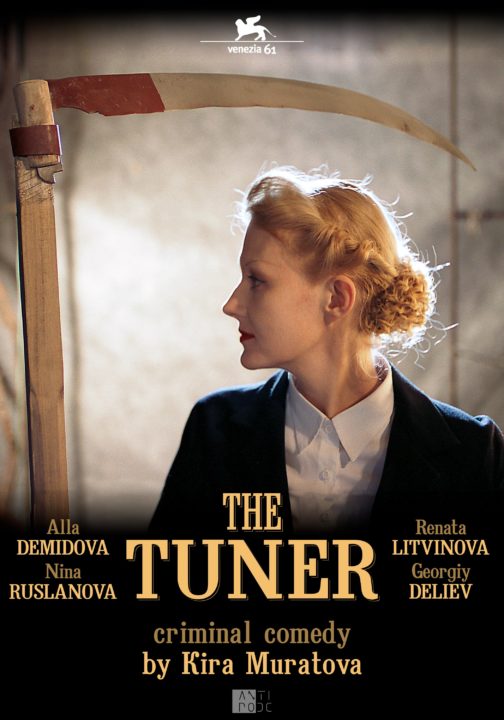 COMMENTS
FESTIVALS:  Venice Film Festival 2004, Toronto International Film Festival 2004, Thessaloniki International Film Festival 2004, goEast (Wiesbaden) 2005, Ukraine Film Festival (Japan) 2009, Buenos Aires International Festival of Independent Cinema 2018
SYNOPSIS
A young piano tuner befriends two rich old-ladies, and plots, with the help of his girlfriend, to betray their trust and steal from them
A former nurse, Lyuba, seeking marriage through newspaper personal ads, is bilked by a stranger whom she mistakes for her new date. Lyuba's elderly, well-to-do girlfriend, Anna Sergeyevna is defrauded in a different fashion: having placed a newspaper ad for a piano tuner, she is entrapped by Andrey, who is not only an excellent tuner and musician, but also a reasonably good petty thief and scam artist. Andrey and his current lover, Lina, attempting to further secure the women's trust by returning Lyuba's money, which had been scammed yet again by a second potential husband cum con-artist, place their own fake personal ad in a newspaper so as to locate the suspect. Having returned Liuba's stolen money, Andrei finally swindles both Lyuba and Anna Sergeyevna through an elaborate bank forgery scheme—in a word, a portrait of normal human nature à la Muratova.
PRESS
The most prominent image, which Muratova explores in late films to depict the relationship between man and woman is 'femme fatale' and everything what is connected to this image. 'Femme fatale', 63 which appeared in A Change of Fate (1987), explored in several followed films: Enthusiasms (1994), Tree Stories(1997), Minor People (2001), The Tuner(2004). The concept of the figure of 'femme fatale' was coined in the classic film noir64 and translated from French as 'deadly woman'.
Film Noir revolved around the recurring story of the private detective – a hero or protagonist. In his surroundings there was often a woman, who was either in search of fortune or own profit, and by using her femininity, helplessness and sexuality she could get what she wanted from the film's hero. My thought when I bring up this particular object is that in the films A Change of Fate and The Tuner the female characters are typical femme fatale, who are always with the element of grotesque.
Lina in The Turner can be easily associated with this character. Her partner piano uner Andrusha fell over her heels and he could even kill to get money for her.
Femme fatale is connected with the theme of death, which arose often in Muratova's films. In The Turner Lina appeared on the screen with a scythe, similar and ironically like they are drawing a death in the books illustrations or cartoons.
Muratova is deconstructing male and female images, eliminating them from the stereotypical readings and creating a new reading instead. For instance, Muratova's women, played by N.Leble, U.Kilter, R.Litvinova and N.Buzko are attractive by theirs grotesque manners and mysterious charm, but they destroy the orders of patriarchal life: they do not want to be the objects. – An Auteur Study of Kira Muratova Focusing on the Films Two in One and Melody for a Street Organ by Helena Tomasson
Long-winded, theatrically staged but strangely fascinating, "The Tuner" is a refined piece of art cinema from veteran Russian helmer Kira Muratova. – By Deborah Young, Variety
It offers a pessimistic view of modern Russia in its ability to see through the debased values from the past and the present as the country heads into uncharted waters, where betrayals, aimless lives and love founded on material comforts and hedonism rules the day and the malaise is so great that even the average man and woman can't resist such obvious temptations arising from the moral bankruptcy of everyday life. The credo of Muratova seemingly is that 'Individualism without freedom is hypocrisy. – Reviewed by Dennis Schwartz