Back to our catalogue
The Pillars of Heaven
original title: The Pillars of Heaven
2017, 178 min., color, Ukrainian-Russian-English
folklore
frontier
Orthodox
religion
russian-ukranian war
separatism
tradition
Ukraine
Uniate
West and East
DOCUMENTARY CATEGORY :
Current Time / Politics
COUNTRIES:
Ukraine
,
Great Britain
PRODUCTION :
FESTIVALS & AWARDS
CREW
Director
:
Screenplay
: Nicholas Rooney
Cinematographer
: Alexey Solodunov and Evgeniy Maloletka
Producers
: Nicholas Rooney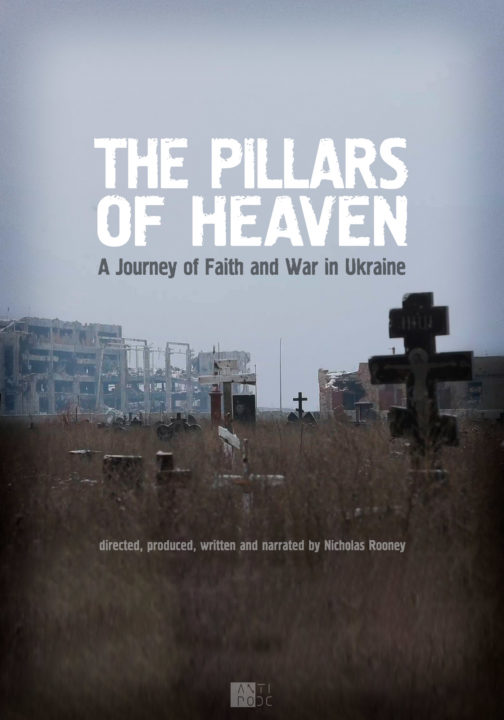 COMMENTS
Festivals: Religion Today Film Festival 2018 (Competition), International Filmmaker Festival of World Cinema NICE 2017, Madrid International Film Festival (Documentary Competition), The Polish International Film Festival (online)
Director's Statement:
'The Pillars of Heaven' is my first documentary feature film, made entirely out of passion for the subject and a sincere desire to find peace for the Ukrainians and improve the relations and mutual understanding between the West and Russia. It is a film which tries to grapple with the great issues of war and peace, love and hate, faith and doubt all within the context of the heart rending experience of the current crisis in Ukraine. For me personally, to make this as my first documentary feature film was a struggle, a sacrifice and a journey to the very depths of my soul. However, it will have been worth it, if this film can make even the smallest contribution to the peace process in Ukraine, and help end the bloodshed and the prevailing spirit of mistrust and hatred between the West and Russia.
In my view, too many films on the Ukraine crisis tend to pick a side and then ruthlessly promote that position at the expense of truth and justice, and ultimately to the detriment of the victims of the tragedy currently unfolding in Ukraine. I strove to go on a journey to find the soul of this tragic but fascinating country as its people struggle to preserve their own humanity in the face of war and the geopolitical games of the great powers. This film tries as much as possible to go beyond the inherent bias and politics of the crisis and to find out what is the true essence of the conflict and how it can most effectively be solved.
Ultimately, we are all in God's hands, and it all depends on him. But, when we are experiencing tremendous violence, hatred and evil, we should neither embrace it, ignore it, condemn it, nor retaliate, perhaps our only hope is to make the conscience choice to turn towards God.
I hope you enjoy the film.
Some Quotes from the Film:
'Who rules East Europe commands the Heartland (Russian Empire); who rules the Heartland commands the World-Island (Europe, Asia and Africa); who rules the World-Island commands the world.'
'We can't talk about forgiveness when someone is coming and killing you.'
'For Life, we are ready to kill.'
'This is the biggest humanitarian crisis within Europe since WWII.'
'Do those children who are in the East want to be in those trenches in that coldness? Who needs this war? This war is unneeded. Absolutely unneeded. But it happened, so that people go and defend their motherland, as they say…'
SYNOPSIS
A young and disillusioned British diplomat abandons his diplomatic career, spends his own money, and risks his very life on a journey of faith and war in Ukraine. A country riven in pieces by indescribable events, sometimes called: an EU inspired and US -organised revolution, a Russian invasion, a civil war, a war of lies and misinformation, a war where thousands of people have died, and which created over a million refugees, and a war at the heart of Christendom which rips the very geopolitical foundations of Europe to shreds. With the Ukrainian people (including soldiers, military priests, peacekeepers, humanitarian aid workers, refugees, church leaders, politicians/ 'terrorists', ordinary families and everyday victims of the war) as his guide, his journey takes him from the idyllic Carpathian Mountains, to the golden cupolas in Kiev to the very heart of the hellish War-zone in Donetsk. He embarks on an odyssey from Christmas Eve to the Epiphany, searching for the soul of this troubled nation and for something which might help to bring a lasting end to the bloodshed and prevent a wider military confrontation between Russia and the West. A profound, relevant and spiritual exploration accompanied by beautiful music.