Back to our catalogue
Rus
The Naked King
original title: Der nackte König – 18 Fragmente über Revolution
2019, 108 min., color, Polish-Farsi-English-German
DOCUMENTARY CATEGORIES :
History / Archive
,
Social / Society / Human
COUNTRIES:
Germany
,
Poland
,
Switzerland
PRODUCTION :
FESTIVALS & AWARDS
CAST
Sam Riley (Narrator English), Bruno Ganz (Narrator German)
CREW
Director
:
Screenplay
: Andreas Hoessli
Cinematographer
: Peter Zwierko
Producers
: Peter Zwierko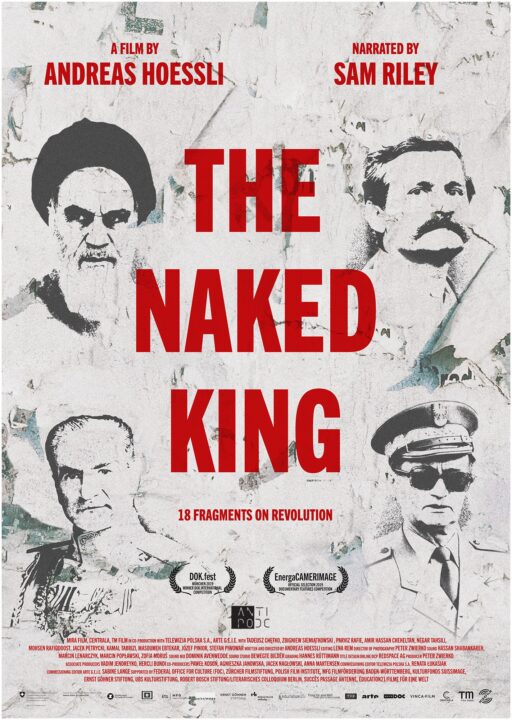 COMMENTS
FESTIVALS: It's All True FF 2020, EnergaCAMERIMAGE Festival 2019, Dok.Fest München 2019
The director Andreas Hoessli lived in Poland as a research fellow. There he met the reporter Ryszard Kapuscinski, who reported on the revolution in Iran. Kapuscinski's notes are the starting point of the film narrative, in which the director also takes up the files of the Polish secret service about himself where he discovers that he is to be recruited as a informer under the name "Hassan" for the secret services of the Polish People's Republic.
From the jury statement (Dok.Fest München 2019): "We recognize a precise psychological portrait of a perpetually shattering world. As this essay moves across time, it transcends the power of record and documentation alone, to survey the remains of revolution, in conversation with romanticism and limitation".
SYNOPSIS
THE REVOLT LIBERATES US FROM OUR OWN EGO
1979, Revolution in Iran. 1980, Revolution in Poland. The fall of the Shah, the "King of Kings" in Iran, mass strikes and the "Solidarnosc" movement in Poland. What happened in the minds of the young women and men who were involved in the revolutions at the time? What happened to them when the revolution was suppressed or – as in Iran – when a religious-authoritarian elite took power?
«The revolt liberates us from our own ego, from the ego of everyday life, which suddenly seems small, trivial and alien to us», – Ryszard Kapuscinski, journalist
PRESS
Meanwhile, the company is also selling Andreas Hoessli's The Naked King, and recently clinched a deal for it with Al-Jazeera. Narrated by British actor Sam Riley, the film draws links between the revolution in Iran in 1979 and what happened in Poland with Solidarity a few months later. – Geoffrey Macnab, Business Doc Europe