Back to our catalogue
Download flyer
THE IRON MINISTRY
original title: THE IRON MINISTRY
2014, DCP, 83 min., Chinese
Asia
postdoc
psychedelic
railroad
visual anthropology
CATEGORY :
Documentary
DOCUMENTARY CATEGORY :
Postdoc
,
Visual anthropology / Ethnography
COUNTRY:
USA
PRODUCTION :
CREW
Director
:
Screenplay
: J.P. Sniadecki
Cinematographer
: J.P. Sniadecki
Producers
: Joshua Neves and J.P. Sniadecki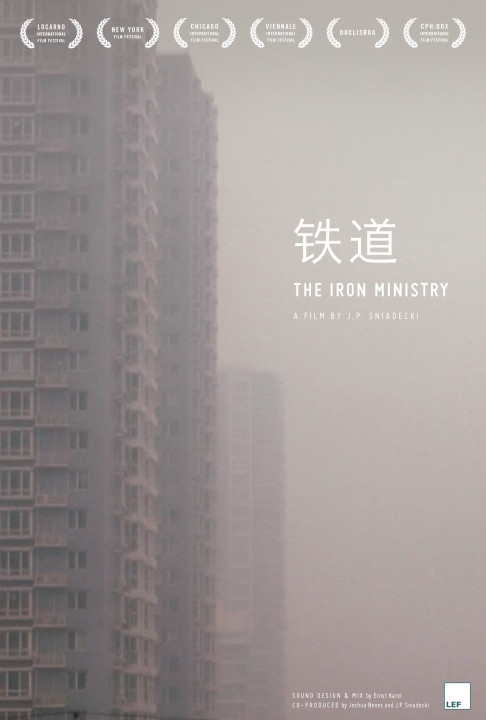 COMMENTS
Ambulante FF, 2015 / IFF Rotterdam 2015
 / Göteborg IFF 2015 / FIFE 2015 / Portland IFF, 2015 / Sydney Museum – Kristy / Salem Film Festival, 2015 /Ljubljana Film Festival, 2015 / Vilnius Film Festival, 2015 / Ann Arbor Film Festival, 2015 / Uruguay FF, 2015 / San Francisco IFF, 2015 / Images Festival, 2015 / Minneapolis / St. Paul IFF, 2015 / PlayDocs, Spain, 2015 / Jeonju IFF, 2015 / Riviera Maya Film Festival, 2015 / BAFICI, 2015 / Docs Agains Gravity, Poland 2015 / Munich Docfest, 2015 / Freiburg Film Forum, 2015 / Wisconsin Film Festival, 2015 / Open City London, UK 2015 / Encounters Film Festival, South Africa, 2015 / Lima IFF, 2015 / Edinburgh IFF, 2015
Locarno IFF, 2014 / Mostra Indie Brazil, 2014 / Vancouver IFF, 2014 / Camden IFF, 2014 / Valdivia IFF, 2014 / New York IFF, 2014 / Chicago IFF, 2014 / DocLisboa, 2014 / Viennale, 2014 / CPH:DOX 2014 / AFI, 2014 / Cork Film Festival, 2014 / RIDM, 2014 / Athens Avant-Garde Film Festival, 2014 / San Diego Asian Film Festival, 2014 / Torino IFF, 2014 / Brisbane Asia Pacific Film Festival, 2014 / Zagreb HRFF, 2014
DIRECTOR'S COMMENTS
I think the film is political in the stripped down way it was made more than anything else…
But, within THE IRON MINISTRY itself, there are also countless relationships to Chinese politics—and geopolitics as well—that ripple out from the lives of the passengers, impacting and shaping the film itself. I was trying to bring together my affinity for trains—especially Chinese trains, where I first learned the Chinese language back in 2000—with a portrait of a smoldering unease and uncertainty that ramifies out towards questions of society, economy, sovereignty, and technology, among many other things. This unease and uncertainty often expresses itself as a prevailing anxiety over the future of the self, ethnicity, and the nation. As a force below the surface, it is not immediately apparent, but it's a palpable subtext to the conversations and interactions throughout the film. Of course, a portrait of anxiety is not something I set out to capture while riding the rails, and "unease" and "uncertainty" are not the only subjects of the film. But these experiences and questions were already there, latent within the psychological tone of many of the journeys, informing interactions and creating particular atmospheres.
My hope was actually to depict a cross-section of the different trains operating within the Ministry of Railways, and the different carriage spaces of each class on the train. In focusing on the infrastructure and environment, on the trains themselves, though, I inevitably filmed with individuals from different geographies, social classes, ages, ethnicities, and personalities.
But I don't think THE IRON MINISTRY delivers a "cross-section" in any sociological sense of the word, nor does it fully capture the diversity within China. But it does at least evoke that wide-ranging social and cultural diversity: peasants and urbanites, laborers and intellectuals, Han Chinese and ethnic minorities (such as the Hui Muslim men, the Uyghur Muslim who is accosted by the train policeman, and the Tibetan intellectual). These vast disparities in class more vivid and apparent within the space of the cinema-train.
The title has a fairly wide range of meanings. "Iron" refers, on one level, to the railways, the railroad, trains, etc. On another level it refers to notions of development, progress, and modernity. On yet another, more indirect level, it refers to the governmentality of the Chinese Community Party: the "iron bowl" of collectivism (which supposedly provided food for everyone) and the continued "iron fist" of social control, despite its efforts to develop soft power.
"Ministry," on one level, refers to a department of the government, specifically to the Ministry of Railways, which was considered a secretive yet expansive "kingdom onto itself" within a government known for its opacity. The Ministry of Railways had its own schools, courts, housing, factories, police force, etc, but that is all over now. It seems fitting that the three years spent shooting this film also coincided with the last three years of the Ministry's reign as a separate world: in March 2013, after high-level cases of corruption, it was officially dissolved and transformed into a state-owned entity, the China Railways Corporation. Control over the corporation is said to be divided between China's high elites, and how this transformation will change the railways is still an open question, though there has been ongoing privatization and
expansion. Drawing from all this and returning to the title, on another level "Ministry" here refers to belief, religion, and ideology, a kind of encompassing moral world. And thus, finally, it also refers to the "mission" process of spreading an ideology, a scientism, and an instrumental morality throughout the land.
SYNOPSIS
Filmed over three years on China's railways, THE IRON MINISTRY traces the vast interiors of a country on the move: flesh and metal, clangs and squeals, light and dark, language and gesture. Scores of rail journeys come together into one, capturing the thrills and anxieties of social and technological transformation.
THE IRON MINISTRY immerses audiences in fleeting relationships and uneasy encounters between humans and machines on what will soon be the world's largest railway network.
PRESS
Dear J.P Sniadecki,
I thought your film the "The Iron Ministry" was simply brilliant.
I loved everything about it. I loved the beginning, the soundtrack, the editing and the compositon of the shots. It was one of the best documentaries I've seen for a long time.
Thank you to you and your producers' for helping me to have a seat.
The film was unforgettable.
With best wishes,
Ralph Fiennes
The best film about China in the twenty-first century that I've seen to date—was made by an American, J.P. Sniadecki, known for his work with Harvard's Sensory Ethnography Lab. Following People's Park (2012) and Yumen (2013), both documentaries on contemporary China that Sniadecki co-directed, The Iron Ministry compiles three years of footage shot during rides on China's extensive railway system. A cow stomach is sliced into edible bits; a man puffs on a bamboo cigar-holder between compartments; the filthy floor is lined with cigarette butts and sleeping human bodies; a precocious little boy sarcastically encourages the crowd to piss and shit in the aisles.  –Travis Jeppesen, Artforum
"The train has always been a major metaphor for change, but here there is an especially interesting sense of ambiguity…The danger of hurtling to modernity is always present, rattling along the ever-lengthening tracks." –Daniel Walber, NONFICS
"His approach is paradoxically both self-effacing and nosy, displaying an insatiable curiosity about the apparently mundane textures of the train's interiors as well as its passengers… Occasionally the sheer velocity of vehicular motion sees the image excitingly blur into chaos, like fleeting, avant-garde shorts that effortlessly conjure the dazzlingly abstract out of the quotidian and the concrete." –Neil Young, The Hollywood Reporter
"Sniadecki offers a formally controlled look at the range of classes, the implied changes wrought by China's economic boom, and the interactions particular to train travel. Refreshingly, Sniadecki allows the film — or rather, some passengers — to engage in politics, from the rights of minorities to economic pressures. While cerebral in intent and planning, the pic doesn't feel overly straitjacketed by theory and offers unexpected moments of amusement." –Jay Weissberg, Variety
"The real focus of "The Iron Ministry" isn't the train but the world zipping past it." –Eric Kohn, Indiewire
"Shot over three years of riding the rails throughout all parts of China, but edited to seem like it's one fluid trip, J.P. Sniadecki's The Iron Ministry starts off as a collection of these interior impressions, establishing atmosphere, sound, image, and also the smells – of garbage, meat, sweat, and ever-present cigarettes." –Mark Peranson, Festival del Film Locarno