Back to our catalogue
Phone Line 137
original title: Linea 137
2020, 82 min., color, Spanish
abuse
domestic violence
gender violence
DOCUMENTARY CATEGORY :
Social / Society / Human
COUNTRY:
Argentina
PRODUCTION :
CAST
Liliana Parlatto, Adrián Stefanelli, Marcela Gómez, Macarena Toribio, Eva Giberti
CREW
Director
:
Screenplay
: Marta Dillon
Cinematographer
: Fernando Marticorena
Producers
: Facundo Escudero Salinas, Nicolás Münzel Camaño, Lucía Vassallo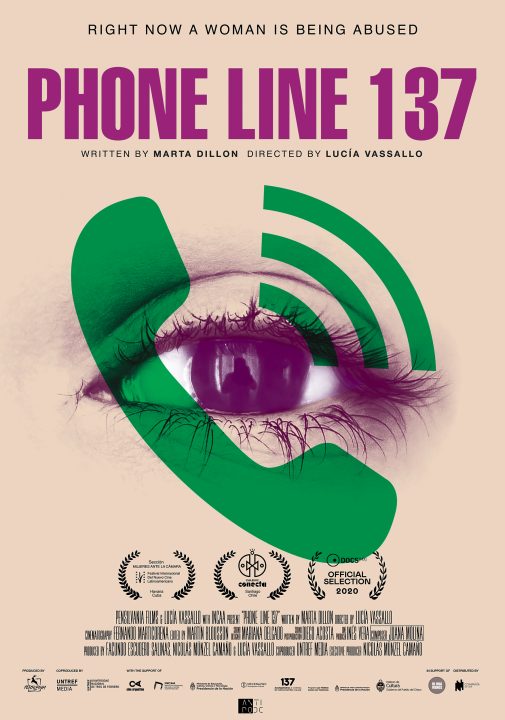 COMMENTS
FESTIVALS: Buenos Aires International Independent Film Festival 2020, DOCSmx 2020, Havana Film Festival 2019 (WIP) 
DIRECTOR' STATEMENT:
On June 3, 2015 I had the immense satisfaction of participating in the great protest that took place in the Plaza del Congreso under the call "NiUnaMenos" against sexist violence and to defend our fundamental rights as women. That day, throughout the country, more than a million people met spontaneously, self-convened by social networks. Among the many relatives and friends of victims, were present Adriana Belmonte and Diego Chomnalez, mother and father of Lola Chomnalez, murdered on December 28, 2014 in Valizas, Uruguay. They have been friends of mine for over twenty years. They suffered the violent death of their daughter; meeting them and accompanying them added intensity and emotion to an experience that was already moving for me.
It was a historic day that marked a before and after. Above all things, it gave enormous visibility and scope to a new truth already latent within our society: women are together and organized to fight for our rights. And we are doing it.
We are making ourselves heard through various ways. Being able to count, being able to show through this film the hard work of the Phone Line 137 means nothing more and nothing less than adding presence. It means manifesting a powerful and indispensable aid tool.
The fact that it was written by a woman like Marta Dillon, with extensive work in the field of human rights and especially for women's rights through her daily work in the feminist supplement Las12, makes it more valuable and forceful.
Also my vision as a female director is fundamental since no one better than us, women, can put ourselves in the place of another woman to understand her internal and external conflicts. In addition to the fact that in my first documentary film "The Prison of the End of the World" I addressed the issue of human rights.
The innovation of this documentary is that it deliberately chooses to hide the voice of the victims -the most used resource when one wants to tell about gender violence- to privilege the voices of those who put body and soul to face it; those who are witnesses and at the same time have the tools to break an asphyxiating circle of submission. Phone Line 137's proposal is to count the "smallest", to run away from the spectacular to focus on the daily strategies of the same operators that answer the phone on a daily basis; who fight to keep us safe from a relationship system -between the genders- where masculine drives are still privileged over feminine desires. The documentary Línea 137 proposes to raise awareness about the horrors of a macho culture, in which all of us, in one way or another, are immersed.
SYNOPSIS
In Argentina, every 23 hours there is the death of a woman, because of gender violence, a particular form of "discipline" that certain men exercise against women when they feel that they do not comply with the mandates that "women" – stereotype of the feminine – should comply.
A female corpse every 23 hours. This is one of the most serious naturalized everyday situations; embarrassing for the victims, denied by the victimizers.
How to account for this emergency? How many times can you see the blows, the statistics, the bruised bodies without the sensibility falling asleep?
"Phone Line 137" portrays the lives of 4 social workers and psychologists who decide to be available 24 hours a day, 365 days a year to assist, help and accompany women who suffer cases of gender, sexual and family violence within the City of Buenos Aires.
PRESS
Underlying Antipode's global footprint is another of its new features, Lucía Vassallo's Phone Line 137. This hard-hitting Argentinian doc explores violence against women. It follows a group of social workers and psychologists who are available every day of the year to help women who suffer cases of gender, sexual and family violence within Buenos Aires. – Geoffrey Macnab, Business Doc Europe