Back to our catalogue
My Friend the Polish Girl
original title: My Friend the Polish Girl
2018, 87 min., color, English
buddy-movie
film on film
immigrants
love
melo
postdoc
provocation
suicide
visual anthropology
CATEGORY :
Drama
COUNTRIES:
Poland
,
Great Britain
PRODUCTION :
FESTIVALS & AWARDS
CAST
Aneta Piotrowska, Emma Friedman-Cohen
CREW
Director
:
Screenplay
: Ewa Banaszkiewicz,/Mateusz Dymek
Cinematographer
: Michat Dymek
Producers
: Ewa Banaszkiewicz/Mateusz Dymek, Sebastian Petryk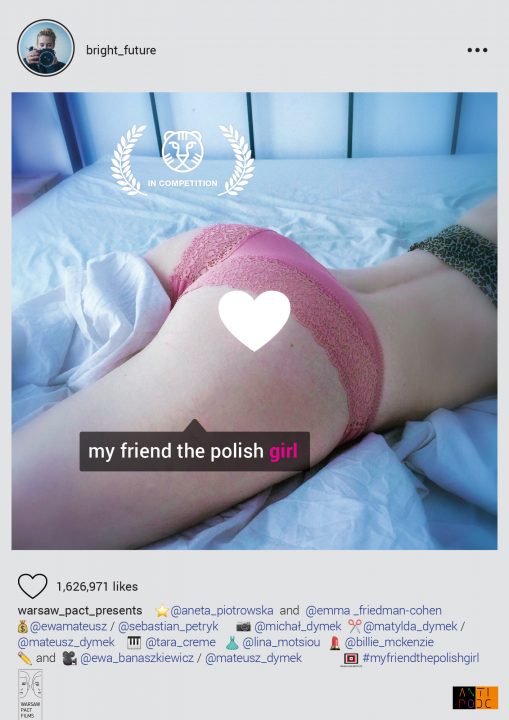 COMMENTS
FESTIVALS:  goEast 2019, Carnegie Mellon IFF 2019, Ann Arbor Film Festival 2019, San Francisco Independent FF 2019, Pune IFF 2019, New Horizons IFF 2018 (International Competition), Edinburgh IFF 2018 (Best of British), Rotterdam IFF 2018 (Bright Future)
DIRECTOR'S STATEMENT
The fiction film MY FRIEND THE POLISH GIRL is seemingly a documentary about a damaged unemployed actress living in London (Alicja) but is also a critique of the documentarian filming her (Katie).
Katie is a filmmaker searching for "answers" but steps on people like Alicja to get them. Alicja, on the other hand, uses her sexuality to dominate others, including Katie. These power struggles interested us and we decided to explore them through Katie's lens, as the film the viewer watches would be Katie's documentary, making the viewer, in some way, her alter-ego. We were interested in critiquing the viewpoint of a filmmaker (and to some extent critiquing ourselves).
We wanted MY FRIEND THE POLISH GIRL to communicate an emotional story of two dysfunctional women struggling to find intimacy. To varying extents, we were inspired by the cinema of Ingmar Bergman, Krzysztof Kieslowski's Camera Buff, Man Bites Dog, as well Atom Egoyan's Calendar, but more than anything, we wanted to create something of our own; a film about the vanity of an artist and her failure to fully explore the human psyche.
WHAT IS A "FICTION DOCUMENTARY"? This is a term we (the filmmakers) have coined to best describe this film. Like a pseudo-documentary it takes the form of a documentary film but MY FRIEND THE POLISH GIRL pushes the genre a step further by depicting the film as a documentary created by one of its characters. The result is a fiction film that watches as an experimental documentary told through the eyes (and lens) of amateur filmmaker Katie Broughton. (Don't worry, it all makes perfect sense when you see the film.)
ARE THERE ANY REAL EVENTS OR REAL- LIFE CHARACTERS PORTRAYED IN THE FILM? None. The film was meticulously scripted and the performances we're created through an intense process with the actors. This very deliberate handmade "docu style" was followed through in the camera work, the edit, and sound mix. In preparation, we watched many documentaries and compared them in structure to fiction films. We observed that, along with extremely natural performances and dialogues, we would also have to create a certain haphazardness of story events to create an impression of capturing reality.
WHAT WERE SOME OF THE CHALLENGES IN CREATING A GENUINE DOCUMENTARY FEEL? We found that approaches that work perfectly within traditional film storytelling, felt contrived and synthetic. There are certain ingrained conventions used when it comes to creating fiction film performances. Conventions that we constantly had to be conscious of and break. It was important for us that our film read as reality and did not give the impression of actors interpreting a script. Seemingly banal actions, like an actor punctuating the end of a scene through their body language or cadence had to be discouraged. As was an actor's tendency to always be attentive in a scene; in real life people are more easily distracted by their ever-changing surroundings. We went through an intense work process with our performers, often amounting to fifteen takes or more. Together with the actors, we had to rethink our craft, which often was demanding and counterintuitive.
WHAT INSPIRED THE DISTINCT VISUAL STYLE? With the visuals, we took the lead from Katie, the character whose film we're watching. The camera had to move and behave as she would: intrusive, abrasive, and adoring of Alicja. It would also have to embody Katie's limited film experience and her fresh approach to filming. We imagined her taking inspiration from many styles of more classic cinema (early cinema verite, the French New Wave, the direct cinema films of the Maysles brothers etc.) but also from the creative explosion of artists online. We looked at vloggers and microbloggers: young women with raw aesthetics, who are not afraid of experimentation. We drew from both traditional and very primal forms of filmmaking to try and make something new and unique. The film's animated sequences, selfies, on- screen captions, and colour inserts, where all incorporated at script stage. These elements had to feel like Katie's work, while feeding into the meaning and themes of the film.
SYNOPSIS
"The Power and Control Over Intimacy"
From Cannes and Telluride nominee Ewa Banaszkiewicz and Mateusz Dymek comes a fiction film that takes the form of a first-time filmmaker's documentary.
MY FRIEND THE POLISH GIRL borrows from cinema verite and video bloggers to create a rare naturalism in style and performance. The fiction film watches as an experimental documentary told through the eyes (and lens) of amateur filmmaker Katie: an American rich kidfollowing Alicja, an erratic unemployed Polish actress. Set in a post-Brexit-vote London, Katie's colonising, disruptive presence in Alicja's life mirrors the treatment of migrants in the UK: Welcomed, used, then discarded. A raw, sexual, and visually brash film exploring the abusive power and control over someone's intimacy.
PRESS
The filmmakers have done a great job in portraying London as a place of opportunity but also a city where it is difficult to make friends. Watching Alicja go about her life, the movie deals with her psychological state, and in doing so, there are echoes of Polish director Roman Polanski's London-set Repulsion (1965). As with that film, the more time we spend with the protagonist, the more we understand her fears, her sexual repression and her pathological state, riven with loneliness. It's complicated by Katie being omnipresent, and like the classic 1992 Belgian film Man Bites Dog, it asks questions of what it actually means to document lives. Is there a form of exploitation going on? Do you change the story by having a camera there? Is Katie using and exploiting Alicja for her own purposes, given that at one stage she even moves in with her?  – by Kaleem Aftab, Cineurope
Overall, My Friend is a brave attempt to discuss the essence of documentary filmmaking, and, in spite of everything, it is a very worthwhile watch. – by Meredith Taylor, Filmuforia
In a powerful and fresh visual language that combines cinéma vérité with drawn animation and style elements from vlogs, this convincing feature debut provides a reflection on the rapacious relationship between filmmaker, subject and spectator. – Rotterdam Film Festival
IONCINEMA, Interview: Ewa Banaszkiewicz & Mateusz Dymek
To call Mateusz Dymek's and Ewa Banaszkiewicz's Moja Polska Dziewczyna (My Friend the Polish Girl) a "mockumentary" seems reductive: focusing on an American filmmaker's creation of a documentary about a Polish immigrant in London, the film offers a very smart reflection on the complex, slippery dynamic between documentary-maker and subject that is witty, disturbing, playful and formally fresh, and that constantly surprises the viewer. – by Alex Ramon, Popmatters