Back to our catalogue
MOTHERLAND
original title: RODINA
2015, DCP, 128 min., Russian-English
CATEGORY :
Adventure Drama
COUNTRY:
Russia
PRODUCTION :
CAST
Andrey Smolyakov, Pyotr Fyodorov, Lyubov Aksenova, Pasha D. Lychnikoff, Andrey Merzlikin, Aleksander Robak, Yekaterina Volkova, Vladimir Sychev, Kirill Kyaro, Sergey Badyuk, Maksim Lagashkin, Shiv Subramanyam, Jay Thakkar
CREW
Director
:
Screenplay
: Andrey Migachev, Aleksey Shipenko, Pyotr Buslov
Cinematographer
: Fedor Lyass
Producers
: Sergey Selyanov, Pyotr Buslov, Sergey Yahontov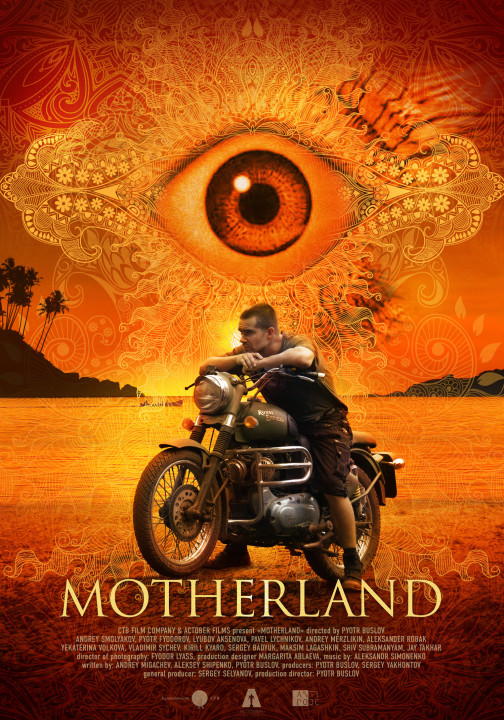 COMMENTS
FACTS
It took 2.5 months in India and few days in Moscow to shoot this film
In India, the shooting was done in March and April when there are no tourists. It is the dead season, the monsoon season: 40 degrees Centigrade (104˚F) and an empty resort.
The shooting in India was done in partnership with the British production company Celtic Films. The majority of Mumbai group members had really worked on such films as Slumdog Millionaire, Life of Pi, The Bourne Supremacy.
SERGEY SELYANOV (General Producer): This film is a powerful statement. It is full of sense, of great energy and tension. The characters are unforgettable. They are Russians, though everything happens in India. Indian characters are also interesting, by the way. The characters are easy to recognize – we did not invent any of them. All this put together, we can expect a good result.
PYOTR BUSLOV (Director, Screenwriter and Producer):  
About the film: To make this film, I had to become myself a part of Goa community, of Goa people. I've heard a great deal of stories and legends. Passports that were burned at sunset, children that ran away from their parents, former bodyguards that now teach yoga, former businessmen and fat bankers that became vegetarians, throwing off the shackles of society to stay here for good. All these people seemed to blot out all their previous life to start a new one in India. Those stories shaped the film: because of them, there is no protagonist, just a number of main characters. The destinies of those that happened to be at the same time at the same place are intertwined. The characters are so different that it allowed me to create a film telling about the time, the reality, the feelings and the changes that excite me and that should be interesting also for the modern public… Somebody is twirling fire poi, somebody is curing people, somebody is just reading mantras, somebody is making cottage cheese for sale, and somebody opened a fish restaurant. One would salute the sunrise doing surya namaskar while the other one would be returning home from a trance party. It is another world, a world of contradictions that you would never hear about from a tourist guide or from a guide-book. It is neither a film about tourists nor about Russians who escape their Motherland to find themselves. It is a film about a question that arises in the life of every person: "What is truth?"
About the shooting: The rumour that Russians, Indians and British make a film was quick to spread at the coast. Indians are great bureaucrats. Every piece of land has an owner and every owner has a family. You might get a shooting permit from one member of the family but not from his brother. And everything will be under threat. Our Indian colleagues put a great deal of effort to settle all the problems. Bollywood crew worked very well though, from my point of view, it could have been three times smaller. But the Bollywood trade union does not allow you to say: "this is a work for one person!" If a Russian department employs four persons, its Indian counterpart would employ twelve. All the equipment came from Mumbai, there were three cameras in the shooting area. There is everything in India. A CCD array if you wish, the latest cameras if you wish – you just need to pay, and, by the way, when they say that everything is three times cheaper in India, it is a myth. It is my first digital film and I am not disappointed. I still love 35 mm and, when possible, I would try to use the good old technology. What made things more complicated, we happened to come to India during the hottest period: great masses of water were nearby, in the air there was a moist and sticky substance, the tropical sun was burning, the condensate provoked problems with electronics, hard disks heated up together with the brains of people. The second camera even lost the content of two scenes. Pity but what could we do? It was even hotter than during the shooting of Vysotski. But it was great: the whole shooting team and the actors worked on a real film that, I am quite positive, would not go unnoticed. We brought good material from India.
SERGEY YAHONTOV, Producer: «The cinematographic community knows very well that in South East Asia, the film production is well established only in Thailand. In this country the risks are minimal: no shortage of equipment, the teams are aware of Western requirements and so on. The rest of Asia from this point of view is unpredictable as a fairytale about Sadko's adventures. Shooting in India, despite the impressive Bollywood film production, is an absolute and audacious challenge for Western filmmakers. It is difficult for me to judge, how the reality of Indian contract relations could be described. The previous arrangements do not mean anything in India, prices may change at any moment according to any whim, and in general there is not enough trust. But everyone smiles all the time with all the thirty-two teeth. It is an exciting process.
Indian team is a whole story in itself. Despite the abolishment of castes already in Gandhi's time, the castes still flourish in India. The camera mechanic would not carry a heavy tripod – there are porters. The cart for the camera is moved by ten people. Two people are needed to keep an eye on the generator. The salaries of these people are insignificant. They eat at a separate table and live separately from the professional technical team. We did our best efforts to fight this depravity but we never succeeded. It is India.
"The trance party is a very important scene from the dramaturgic point of view. The spirit, the atmosphere of such an event must be rendered without falsehood. We prepared for this in advance, understanding all the difficulty of our task. It some respects the trance party is real. The music is played by a cult trance dj Timur Mamedov, the place of shooting, HillTop Club, is well-known in the circle of trance lovers, the artistic design was provided by the QuantumTribe group and so on. We are very grateful to all the participants of this very complicated scene for their understanding and their help.
Evidently, the whole state of Goa knew about the shooting of our film. We were always and everywhere accompanied by the spectators. The logistics of the team work is worthy of a separate story. It took months to prepare a mass scene: reaching agreements with panchat, the local administration, with the village elders, with the patrons of every shop and every kiosk, with the owners of every parcel of land. It was a great deal of work. The police and the private guards never left us. The tasks were far from obvious: we needed to block the crossroads beside the legendary Juice Center; to shoot a scene of a mass fight, we needed to stop the regular buses, provoking bitter resentment among the passengers. The atmosphere was wonderful. By the way, the cross that one of the characters climbs during the mass fight, is a stage property. There are many real crosses in the Christian state of Goa, but no one would ever allow climbing one of them.
SYNOPSIS
In this place, the nights are dazzling with rave lights, the days rock you with the sound of waves, the sand is similar to gold and the money is just a paper. You can live happily here and if you are really lucky, you'll meet God. It is India, Goa, a place that welcomes people from all over the world, people who come here to find themselves – or to lose themselves.
Eva, a daughter of a rich Russian, did not come here of her own free will: her father, in a fit of rage, put her off a private jet in middle of the night, at the first runway he could find. When the father came to his senses, the girl was already carried away by a labyrinth of human destinies. A guy named Makar from Novosibirsk looks for spiritual enlightenment – and he has just one day before the end of his vacation. Aleksey and Kristina say good-bye to their family happiness. Dimon and Lyonya, two small devils on bikes, test the solidity of the world with their experiments. A Guru (but you should not call him Guru!) named Kosmos gives people drugs that make your way to another reality very short – just one click. Here there are different destinies. Different people as well. But they all have just one Motherland. It is easy not to love your Motherland when it is nearby.