Back to our catalogue
Karenina & I
original title: Karenina & I
2017, 89 min., color, English-Italian-Norwegian-Russian
actress
adventure of a foreigner in Russia
female world
Leo Tolstoy
literature
lost in translation
mother-son
post-Soviet space
railroad
road movie
Russian classics
the Trans-Siberian railway
theater
DOCUMENTARY CATEGORY :
Art / Music / Literature / Culture
,
Portraits
COUNTRY:
Norway
PRODUCTION :
CAST
Gørild Mauseth, Liam Neeson
CREW
Director
:
Actor
:
Screenplay
: Tommaso Mottola and Gørild Mauseth
Cinematographer
: Andreas Ausland, Tommaso Mottola, Gleb Teleshov
Producers
: Gørild Mauseth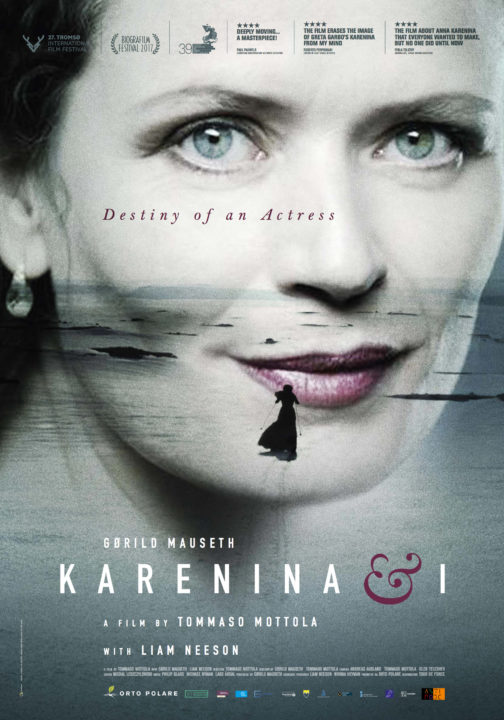 COMMENTS
FESTIVALS: Trieste Film Festival 2018, Tromsø International Film Festival 2017, Biografilm festival 2017, Moscow International Film Festival 2017, The Norwegian Documentary Film Festival 2017, Kosmorama Trondheim International Film Festival 2017
MUSIC: Philip Glass, Michael Nyman, Lars Årdal
From Crowdfunding record till Liam Neeson
The shooting of KARENINA & I got started in 2013 thanks to a very successful crowdfunding campaign, which brought in a record amount for Norway, Italy and Russia (Italian, Norwegian and Russian Crowdfunding Press). This financed the shooting period, which started in Venice in the autumn of 2013 and continued to Kjøllefjord, Murmansk, SaintPetersburg, Moscow and further on with the TransSiberian railway to Vladivostok on the Pacific coast.
Two winters were spent in the North of Norway shooting and rewriting.
Only after the great film editor Michal Leszczylowski joined the editing the movie got its final shape. The key contributing to the completion of the movie was brought by the Oscarnominated producer Norma Heyman and by the actor Liam Neeson.
SYNOPSIS
Destiny of an Actress
The Norwegian actress Gørild Mauseth is challenged by the almost impossible task of playing ANNA KARENINA in a language she never spoke and in the author's home country. She embarks on a journey to learn Russian and discover the real reasons why Tolstoy (Liam Neeson) wrote the novel. What Gørild does not know is that Anna Karenina will become the role of her life and change her forever.
Gørild's quest takes her 11 000 kilometers on the Trans­Siberian Railway to the Gorky Drama Theatre in Vladivostok. Along the way she visits theatres, film studios, opera houses, meets fellow artists, Tolstoy relatives and ordinary Russians. As she is learning more and more about the character she will play, the boundaries between Anna and the actress gradually disappear. She hears the voice of Tolstoy who helps the actress perceive what she can not express herself.
The film provides an unique insight into how an actor explores the boundaries between fiction and reality. Literature, theater and real life come together. portraying Anna Karenina like no Hollywood or Moscow blockbuster have ever done. It is about understanding love, enduring loneliness, pursuing hopes and dreams and live life to the fullest.