Back to our catalogue
Download flyer
Kalès
original title: Kalès
2017, 63 min., color, English-Arabic-Pashto
encampment
Franco-British border
immigrants
jungle
refugees
visual anthropology
DOCUMENTARY CATEGORIES :
Social / Society / Human
,
Visual anthropology / Ethnography
COUNTRY:
Belgium
PRODUCTION :
CAST
Texts: Khalid Pasha, Khalid Mansour, Abdel Raouf, Babak Inanloo, Dante Voices: Khalid Mansour, Mohammad Razmin, Babak Inanloo
CREW
Director
:
Cinematographer
: Laurent Van Lancker, Anna Savchenko, Guillaume Vandenberghe, Khalid Mansour
Producers
: Ellen Meiresonne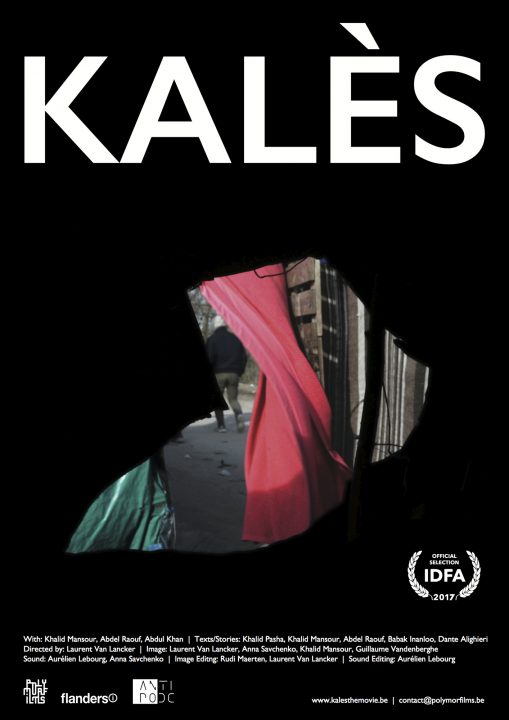 COMMENTS
FESTIVALS: IDFA (Mid-length Film Competition) 2017, FATP 2017 (Bruxelles), Crossing Europe 2017 (Linz), FAITO 2017 (Napoli)
DIRECTOR'S NOTES
This project started without a camera. At first I went to Calais to spend time with the migrants, to help them at my level. But over the time I spend there, the meetings solidified and a desire for cinema was born. For a year and a half I made frequent visits to the camp that was in a state of constant mutation; I've seen this self-managed jungle develop from only a few tents into a sort of shantytown. It was fascinating to see how an intercultural and multi-religious society had been created and was functioning quite well.
My point of view and desire to make a film in the jungle came from this questioning on the faculty of adaptation and construction of a parallel society. Many migrants have lived in the camp for more than a year, and did not only created a home, but also habits and rituals of everyday life.They slowly settled down in spite of themselves. Spending the days together, talking, smoking, telling their stories, waiting for the night – and for some the hope of the crossing to England, the promised land. What moved me was to convey the human dimension of migrants living in transitional places, as people who create, exchange, gather, live, … like all other social beings.
Right away, came the idea of making a collaborative project. But collaboration in documentaries can not be forced, it must be shared, desired on both sides. I had a lot of encounters that resulted in friendships and eventually film footage. Migrants are not portrayed as a problem or as victims, but as 'prosperity'.The long and demanding migration journey engenders a huge experience, which not only leads to an exceptional faculty of adaptation and innovation, but also to a creative and effective ability. Aspects that are emphasised in the scenes of their daily social activities, and in the poetic narratives written by themselves.The most fascinating thing for me is to see that in this dramatic situation, this uncontrolled shantytown at the end of the exodus, life resumes its rights.
THE JUNGLE OF CALAIS
• Little more than only one year ago thousands of people were still awaiting their future in a shantytown surrounded by mud. The refugee and migrant encampment was in use from January 2015 to October 2016.The port town of Calais has long been used as a gateway for migrants to cross over to the UK. But as of the summer of 2015, it has been virtually impossible to go to England from Calais.
• As the camp rapidly grew 'The Jungle' gained global media attention and French authorities began several actions of eviction. In early April 2015 police evacuated three camps and asked the migrants to regroup on the site of 'Salam city' (names after the local aid organisation). which then led to the creation of a unique, huge site called
• In March 2016 came the dismantling of the 'South' part of the camp. This led to more migrants crowded into even smaller areas in the middle of the jungle. The migrants who agreed to give their fingerprints were piled up by dozens in each container.
• In November 2016, the camp's end came quicker than expected. Before the presence of almost 700 journalists, the migrants had to leave the camp, either for centers in France, oto try their chances elsewhere.
• In October 2016 the French government stated there were between 5000 and 7000 migrants living in the camp. Whilst aid organisations say the population was closer to 10,000.
THE MEN OF CALAIS
The IDFA premiere will be attended by the crew as well as two of the collaborators and former residents of 'the Jungle'. Both have a different role and story in the poetic and political viewpoint of Kalès.
Abdel Raouf
'When we first arrived the people of Calais were just looking at us surprised. But soon some activists from Belgium and the UK.They gave us axes and plastic and we went to the woods and we build our own shelters. We started our lives from sub zero. On cold nights we used to stay next to a fire; telling stories, play guitar,
the pleasure of song to take away our stress.
I have seen the film. Also, I have lived the film. It's a piece of history that can help the next generation. It is the journey of this life to spread a message of peace. Cause now people live from the suffering of others. I hope this image can show the Europeans not to look at us as invaders, as people who come to take your jobs, to change your ideology. That's not true.We have a lot to do for the community we came to; to work hard, learn the language, to be a good addition. I feel better then two years ago, but I miss my family and country. It is the price of our exodus.'
Khalid Mansour
'I decided to leave Sudan a long time ago, but was only able to leave in June 2015. At first I went to Ukraine because it was the fasted visa to get at that time. My ideas for making cinema started with my experience in Ukraine. Because I find it difficult to explain if and why I am happy or not, I want to tell about my journey through cinema.
As kind of a guide for others who want to come to Europe.They have to know if are they able to face this kind of situation and the thought that maybe they cannot leave. I know why I am here. But
I do worry about the people I met in the camp who did not.
Now I am a Student at the University of Lille, so…My life after Calais, it's not bad, but not good. There are two sides, I miss my own culture, my family, but at the same time this is a solution for all who came from a difficult situation. As a person you renew your hopes and dreams, from time to time. Today I want see my mother. If I could see her, then I would want to see my children, then my father, then my wife. It would go on like this. But unfortunately it is impossible, for now. I have to wait to do as I want.'
SYNOPSIS
An intimate and inside perspective of the 'jungle' of Calais, evoked through a polyphony of men, tales and atmospheres.
A sensory journey through the social life and survival strategies of migrants.
A film of wind and despair, of fire and solidarity, of hope and hell.
In the middle of the journey of our life,
I came to myself, in a dark wood,
where the direct way was lost.
Canto Primo, Inferno, Dante
Sharing the daily life of migrants, on numerous visits during the entire duration of the 'jungle', and often using a collaborative methodology (images and narrations partly produced by the migrants), the director Laurent Van Lancker, proposes a film that is both poetical and political, evoking an untold and internal perception on the faculty of adaptation and social life of migrants.