Back to our catalogue
Intimate Parts
original title: INTIMNIE MESTA
2013, Russia, 78 min, erotic drama, DCP
CATEGORIES :
Comedy
,
Erotic Drama
,
Debut
COUNTRY:
Russia
PRODUCTION :
FESTIVALS & AWARDS
CAST
Juriy Kolokolnikov, Julia Aug (Bullet Collector by Aleksandr Vartanov; Celestial Wives of The Meadow Mari, Silent Souls, by Aleksey Fedorchenko), Ekaterina Scheglova, Olesya Sudzilovskaya, Nikita Tarasov, Timur Badalbeyly
CREW
Director
:
Screenplay
: Natasha Merkulova, Aleksey Chupov
Cinematographer
: Mart Taniel (The Temptation of St. Tony, Autumn Ball)
Producers
: Julia Mishkinene, Bakur Bakuradze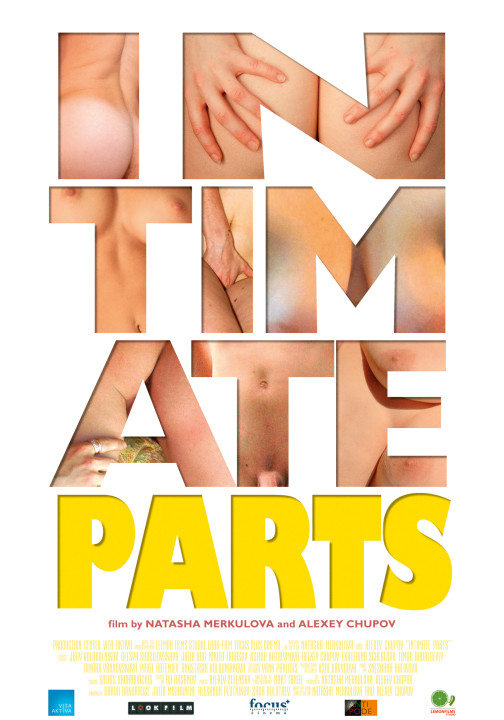 COMMENTS
The film is about fools just like ourselves. We wanted to tell about our contemporaries, people who are 30-something now. They have formally fulfilled their social obligations, but received no "reward" – instead, they end up feeling foolish. This story could have happened in any modern country, not necessarily Russia. The complexes our characters fight with are common everywhere. So this is not an authentically Russian film with traditional Russian features. The filming crew was international as well: apart from Russians there were Estonians, Lithuanians, Ukrainians and Azerbaijanians. We were aiming to make an auteur film without the auteur cinema signs – not boring, with a twist in the plot, without long meditative shots and so on. We wanted to talk about sex and private matters in an ironic way, not pathetically as it usually happens in Russian cinema. That is why we experienced some difficulties when trying to find examples from Russian movies for the actors and filming crew. We had to guess our way through. Another difficulty was that the film was multilinear, which is rare in modern Russian cinema. Each line with its characters is equally important and we've been trying to show each one with equal intensity avoiding the gaps. Intense plot is not enough; we needed the actors that are interesting to watch. Audition took almost half a year but at the end we've managed to find our characters – the actors, who accepted our specific material and who had enough sense of humor and bravery to participate in such a frank film.
SYNOPSIS
The movie tells "behind the door" stories of Russian middle class people, the secrets they hide from others. These people have grown up, learnt how to make love and money, but not how to be happy. They are opposed by Ivan, the main character, a scandal photographer, who preaches absolute freedom and portrays people in entirely and the only sincere way – at least that is how he sees it. But is the freedom to be yourself safe? Without knowing the answer to this question each of us is hiding his real "me" as deep as he can, so it becomes the secret, the "Intimate part".
PRESS
NATASHA MERKULOVA I ALEXEY CHUPOV, DIRECTORS OF THE FILM INTIMATE PARTS
Erotic in Russia is morally condemned as a bad phenomenon
European Film Festival Palić
Natasha: INTIMATE PARTS doesn't have its model in Russian cinematography. I don't want to show off but BLOW UP and Antonioni didn't even cross our minds. If we compared our film with some film made in Hollywood, it would probably be HAPPINESS directed by Todd Solondz.
Can your film then be considered as a political declaration?
Alexey: No, we think it cannot. We are not guilty for our state being almost caught on a hook by our film.Is there any possibility that a Russian TV-station which shows in the morning footages of dead people shows in the evening your film?
Natasha: No, it probably won't. Although one German producer said after reading our script that it would be great thing for German TV film. INTIMATE PARTS will be shown in Russian cinemas, but with beeps! censorship over the words which guardians of morals consider inappropriate.
FNE at KVIFF East of the West 2013: Intimate Parts
by Iulia Blaga
Directed by Natasha Merkulova and Alexey Chupov, Intimie mesta /Intimate Parts is an erotic drama debut feature set in contemporary Moscow which investigates with irony and humour the way modern people deal with intimate secrets.
The script written by the directors themselves is a multilinear plot involving middle-aged Russians as they try to deal with universal questions such as happiness, fulfillment, secrecy and sex.
Producer Julia Mishkinene from the Russian company Vita Aktiva told FNE how she got involved in this project. "I wanted to make a story that takes place in a big city such as Moscow, with characters similar to my friends. I received the script from Natasha Merkulova and Alexey Chupov in the summer of 2011. It was very fresh and appealing. We started working on the script soon after," she said.
GIUVIV RUSSIAN FILM BLOG
However, in terms of the first three days of the festival it was Natalia Merkulova's and Alexei Chupov's sex comedy Интимные Места (Intimate Parts) which impressed the most. One of the first films of its kind in Russian film (as well as a debut for the directors), this film genuinely did lift up the spirits of what was becoming a rather lacklustre competition programme. The film ran without a dramatic centre but its constellation of story lines attempted to push forward a radical challenge to dominant retraditionalisation of sexual mores which has been present in Russian society in recent years. A film about a country where no sexual revolution has taken place (apart from the 1920s) or a film that has some more universal subtexts was discussed by those present at the press conference.