Back to our catalogue
Generation P
original title: Generation P
2011, 113 min., color, Russian
1990th
adaptation of
irony
Pelevin
portrait of generation
postmodernism
CATEGORIES :
Dark Comedy
,
Sci-Fi
COUNTRY:
Russia
PRODUCTION :
FESTIVALS & AWARDS
CAST
Vladimir Epifantsev, Mikhail Efremov, Andrey Fomin, Sergey Shnurov, Vladimir Menshov, Oleg Taktarov, Ivan Okhlobystin, Andrey Panin, Leonid Parfyonov, Aleksandr Gordon, Amaliya Mordvinova
CREW
Director
:
Screenplay
: Djina Ginzburg, Victor Ginzburg
Cinematographer
: Aleksei Rodionov
Producers
: Stanislav Ershov, Victor Ginzburg, Yuriy Krestinskiy, Aleksey Ryazantsev, Jim Steele, Andrew Polson, Roger Trilling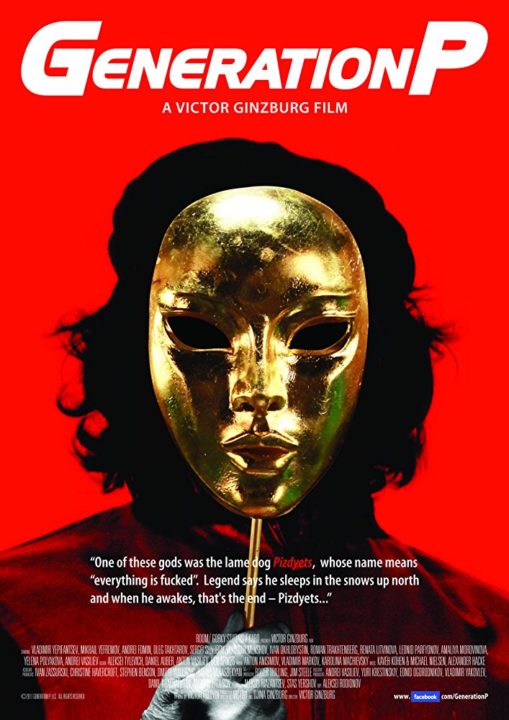 COMMENTS
Festivals: Karlovy Vary IFF 2011, Toronto IFF (Vanguard Programme), New Directors/New Films, Palm Springs International Film Festival, Mumbai International Film Festival, Sofia International Film Festival, Almata International Film Festival
SYNOPSIS
Generation P – a riddle, a farce, a romance about the ecstasy of disintegration in Moscow, and an obscene joke about the end of a world.
Based on the cult novel by Victor Pelevin, Generation P is, in many ways, built on hallucinations, including Che Guevara's speech on how television destroys man. But this parallel, virtual universe also offers a glimpse of real life in Moscow's meticulously reconstructed Roaring 1990s, where the real plot unfolds. Babylen Tatarsky, having rediscovered himself as an employee of an advertisement agency, is busy concocting marketing campaigns for western brands, adapting them to the "Russian mentality." Packed with special effects and unexpected revelations, the film tells the complex story of how former Soviet Komsomol Youth turned into advertisers in the service of the Goddess Ishtar, and how the Pepsi Generation chose Coca-Cola.
PRESS
"Director and co-writer Victor Ginzburg serves a vital cocktail that suggests a mix of "Brazil," David Mamet's media-spin satires, rabbit-hole tales and theme comedies such as "How to Succeed in Advertising," along with a dominant Russian gene that keeps things fresh and unique." Anita Katz, The San Francisco Examiner
Director Victor Ginzburg's Generation P gives phantasmagoric treatment to an alternate (but not necessarily inaccurate) history of the Putin moment." Karina Longworth, The Village Voice
"Generation P has the energizing feel of a work by a filmmaker who has a lot he wants to say and is unafraid to risk clumsiness in order to fully express it. Also, Ginzburg's freewheeling visual invention merely reflects a society that seems to prize slick appearances over actual substance." Kenji Fujishima, Slant Magazine
"…One of the year's true cinematic sleepers…a cultural firebomb. Director Victor Ginzburg takes the audience on a long, strange trip through the minefield of 21st century Russia, juxtaposing elements of absurdist comedy, underground crime thriller and – in several hilariously imagined psychedelic scenes – the mysterious quests of Andrei Tarkovsky." Steve Dollar, The Wall Street Journal
"For nearly two ferociously entertaining hours, Ginzburg piles on hallucinogenic tour de forces… "Generation P" is a journey to the rotten, violent, media/ power center of a country whose struggle to define its identity is corroded into a sinister advertising campaign…" Vadim Rizov, IndieWire
"Expatriate director Victor Ginzburg's thrilling initial feature film has been seen by more than a million of his countrymen. He exhibits a stylistic genius equal to a Gilliam or Fincher in the process." Brad Schreiber, The Huffington Post
"One of the wildest films at the (Toronto) festival. Ginzburg uses nifty graphic overlays and visual effects to create fairly authentic simulations of drug trips (always tricky on film)" Brian D. Johnson, Maclean's
"The Russian-born, American-bred Ginzburg brings a completely unique visual palette to the story…Generation P feels revolutionary in not only its ideology but also its execution" Stephen Saito, The Moveable Fest
"Generation P is a witty, wildly imaginative, intermittently psychedelic trip through the post-Soviet mindset, or at least the post-Soviet mindset of writer/director Victor Ginzburg." John Semley, Torontoist